Filed: Friday, 24th April 2015
By: Paul Walker

At last, someone from our beloved leadership has said something, anything, to ease some of the troubled waters.
And it was Lady B, a woman whose politics I dislike but who always impresses me, grudgingly I must say, when we are talking business. Now I know I should not find myself praising the Lady--you wouldnít want a fansí website to be in the back-pocket of someone on the board, for heavens sake, would you?--but she seems to be the only person on that board with any balls!

The painful, long, silence from the Davids over big Samís future, and the constant attacks on him, daily if not hourly from across the net, has led us to a position where we are becoming a laughing stock. Our shocking run of two wins in 16 league games, I feel, has been partly caused by the way the board have handled this situation.

All we have had is a long line of unattributed quotes from sources that seem intent on rubbishing Sam and undermining the team on a daily basis. It has worked. They may be right, but I do wonder where and from whom they are coming!

Now Karren did not actually say anything new about Samís future when she was holding court for the media this week when the new season ticket price cuts were being launched--seemingly for the benefit of the BBC and Sky first--but what she said showed authority.

And Sam at his press conference this week has said that nothing she says makes any difference because he is in constant contact with her and Sullivan anyway, despite the image being touted to the contrary.

But as I have said many times before, when Karren Brady speaks, nobody should take her words lightly, regardless if it is not what you want to hear.

She said the board had held talks about talks at the end of the season, she gave no hint whether there would be a new contract, but she at least said something on the record.

She has been the only person for months now from within Boleyn towers to say Sam has done everything the club has asked of him, that the relationship between board and manager is ok, and that they would want to sit down and hear about his plans for the future--and their cost--when the time comes. And that he may well have future plans of his own. As I said, nothing new there.

But she did say that talk about needing a top manager to lead us into her new stadium (because that is what it is) was disrespectful.

Now you donít have to believe any of that, and most of you wonít, but the underlying feeling from the good lady was that she will have a very significant say in what happens next. And I doubt it will have much to do with the past few months of nonsense on the field.

This is a woman, as I keep saying, who knows the price of everything and is only concerned with the financial implications.

You can tell that the behaviour of our manager at Manchester City last weekend, does not come into it. She is not too bothered about the lousy tactics of just sitting back and letting Cityís world class stars attack us, she was not too concerned about the gum chewing, coffee swilling, slumping manager who gave every indication that he couldnít care less.

I didnít get much of a view of that with my lad in the away section at the Etihad, more of that later, but the image Allardyce sent out across the world on TV was a disgrace. I have seen comments from as far away as Mexico and the US from people who were underwhelmed by the image Sam portrayed of our club. And that cannot be right.

We had pundits like Kevin Kilbane (who we have had previous with this season) laughing at us on a foreign TV feed, plus Alan Smith on BBC also taking the piss. Well I thought that was what it was, because you canít tell whether he is laughing or crying from that bland, unsmiling exterior and the deadpan Brummie accent.

Sam never helps himself, does he? The tactics were a mess, the effort and involvement from him and the players severely wanting. My lad has never been pro or anti-Sam, he only wants to see his club progress and have stability, something he has rarely seen in his 30 plus years . But it was an embarrassment for all.

As he said, the teams who had been beating City of late--Crystal Palace and Burnley for a start--have done so by high-tempo pressing from the first seconds. Thatís how itís done, when you have inferior players, so what on earth was going on in the preparation. Had anyone actually been to see a disheartened City side play recently? Obviously not.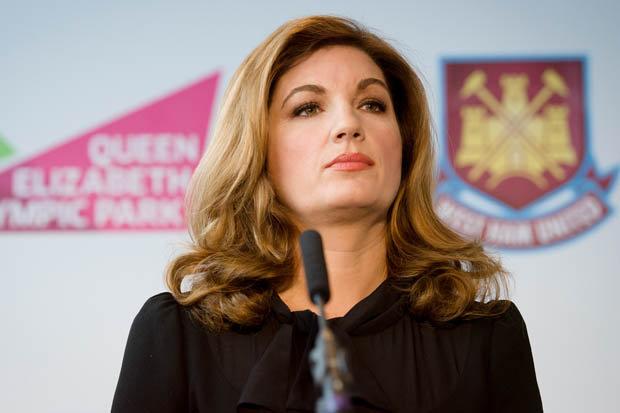 But Lady Brady has only the long-term project of the Olympic stadium on her mind. And if that means Sam gets a new deal, you can bet on who will win the boardroom debate. There has been media talk that unlike last summer when Brady and David Gold differed with David Sullivan over the managerí future, everybody was on a like mind now. Well Brady certainly didnít give that impression, or maybe she is a good liar.
You can bet she is saying that unless we can get someone better, by that I mean with European experience and flair, why should we change. Now I know that is going to release the hounds of Hell on me, but I can assure you all that I feel the time may have come for a change if only to unite the fan base, something sadly so badly fractured at the moment.
I am not trying to put points for or against the sour-faced old fella, I am trying to judge what is going on at Boleyn towers. And there is a growing fear that for all the genuine and creditably concern about the bad ways of Sam, plus the campaigning, abuse and hatred being shown by a sizeable percentage of our support, Brady may well still want stability.
You can almost say that if the Davids and Karren could be offered the season to end now and then a total freeze on everything until next summer, with Premier League safety being assured, they would grab that now. Nothing too messy like having to play matches and entertain the punters, I sense that doesnít come into the hard-nosed thinking at the moment.
As for Samís future, there has been a long list of people from inside the game, and our own playing staff, saying the manager should stay. Graeme Souness, Phil Brown (well he would, wouldnít he?), Chris Ramsey plus Andy Carroll, Stewart Downing and Cheikhou Kouyate (and they would also toe the party line) have all leapt into print to defend Sam.
From inside the game, nobody is bothered about his arrogance, and dour persona. They only look at the bottom line, the same line that Karren works from.
However, Martin Samuel in the Mail made a telling point this week. He said that Sam has always said he can handle big clubs and successful players, but that his general tactics and attitude have shown he is not the man to lead a club to a different level. Sam, reckons Martin, is too tentative, too set in his defensive ways, to change and be positive by instinct.
Those instincts were on show at the Etihad, where we were dreadful. And our away lot had to contend with the general behaviour of the Manchester police and the clubís security people which left a lot to be desired. I am never one to want to see loud mouthed, foul mouthed yobs allowed to flourish.
But the policeís heavy-handed behaviour was out of order. And itís always the same at City, where the demilitarised zone between home and away fans is minimal, with just a line of dumb and deaf security staff separate the fans.
They stand backing the home support, who hurl all measure of abuse at the away lot, and when a visitor responds, the private security firm spotters descend, guided by the police in the CCTV booth, and the lad is hooked out. Itís such sport for the home fans.
One quiet middle-aged lady in front of me--unfortunately our seats were on the edge of our support--decided to take a photo of a copper who dragged out one lad by his neck over two rows of seats, very over-the-top.
The copper then launched himself at the poor woman, verbally and physically intimidating to demand in her face why she had taken the picture. Someone should tell the police that it is perfectly legal to photograph anyone in a public place.
He was shouting that he was protecting women and children and that the lad had been making ícome and fight meí hand gestures. Is he serious? The kid was clearly not a threat to public safety throughout east Manchester.
This sort of over-reaction from the police continued throughout, but absolutely nothing was being done about the City louts--one of which ran in front of two sections of seating to throw himself into the baying mob. As I said, it is always like that at City from lengthy past experience, and it does the image of their club no good whatsoever.

Please note that the opinions expressed in this article are those of the author and do not necessarily represent the views of, nor should be attributed to, KUMB.com.
---
Your Comments
comments powered by

Disqus