Filed: Friday, 8th May 2015
By: Preview Percy

It's a sobering thought, that had he been accepted by his chosen party as a candidate, we could be talking about "Preview Percy MP" by now. Thankfully, even the Official Monster Raving Loony Party has standards.....
Next up we hit the M1, M6 and A38(M) – the only motorway to have had a vinegar pipeline crossing it – to Villa Park where Aston Villa will be playing host at the duly appointed hour of 3pm on a Saturday.

Travel-wise there are no engineering works on any of the main lines 'twixt London and Birmingham, but on C2C (daft name) there's no trains between Barking and Fenchurch Street with services being diverted into Liverpool (spit) Street. Which if anything, will make the trip to Euston a wee bit easier.

The biggish news of the week from those parts is that the hilariously-named Randy Lerner, who has apparently been looking for a buyer for the club, may have just found one. The prospective purchasers are a group of investors led by a chap called Paul Smith who used to work for Chelsea. If successful it is said that Tony Adams might be brought in to assist with the football side of thing – which is fine as long as they don't let him drive the team bus.

On the pitch, Villa are in a bit of rejuvenated form at present having won three of their last four. The one defeat came at Man City where, having deservedly recovered from 2-0 down to level the scores they were on the end of the type of incompetence from officials that has sadly become the rule rather than the exception these days.

An appallingly dreadful offside flag denied Villa a penalty and almost certainly a red card for Joe Hart. Man City promptly went up the other end and scored which means that, despite the improvement in form since the arrival of that chap who we always used to beat when he managed Spurs, they are still only two points off the drop zone. I recall Sheffield United getting shedloads of money when some bent journalists convinced an ignorant old judge that one person was responsible for their relegation. One day a club will try the same thing on a match official and bankrupt one of the buggers. I will laugh quite a lot when that happens.

In fact, the current soap opera that is Newcastle probably means that their position isn't quite as serious as it would, on the face of it, appear, and Sherwood (who really ought to manage Forest) has certainly freshened things up. At the time of previous boss Paul Lambert's departure they had just dipped into the drop zone and it was looking a bit bleak.

Of course the icing on the cake for the improved run is the forthcoming Cup Final where they will face Arsenal. All right-thinking people will be grateful for them knocking out the Scousers in the semis, thus preventing the BBC from going all soppy over diving cheat Gerrard's last stand. The sooner that particular friend of the drug dealers gets over to the US and stops polluting our game the better.

If you had to look for one individual on the playing staff whose form has improved under Sherwood it would have to be Christian Benteke. According to the work-experience girl with an inappropriate number of rings through her lips, in the 15 matches the Belgian had played in prior to Sherwood's arrival he'd managed to score but twice. However, since Sherwood – who apparently made Harry Kane what he is today but doesn't talk about it much - arrived Benteke has 10 goals in as many games. One of those came in the FA Cup Semi Final, which has got the transfer gossips a twitching with a suggestion that he might be Merseyside bound come the summer.

Another player much in the news of late is Jack Grealish. He's no relation to the late Tony Grealish who played for the O's in the 70's and, pop fans, was the uncle of electro-dubstep-brit-hop musician Example (oh yes I am down with the kids you know). Like his non-relative, Jack is of Irish stock and has been capped at various age levels stopping short for the moment at U21 level. It would appear that the English hierarchy have been sniffing round keeping close tabs on his eligibility but any overtures from FA HQ have, to date, been politely rebuffed.

His performances on the pitch have been getting headlines, prompting our marvellous tabloid press to dig up some old photos of him apparently inhaling nitrous oxide (which those of you who are as down with the kids as I am will be aware is some kind of "legal high").

Grealish is apparently being mentored by none other than Joe Cole who is seeing out his career on the benches up at Villa Park. Joe, if you're reading this the first favour you could do for young Grealish is sorting out that rather daft haircut which, sadly, is being mimicked by the young provincials up there in Birmingham.

Second top scorer after Benteke, who has 14 this term, is Gabriel "Gabby" Agbonlahor who has 6. He's been absent of late with a hamstring injury but has a chance of being available this weekend. If he goes on to add to his three full England caps so far and scores a hundred in a season for Villa he will still never top his finest ever hour which, in our opinion, came in the middle of a charity match a couple of years ago when he kicked a member of One Direction up in the air. Come on, which one of us hasn't wanted to do that? The most hilarious thing about the whole incident was the fact that the player received death threats from One Direction fans which must have been slightly less terrifying than the prospect of having to listen to one of their auto-tuned to death albums. Mr Agbonlahor, we music lovers salute you. Meanwhile if anyone hears of Morrissey appearing in a charity match I still have my boots somewhere and I can guarantee that the noise he will make when I tackle him will be infinitely more musical than anything he's committed to record in his career.

Meanwhile, elsewhere, the dust has now died down after the election and I'm sure that everyone will join me in raising a glass to a more than worthy winner. So let's hear it for Aaron Cresswell, Hammer of the year 2014-15.

Last week, although our lack of finishing (again) coupled with a fine performance by Heaton in the Burnley goal meant that we had to settle for 1-0 I thought that, on balance, we were worth the three points. The lack of goals could have left us dropping points of course and we do have to sort that aspect out.

It was also difficult not to feel a little sorry for Burnley who were on the wrong end of the type of incompetence from officials that has sadly become the rule rather than the exception these days (that phrase sounds familiar). The penalty incident was a clear penalty which nobody had a problem with. However, only someone who doesn't actually know the laws of the game could have possibly given the red card that was issued to Duff. As we have seen in other matches he's taken charge of, Moss has a habit of forgetting what he is supposed to do at vital times. Thankfully, Moss's stock even amongst other referees is not great so, with no reputation to protect, the disciplinary bods overturned the red card. No mention of a fine for failing to apply the laws of the game though.

Injury news? Well it's the usual suspects really. Carroll, Sakho, Tomkins, Reid and Demel are all hors de combat so the youngster Burke can expect another stretch of the legs, as well as another 90 minutes of Ginge bending his ear to talk him through the game. As we're away we might also see a return to the starting line-up for Alex Song.

Prediction? Well the current state of play at the bottom means that they will be desperate for the points and they are in a good spell of form which would usually start alarm bells running as I decide where the traditional bet should be placed. However, I do have a gut feeling that we will somehow make things a bit more interesting in the nether regions of the league so I'm going to send the work experience girl with an inappropriate number of rings through her lips down to Winstones The Turf Accountants with £2.50 from the Avram Grant Olympic Rest Home fund to buy a pint for the bloke who got onto the pitch at Blackpool in his mobility scooter (no it wasn't me) with instruction to place the money on a 2-2 draw.

Enjoy the game!

When last we met at Villa Park: Won 2-0 (Feb 2014) A Kevin Nolan brace gave us all three points in a game that formed part of a four match winning spell that saved our bacon last season. This was the match that eased us out of the bottom three.

Danger Man: Christian Benteke. The Belgian striker is in a decent run of form.

Referee: Lee Mason: Had a complete nightmare at the Boleyn in the Sunderland match a few weeks back. Buffoon is the word that leaps to mind.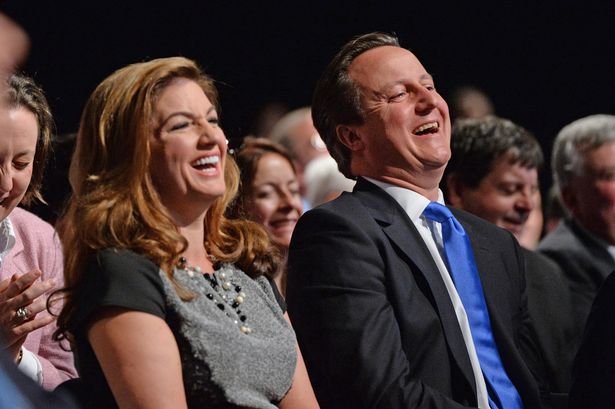 Daft Fact Of The Week:
"Villa-no-West Ham-no-Villa" "fan" David Cameron is not the only politician to have temporarily forgotten what team he supports over the years. David Mellor was a big fan of Fulham, regularly attending matches at Craven Cottage and writing articles in the matchday programme right up until he suddenly remembered he had been a Chelsea supporter all along just after Abrahamovic started buying trophies for them.

Please note that the opinions expressed in this article are those of the author and do not necessarily represent the views of, nor should be attributed to, KUMB.com.
---
Your Comments
comments powered by

Disqus