Filed: Wednesday, 2nd September 2015
By: Paul Walker

Before our very eyes in the amazing last hours of the transfer window, we watched ourselves moving to a different level.
Whatever you say about our leaders and Lady B, they are business people, and they knew a very long time ago that going to the Olympic stadium in the wrong division was not an option.

Failing to back a new manager with good money was also something that could not be countenanced, and lets face it, Slav would not have set foot in the place without assurances that money would be spent.

To change our image as mid-table, occasional relegation fodder, things had to be changed. And the club needed upgrading from top to bottom.

You can bet that this new approach has been on the cards for months, revamping the squad, getting rid of the expensive, old timers as well as the kids who had seen patience but were not going to make it, was clearly the master plan.

It's pretty clear that moves were afoot way back. Ian Hendon's parting shot when leaving was that Sam and his staff knew they were not being retained back in January. And Slav has made it clear that he was aware of our interest in him some while before the axe fell on the previous regime. So these changes have not happened overnight.

It has been months in the making, but Tuesday's remarkable flurry of new signings was the end produce of that plan. And that deserves praise and respect for our leaders.

David Gold pointed out just how many kids were on the bench at Anfield, and that had to be addressed. A half-dozen injuries…our usual quota it seems…puts us under great pressure.

So things have had to change. The new men that arrived on Tuesday underlined that. And the fact that we were able to beat off other clubs in the process. That is something new, no longer it seems are we at the whim of David Levy's nasty anti-West Ham streak.

And just for a change it was Spurs who came off worst. Yes, earlier in the window that did good business, but in the final days they failed to get their main targets, Victor Wanyama and Saido Berahino…., as well as also failing to unsettle our own Cheikhou Kouyate. And they were unable to get rid of Emmanuel Adebayor.

Every window seems to see us trying to signing him, and Levy playing hardball to the last seconds, and winning. But the very act of us signing Victor Moses on loan on the morning of deadline day, shifted the power battle. Moses was our second domestic loan of the window, so Levy was denied the drawn-out loan route and was left with the battle over what percentage of his contract Spurs paid up to persuade him to leave.

We could sit and wait while he had to negotiate with the player. We had our insurance of Jelavic as well as Moses's frontline adaptability. And Levy lost the face-off, with Aderbayor's wages still on Spurs' wage bill.

The only way out now is to cancel his contract, but he still cannot sign for anyone until January, so that's five month's wages for the guy that Levy must stump out. How very sad for the man who has held the whip hand for so long, and who virtually stole Michael Carrick from us.

But that's enough about the Spurs sideshow. We produced a window of buys that has surpassed anything in the past. We are usually left with a bevy of dodgy Italians or half-fit, free agent Frenchmen. Or we have to re-sign Carlton Cole. Remember the painful last hours of January's window?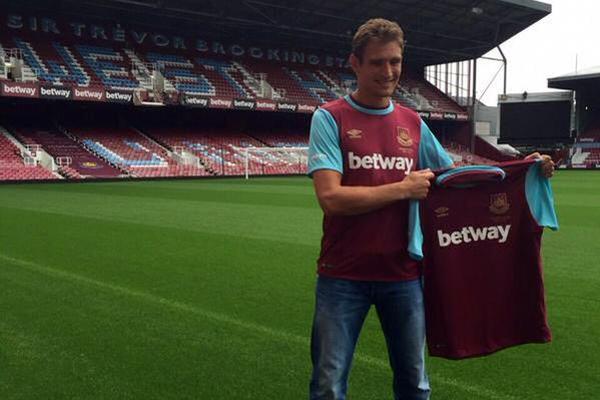 Nikica Jelavic was one of 13 players signed by West Ham over the summer
This time has been different. The arrival of Moses, Alex Song, the experienced back-up of Jelavic and the obvious promise of Micheil Antonio capped off an excellent window. A dozen new faces overall, an injection of genuine talent in Dimitri Payet and the exciting Manuel Lanzini, plus experience from Angelo Ogbanna and Pedro Obiang are a cut above anything we have seen in previous windows.
It has cost money, but it had to be done. The budget was supposed to be around £25m, added to that any cash from the Stewart Downing and Maiga sales. That probable took the pot to £30m, and we are just about in that margin, although that can always be manipulated because nobody pays all of a fee upfront, unless you are Manchester City.
Wages are high, the loans expensive, but our board have gone for it, and given Bilic what he wanted.
Around 20 players have left since the end of last season and around £400,000 has been cut from the weekly wage bill. A lot of high earners have gone, with Matt Jarvis now away on loan at Norwich. Every penny helps.
But there has been deeper planning. Eight promising youngsters have new contracts, including a lot of money spent to keep Reece Oxford, when we might well have lost in days gone by. We even found time in Tuesday's mayhem to sort out Josh Cullen's new contract. Good thinking.
Senior men like Mark Noble, Winston Reid and James Tomkins have also got new deals. The structure of the club has improved and there has been impressive good house keeping. All, I believe, part of a structured plan for the future.
Sometimes you feel our club is being run from a stall in Queens road market, other times you feel there is proper joined-up planning. This is one of those times.
You can only hope that it pays off and Slav can continue to produce such results like the win at Liverpool. And even that makes an impact of new targets. Antonio, I noticed, made a point of underlining that the Anfield triumph had influenced his decision to move to East London.
There were a few things I did not like about this window, and the odious Barry Silkman is top of the list, but more about him later.
We have spent all summer chasing a top notch striker, and it hasn't happened. Now we have Andy Carroll almost fit, but with Cole and Modibo Maiga gone and Nikica Jelavic as decent back-up, there at least is an insurance policy. And Moses can play wide or central, so the options are there for Bilic when Enner Valencia is back (and as long as Mauro Zarate and Diafra Sakho can stay fit).
I am still not convinced by Zarate. He is a show-boater who can do the occasional clever thing but never seems to have the staying power to last a match. Premier League class? I am not convinced, but the Sullivans love him, so that's all right then.
And as for Sullivan's pal, Silkman? For the second deadline day on the trot he has gone on Sky in the morning to try to sell one of our players. In January it was Noble, and it took Ms Brady to go into print to rubbish the idea.
This time the slimy Silkman, Sullivan's go-to agent, was trying to put James Collins in the shop-window. Collins was furious, away on international duty and with a new baby back home, it was not what was wanted and not how one of our very best 'soldiers' and loyal servants should be treated.
Silkman would not consider talking about one of his own clients in this way, so why does he think he can do it to Collins. Shut him up, Sullivan, it was almost as bad as you trash talking Charlie Austin. Ginge deserves more respect than that.
But all that is secondary to the big picture. And we have certainly made a point, put down a marker and given Bilic the tools to do the job, and to cope with injuries..and the continual suspensions! Just for once I was glued to the TV wondering who would be next, not who we would sell.
Quite a day; well done, everybody.

Please note that the opinions expressed in this article are those of the author and do not necessarily represent the views of, nor should be attributed to, KUMB.com.
---
Your Comments
comments powered by

Disqus