Filed: Friday, 12th February 2016
By: Preview Percy

You might think that after Tuesday's win, and with Valentine's Day around the corner Preview Percy might be full of the joys of spring. Don't be stupid....
Next up: Norwich away. 3pm on Saturday. Now please pay attention as there's a lot of travel news to get through. Firstly your chosen route. Norwich. That's Liverpool Street right? Not this weekend chummy. No trains between Liverpool Street and Ingatestone. Replacement buses serve Newbury Park for the Central Line and the Norwich trains will start and end at Ingatestone. There is an alternative route from King's Cross via Cambridge that might be useful. That's if you can get to King's Cross. There's no District Line between Upminster and Tower Hill all weekend and there are other sections of the Hammersmith & City and Circle lines that will be shut. More traffic and travel after the news but first this from Kenny Loggins…

Sorry went all Radio Bland there. Possibly inspired by Norwich's favourite fictional son Alan Partridge. So there they are, third from bottom with 23 points from 25 games. Three clear of Sunderland. Six clear of Villa and a point behind Newcastle. With a -20 goal difference. So not in great shape then. Especially when you note that their last result was a 2-0 defeat on the road at Villa – a team for which the description "woeful" would represent something of an improvement. Their current form is something that would give you not so much "cause for concern" as "sleepless nights" losing as they have their last 6 in all competitions.

That six match run included that remarkable game against Liverpool where they went down 4-5 in a match that, with a spot of proper refereeing (yeah I know, a long shot to be sure but you never know) would have seen them out of sight before they'd had a chance to let the scousers back into the game. However, that match apart it's been pretty miserable all round.

According to the work-experience kid with the Harry Potter spectacles, since beating Southampton 1-0 at Carrow Road they had let in a minimum of three goals in every game they had played in up to the Villa match. That record reads Lost 3-0 at home to Man City (FA Cup), Lost 3-1 away to Stoke, Lost 3-0 away to Bournemouth, Lost 5-4 at home to Liverpool and lost 3-0 at home to Spurs. So, if you were an optimistic sort of a Canary, you might regard the Villa result as, technically speaking, something of an improvement.

What really should concern them is that this particular run has coincided with the likes of Newcastle and Sunderland picking up the occasional point here and there, something that has seen the Geordies inch their way out of the drop zone and given the Mackems a target to aim for.

They are managed by Alex Neil whose managerial pedigree consists of a spell as player manager at Hamilton, followed by his dropping the "player" bit from that job title. One of the younger managers in the league – he'll be 35 this year, he'll probably be looking nervously over his shoulder and his future will depend largely on the patience of the board.

Their precarious form led to a spot of shopping in the recent window. Their first move was to send us a cheque for £2.5m to turn Matt Jarvis's loan move into a permanent deal. Jarvis never quite fulfilled his promise at the Boleyn and his departure enabled us to free up funds for our own purchases this January. The crystallisation of that loan means Jarvis would be available to face us this weekend if required, something that was not the case when we met them at the Boleyn earlier this season. He started on the bench against Villa, getting only 10 minutes when coming on for…..

….Steven Naismith. Naismith came in for an "undisclosed fee" (or £8m according to the work experience kid with the Harry Potter spectacles) from Everton where, due to the form of Lukaku, Naismith was finding starts in short supply. He scored on his debut against Liverpool in the aforementioned weird match. Prior to Everton Naismith was on the books of Rangers where he was a team-mate of Jelavic's . Naismith's transfer to Everton from Rangers was a tad unusual in that it took full advantage of the liquidation of the old Rangers company. The transfer rules say that if the company your contract is with goes into liquidation you technically become a free agent – you are under no obligation to play for any new company that your contract might otherwise end up with. Thus Everton ended up with a free player, though no doubt a good agent would have factored in the savings in transfer fees into the player's signing on fee.

They also moved to bolster their defence. In came Ivo Pinto a Portuguese right back who, for some reason, had found himself playing in Croatia for Dinamo Zagreb having ended up there via Romanian outfit Cluj. As you do. Pinto moved to Carrow road for yet another "undisclosed" fee which everyone knows is just under £3m. He's been capped by Portugal at age level but, although he's made the full squad in the past, full honours have eluded him. We have a Portuguese guy here at the Avram Grant Olympic Rest Home For The Bewildered. We asked him what he thought of Pinto. His response: "Who?".



Klose encounters of the bird kind
They also brought in a centre back. I expect the pigeon post in Norfolk would have been working overtime as people saw the headline "Klose signs for Norwich" bandied about. On "Klose" inspection (ho ho) it transpired that the new signing was Timm (sic) Klose who, though German-born spent most of his childhood in Switzerland, his mother's country of birth. The rumoured fee for this one was anything up to £9m which seems a bit high to me for a player whose market value was said to be about half that amount. Klose featured in the Villa defeat in which he picked up a yellow for not being able to spell "Tim" correctly.
On the one hand, to have three joint top scorers might be seen as being a good thing. However, when each of those goalscorers only has 4 it's an indication that things haven't been all that good at either end of the pitch. For the record the three are Howson, Redmond and Mbokani Bezua who, sadly from their point of view, counts as one player not two. On the bright side, early cup exits mean that all but one of those goals have come in the league. The down side being that there are only 11 league goals left to count between them. NB Hoolahan, Jerome and Martin are sniffing behind the top scorers with 3 apiece.
Us? Well Tuesday was sweeter than a bulk carrier full of saccharine. Over the two matches we battled against some disgraceful thuggery and a series of dives that, even for the undisputed kings of the tactic, were embarrassing. The first dive of the evening on Tuesday came from Benteke after 32 seconds!! To put that into perspective that's 1 second for each million pounds of his transfer fee. Had we had an official strong enough to do the job Benteke would have been cautioned straight away and then wouldn't have attempted the embarrassing collapse from which they scored their goal. The "simulation just outside the box" is a tactic that has served them well over the years – they'd have found those gravitational waves ages ago if they'd looked closely at Anfield.
I really feared for us in a penalty shoot-out purely because, as in the first game, we had a spineless match official too afraid to give a penalty against Liverpool. Come the shoot-out he'd have simply refused to let us take one. So with all those odds stacked against us it was great to ram their airbrushed history down their arrogant whinging throats. You dived, you cheated, you had every dubious bit of assistance two refs could give you and you still couldn't beat us. Now go away and moan about your ticket prices – the time to complain about which was back in the early 1980's when your greedy corrupt little club threatened to take its ball home if it wasn't allowed to keep all the gate money from league games.
Glad that's off my chest.
We'll need to take stock of the injury situation. Both Reid and O'Brien picked up hamstrings. Kouyate, kicked out of the first match, will be glad he doesn't have to play Liverpool again though hopefully his head injury – which was shamefully ignored at first by referee East – won't turn out to be too bad. He'll miss this one though, there being rules about that sort of thing. They'll also have to a look at Valencia who was the victim of a nasty two-footed lunge that strangely went unremarked upon by the Scouse mafia that dictate tv coverage in this country. On the bright side it seems that Sakho and Lanzini are getting there though this weekend is just to soon. Eminike will be available having not been eligible for Tuesday and Byram can slot in at the troublesome right back slot. This would leave Ginge and Ogbonna as the centre-half partnership, an area in which we're now a wee bit short of cover so expect to see a youngster or two on the bench.
Prediction? Well I wonder if anyone noticed that your correspondent predicted a 2-1 aet win for Tuesday. Go Percy! Go Percy! As our American cousins are wont to chant at those moronic nuts and sluts shows that I understand fellow-Hammer Jeremy Kyle has adapted so lucratively for British audiences. I don't actually watch tv by the unemployed for the unemployed myself as it would involve actually getting up before midday you understand.
Well any weary legs from the extra-time venture will be forgotten thanks to the high of victory. That, the re-introduction of some fresh and hopefully fit legs will also provide a boost – particularly for Payet for whom the eventual return of Lanzini will lift a weight that's been hanging over him for a few games now. Add to that the fact that we face a team for which the word "struggling" would be an understatement and I can't see anything but an away win. So the £2.50 I had planned to use to buy some earplugs to block the sound of scouse whining will, instead, be conveyed to Winstones The Turf Accountants and placed on us to win 2-0.
Enjoy the game!
When last we met at Carrow Road: Lost 3-1
November 2013. Half time, 1-0 up all over them no problem. Second half, Jaaskalainen goes all Mignolet, they score from a free-kick that no sane human being thought was a foul and, to add salt to the wounds, Leroy Fer managed a rare goal to give them all the points. To put things into some sort of perspective, Razvan Rat played.
Referee: Mike Jones
. Most referees display various levels of (in)competency. Then you have a few who are simply dishonest. They are often called "Mike".
Danger Man: Stephen Naismith
Early days but he's probably the one proven goalscorer that they have in the squad at the moment. Much will depend on him…
Irritating Celebrity Supporter Of The Week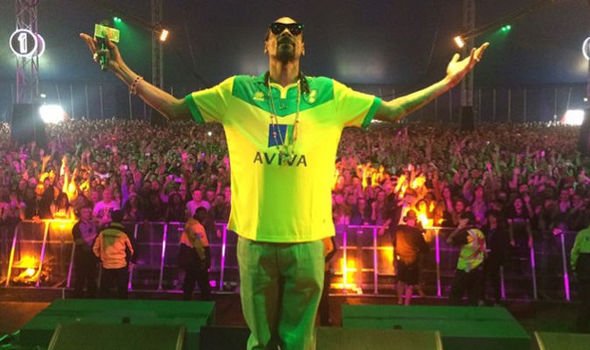 No, not Delia. I'm going for Snoop Doggy Dogg or whatever the talentless waste of oxygen calls himself this week. Ok he's as much a real Norwich fan as he is a proper musician but anyone who does that posing in a shirt thing without having a clue what they are doing deserves the award. Especially if they have made money out of selling crap to the ignorant and gullible. (see also Take That).

Please note that the opinions expressed in this article are those of the author and do not necessarily represent the views of, nor should be attributed to, KUMB.com.
---
Your Comments
comments powered by

Disqus