Filed: Monday, 7th March 2016
By: Paul Walker

I suppose I wanted to see it with my own eyes, the phenomenon that is Slaven Bilic, the manager who is turning West Ham into a Champions League club.
Say that last summer, even a few months ago and you could hear them laughing all the way from Stamford Bridge to White Hart Lane. Say it now, and nobody laughs.

Now the one or two people who read my nonsense will know by now that in a previous life I spent a fair amount of time talking to football managers.

I can go back to Bill Shankly, Matt Busby, our own much-loved John Lyall, right through to Fergie, Rafa and Jose. And a lovely fella called Howard Kendall.

Many I have known have been con-men, liars, cheats, criminals, self-centred egotists or just incompetent. And those were the better ones. (For legal reasons, none of those mentioned above come into any of these categories..just making that clear!)

So I tend not to go with the hype, the media outlets who write stuff just to please owners or chairmen. I have also restrained myself from sounding off that we are now potential champions, world beaters or just the best West Ham side ever.

Many of us over the past 50 years or so of watching the Irons have seen far too many false dawns and burst bubbles to allow ourselves to build ourselves up for more heartbreak.

But I have seen the future of rock n' roll…and Slaven will appreciate that remark, because he will know all about Bruce Springsteen. I am at last tempted to allow myself to suggest that Bilic is the future of West Ham.

The fact that a 66 year-old pensioner (me) could be seen singing the Payet song while sitting in a horrendous M6 traffic jam on Saturday says it all.

I had not been able to sing it until them…I think you will understand shortly. A few weeks back an old friend who works brilliantly in the Everton media department rang me and said did I want to see Saturday's game at Goodison Park.

I did ask him whether he was just trying to punish me by forcing me to sit and watch more Romelu Lukaku goals and the customary defeat at Goodison. But it was a free ticket, as well as a free car park pass plus some free food…so it had to be done.

So there I was back in the Everton press room for the first time in six years, meeting old colleagues and trying not to think about the expected defeat to follow.

By the end I was watching my fellow Hammers fans in wild celebrations in the away section as our team, led by Dimitri, was deservedly milked the acclaim. I was sitting on my hands, tight=lipped and trying not to laugh.

I had seen something special. Two defeats in 20 games now, and we have a team who do not accept defeat. Those last 12 minutes will live with us all for a very long time.

And it was no fluke. I recall also watching plenty of Manchester United games when they staged amazing comebacks in the dying minutes of Fergie time. They were not flukes either.

Never giving in, you can win the Champions League like that. We all remember that amazing night in Barcelona, with Man United having been outplayed by Bayern Munich for almost 90 minutes. But Man U, despite all the other reasons that I hate them, can be applauded for never giving in.

This was Slaven's team. He has installed a new mentality into our club. And I wanted to see him in the flesh handle a big press conference. Just to see how he operated. I was impressed, to say the least, and coming from an old hack who has sat through thousands of these tedious after-match affairs, that says something.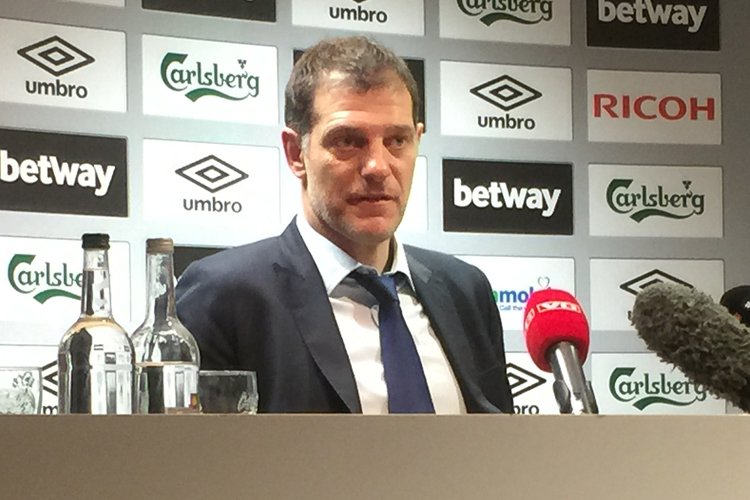 Sitting pretty: everything's going right for Bilic
Slav has a presence. He is 6ft 3in, walks with a stoop but still dominates the room. He also starts the conference himself with a resume of what happens. Fergie and Arsene Wenger do that, it gives them control over the line of questioning, it is on their terms.
Bilic shows such desire, ,steely determination, almost tunnel vision. It is an impressive performance. He does not sit there and await the loaded line of questioning. You can feel his intensity and belief, That is what rubs off on his players.
Footballers play for whatever manager is thrown their way. The hardened ones, like Mark Noble, have seen it all. They do their best, because those are the requirements of the job. But when players see a manager they respect instantly because of his reputation as a player and leader of men, they take notice.
Here is something to clutch onto. Something that could lead them to trophies, to a higher level. And Bilic offers that. He did it for six years with Croatia, and that is the key to him.
He rubbed shoulders them with the best managers, best players, but not in a demanding club atmosphere. Everybody at the very top of the European game knows him.
My lad, astute sometimes, reckons we have got a hungry young manager who has done his apprentice in the job at a very high level. It gives him a head start. You only have to look at the guy at Norwich to see the point.
It bothers me that our owners spent so much time looking elsewhere..at managers at a supposed higher level who just used us to enhance their own contracts with current employers.
I wanted Bilic from the start. He was the perfect fit. A hungry, confident coach who had done brilliantly at Besiktas, as he says a cult club very similar to the Irons, living in the shadows of giant clubs in their own city.
Bilic knew he needed to show he could manage in a top league, and the Premier League was always his aim. And boy has he proved himself. His tactics against Spurs were spot on, never letting their full backs into the game.
He changed the system against Everton, and that is no reflection on young Reece Oxford, who was a yard the wrong side of Lukaku for his customary goal. He won't make that mistake again. He was substituted because against ten men and only one striker--with Kevin Mirallas sent-off---you don't need three centre backs.
And he spelt out exactly how to overcome Everton with that remark about not needing so much sexy football around the box. He kept throwing on strikers, Andy Carroll, Diafra Sakho while making sure Michail Antonio was left out there.
Then came the barrage of demanding, pinpoint accurate crosses. First Noble, then Payet. Plus that sheer will to win, to not give it up. Bilic said he impressed on the team at the break how the game was still there for them.
Bilic talks with such force of conviction it is almost hypnotic. I believed him by the end of the conference so just think what sort of influence he has on players, this manager who kisses and cuddles his players.
Did you notice him hug and kiss Sakho on the cheek as he came on against Spurs after three months out. Managers here just don't do that.
He also talked about the togetherness of his squad, and how he sat them down some while ago and pointed out that they had a strong, defiant, organised defensive shield, so why couldn't they go on a run and win matches and reach for the moon.
And it all came right against at Everton side who many feel we owe them something. The long list of Lukaku goals, the failure to beat them anywhere for 11 years. The dreadful James McCarthy tackle on Payet, those Leighton Baines free-kicks.
And then there is Roberto Martinez. Sometimes some managers should just keep it buttoned. But he has such an ego he cannot resist, can he. I can imagine the pre-match presser when he was goaded into defending McCarthy again, and arrogantly suggesting that West Ham were wrong, he is such a nice boy.
Noble, complete with two black eyes, doesn't think so. He was giving McCarthy a piece of his mind about Everton's tackling while our physic was putting Arron Cresswell back together after Mirallas' stupid lunge after being booked. And Alan Shearer reckoned his was diving for the first one, and he should know being a striker of such repute.
Martinez has already made him look stupid by suggesting that 'he didn't' really want Sam Byram anyway.' So why did the kid have a medical at Goodison Park?
But he left his best for Payet. Of course Martinez turned down the chance of signing the Frenchman because he already had Ross Barkley. So there we had Payet creating the equaliser and scoring the winner. Payback for that McCarthy tackle in spades. Nice one Roberto!
And on Payet and Manuel Lanzini. We have two players with courage who will carry the ball knowing they will get kicked to bits. But knowing that by driving at players they will win free-kicks, and players will get sent-off.
We are approaching a point when this could be maybe the best season of our lives, there are just a few candidates….1964, 1965 and 1986 to my mind. Nothing else comes close for me.
And we go to Manchester United on Sunday believing we can win. Bilic had to be reminded who our next league game was against…Chelsea came the answer from the press officer. And Bilic just shrugged.
Not a flinch of acceptance, not a frown. Bring 'em on. We may not win these two games that will rather cruelly define our season. But we have a manager who never takes a backward step, who has a team rock solid with him. And a fan base in near disbelief.

Please note that the opinions expressed in this article are those of the author and do not necessarily represent the views of, nor should be attributed to, KUMB.com.
---
Your Comments
comments powered by

Disqus