Filed: Tuesday, 17th October 2017
By: Paul Walker

One thingís for certain, big Andy, you can book your holidays next year in June because you will be nowhere near Englandís World Cup squad in Moscow.
If I may dare to suggest that Andy Carroll finds another nice beach, maybe Hawaii again, to get as far away from football as he can between June 14 and July 15.

ĎAndy for Englandí comes around with as much boring regularity as an uninspiring England international, where some daft person suggests that Andy Carroll could liven things up and provide Gareth Southgate with a Plan B.

Andy then does meaningful TV, website and newspaper stuff appearing to be articulate and that the suggestion is not silly season stuff but that he thinks he could do England a good turn. Yeah, right!

Embed from Getty Images


Now Iíve always had a lot of time for Carroll, I agree that once in a blue moon he appears on the pitch and is ďunplayableĒ...Iím sure thatís the expression. And I have sympathy for the lad who gets no protection from the sort of blatant battering that James Tarkowski handed (or was it elbowed) out at Turf Moor on Saturday, before the red mist came down in about 99 seconds and Andy was marching away pleading innocence.

Carroll survives in the Premier League because we play by a different interpretation of the laws of the game than the rest of Europe. There is a reason that Andy does not get a regular call from England managers, and itís not only the catalogue of injuries that allows him to spend too much time in Dubai mid-season!

Occasionally England managers toy with the idea of giving him a go in the squad again. Then someone takes them aside and mentions that referee outside these shores would tolerate him now for no more than, say, 99 seconds.

Itís pretty much as simple as that. For what itís worth, I felt he was a little unlucky to be booked for the first time against Burnley, most pundits from Iain Dowie to Sam Allardyce on TV this weekend suggested he was just using his arms for leverage. But when you have a referee as poor as Stuart Attwell (he really was that poor for the rest of the match), you donít upset him again.

Certainly not within a couple of minutes with a high-speed charge across the pitch to launch himself at yet another high ball, clattering Ben Mee as you do. Stupid doesnít come into it.

Carroll needed to assess the situation better, and not to produce primary school playground revenge tactics,Öyou pinch me, Iíll pinch you. So there. Mind you, Carroll and his team mate Marco Arnautovic are still trying to graduate from that same primary school class, because their approach to such situations is very similar.

So, mental note for Southgate, come to your senses and scrub Carroll from any further scouting trips, you having been at the Spurs game just to have a check on the daft Geordie. If you didnĎt know before, you do now. You canĎt trust Carroll when he sees the whites of a centre backsí eyes - heaven forbid if they are European defenders.

Embed from Getty Images


Now there was a lot of good things to come out of the trip to Lancashire, one of my favourite away trips, largely because of the excellent way away fans are catered for at the adjacent Burnley Cricket Club pavilion. Itís the away fan pub in the town, three bars, plenty of hot food wall-to-wall Sky TV, so we could all watch just how much it has cost Manchester United to ípark the busí Jose Mourinho style. Stuff entertaining the punters, Jose.

Our away contingent frequent a world where you can see the names on playersí shirts, you have an endless collection of songs about Karren BradyÖand you donít mind the very beautiful ride up from Manchester Victoria through the Lancashire hills on trains that are still in use since Burnley won the title in 1960.

There is also a feeling that itís all old school. Turf Moore reminds me a bit of the Boleyn. Smallish, tight and intimidating.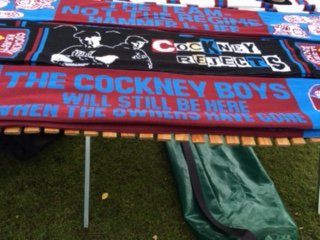 And amongst our lot thereís a lot of talk of the old days, a real football stadium and more than a few belligerent scarves around the place. Too many wistful memories for the good old days at Upton Park.
Before I get onto the good bits of our performance, letís get Arnautovic out of the way. HeĎs been here since July, heĎs played six matches for us, got himself sent off, completed 90 minutes only twice and in total has managed 356 minutes on the pitch.
Now forgive me for being picky, but I expect more from our record £25m signing. He gives off an attitude of languid indifference, always seems to be in second gear and I have yet to see him get his shorts dirty or any sweat on his shirt.
He has got fine control, balance, quick feet and has power and ability to cause plenty of trouble down the left. Blink though, and youíve missed it. OK, got that off my chest.
Embed from Getty Images
Elsewhere Pablo Zabaleta is showing us what players from a different, higher level are really like. Forgotten is all that nonsense about his legs when we lost our first three games and let in ten. Nothing to do with him.
Since, he has shown leadership, great quality, energy and everything you would expect from a player who has won the league title twice with a Manchester City side, who have now moved on themselves to a higher level. Seven goals they managed on Saturday while Joseís United were boring their way to a goalless draw. I know what I would rather watch on TV.
So once again any fortnight of planning that Slaven Bilic had managed was blown out of the water by Carrollís indiscretion while we were deservedly leading. But still we defended with outstanding diligence and organisation. Jose Fonte is beginning to look like a decent signing now he hasnít got Michel Antonio playing right-back alongside him and has Zabaleta's massive experience instead.
Joe Hart has managed six clean sheets in his last eight matches for club and country and handled the aerial stuff well despite taking a battering from all and sundry. A bit fortunate with that first-half penalty shout, but it was right in front of that and it looked like he got a faint touch on the ball first. But only just.
Antonio is getting his confidence and game together, even if he wasted our best chance of the match with that great once-touch move at the beginning of the second-half. Manu Lanzini has the touches and class, he only needs fitness now.
And, on Lanzini. When he raced down that wing, kept the ball in play and then found Sean Dyche in his path a foot or so over the line, the referee should have stopped the game. Itís up to Dyche to get out of the way, not the other way round. Then the ref could have checked that Lanzini was OK and re-started the game with a drop ball that would have returned possession to us. Is that not sense, or me being biased?
Pedro Obiang looked neat and sharp when he came on and must now be given a run in the side. Not sure where though with Lanzini playing alongside Cheikhou Kouyate in the centre of midfield and the need to pair Javier Hernandez with Diafra Sakho up front.
Embed from Getty Images
You would assume that Arnautovic and Antonio will continue as the wide midfield/attackers. The side against Brighton will be interesting, because I feel that Slav has been very brave (or forced?) to play 4-4-2 in the last two games.
It gets five attacking players onto the pitch at once and a lot of work and covering for Kouyate. Mind you, I have seen our formation described as 4-1-4-1; 4-2-3-1 and 4-4-1-1 on TV and in the media this weekend. Itís 4-4-2 as far as Iím concerned, but then I used to watch an England side under Sir Alf that actually won things.
Sorry to end on a sour note though. I can understand Hernandez being a little browned-off when he is taken off in matches, but with 15 minutes left at Burnley and with the side tiring rapidly, Slav opted for the fresh legs and strength of Sakho.
What followed was Chicharito sloping off, shaking his head and then knocking away Slavís offer of a handshake. Not good in my book, canít remember him doing anything like that when Sir Alex substituted him at Old Trafford, he would not have dared!

Please note that the opinions expressed in this article are those of the author and do not necessarily represent the views of, nor should be attributed to, KUMB.com.
---
Your Comments
comments powered by

Disqus