Filed: Wednesday, 7th February 2018
By: Casey H. Moore

Iíve been lied to multiple times in the last week. The most recent have a lot more in common after yesterday.
I was told that my President had the most viewed State of the Union (yearly speech to the nation) in history and that Leander Dendoncker wasnít signed because they couldnít get a medical done in time. What do these two things have in common?

Embed from Getty Images


Both are lies to hide the truth of failures from the people it matters to. Both come from a group of people looking to save their asses. Both come from people who have large egos that look for ways to cover their lies by making greater waves. And finally? Both lead to many weird conspiracy theories.

In recent weeks, the President and his administration have been labelled racist (Hi Mr. Tony Henry!). And apparently the Presidentís ego is so large he refuses to be wrong on anything (Hi Mr. Sullivan!) and wonít step aside to allow others to do the job correctly (again, paging Director of Football, Mr. Sullivan).

The similarities are striking and all I know is that I am so damn tired of politics at the moment and I come to watch the football and just zone out.

Not today lads, not a day after we ship out two forwards for nearly £30m, we spend all day making 10 bids because, again, we donít have a true director at the helm, we are labelled racist because Tony Henry is a moron and I honestly think they let that story continue to leak because itís a directive from the board.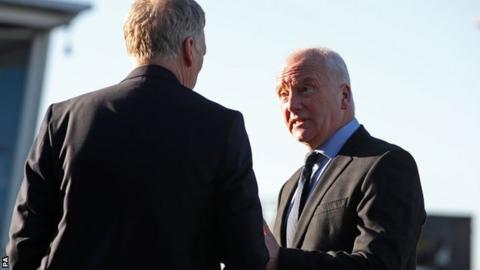 Like the current administration in our White House (wanting to keep the house white) I cannot see how this directive could have gone unnoticed by our director of football. Why? Because he hasnít a clue how to run a team on the pitch.
Scattergun approaches donít work at this level of football so we continually paper over the cracks because it is vastly apparent to everyone outside the organisation that our fearless leader is way out of his depth but no one will tell him that [are you beginning to see comparisons here?].
Listen, I know at this point you are thinking, ďKEEP POLITICS OUT OF MY FOOTBALL!Ē Well, I would if my football didnít so closely resemble my politics. The disorganization, mishandling of the players, the press, of the supporters is absolutely staggering.
I recently went to the London Stadium for the first time (versus Leicester) and all I kept hearing was it is shite but this is the best atmosphere we have had for a match that wasnít against Spurs or Chelsea. But it certainly wasnít the same. It was no Upton Park.
We were sold a dream by a snake oil salesman and changes were made, yet not one single promise has been kept. And all I can see is supporters hoping and praying that things, such as the Tony Henry comments, are the downfall of the Board - much like Americans wait to see what this investigation digs up.
Embed from Getty Images
So letís recap:
1. Giant ego getting in the way of the success of our club
2. Lied to the people to gain trust and then not following up on promises made
3. Total lack of understanding of the job at hand
4. Controversial policies leading people to claim racism
5. Using said controversy to switch the spotlight from their own issues
6. Wears funny hat that most likely has connections to Russia
I just feel we donít have much choice anymore. Rally! Unfortunately, it seems that I am having to rally in the States. Real West Ham Fans Action Group will be marching to the Burnley match on March 10th. We cannot go unheard if we are really that upset - and I am.
Lastly, come on you Irons!

Please note that the opinions expressed in this article are those of the author and do not necessarily represent the views of, nor should be attributed to, KUMB.com.
---
Your Comments
comments powered by

Disqus