Filed: Monday, 23rd April 2018
By: Paul Walker

Was that the watershed moment that defined David Moyes' tenure as manager of West Ham, as we struggle desperately, painfully, towards Premier League survival?
Teenager Declan Rice has become the one shining light - well apart from Marko Arnautovic - of this terrible season, the kid who walked away from Chelsea who has grown now in stature in front of our eyes in a Hammers defence ravaged by injury, confidence and competence.

But he makes the one mistake, by ducking away from an Aaron Ramsey cross-shot, that turned a 1-1 draw into a 4-1 disaster, the first of three goals conceded in the final eight minutes at the Emirates where many felt the previous 82 minutes' action had warranted a deserved point.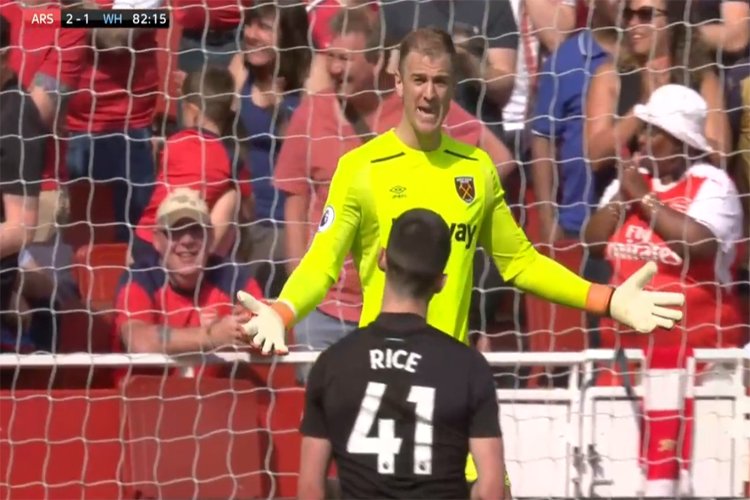 And then Moyes is critical of the newly-capped Irish international in the press conference that followed. It's not the done thing, is it? Not the way managers usually behave, they are expected to protect their players in public and rollock them in private.
That one action, over and above the complaints that Moyes is too negative, too conservative and only reacts positively when we concede goal, has maybe defined the Scot in the eyes of West Ham's fans.
They have not been convinced for a while. Last week a KUMB poll was split down the middle over whether he should be retained next season. About 52 per cent believe he should stay on, he must feel like a Brexit vote.
A subsequent poll on twitter this week has seen that popularity drop to five per cent.
My opinion for what it's worth, is that if he keeps us up he deserves another crack at it. He has been dealt such a poor hand, a shockingly unbalanced, injury hit squad, I doubt Pep Guardiola could turn us around.
There is so much wrong with that he has to work with, so much of which was underlined time and again by what happened at Arsenal. We have no support and cover down our right side, the manager has two goalkeepers it is hard to chose from, we have no creativity in midfield, Joao Mario is not up to the frenetic pace of the Premier League and neither Andy Carroll or Manuel Lanzini are fit enough to last a full match.
And on it goes. Players don't concentrate (what was Arthur Masuaku doing stepping over their first goal?); Chico may be good in the box but what else does he do? We have so little pace it is embarrassing, in particular in midfield. Mark Noble does his best, but he has never been quick, Cheikhou Kouyate runs himself ragged but can't do it all. Edimilson Fernandes runs but it's never really enough.
I could go on, so I am sure could you all. And none of this is Moyes' fault. He, to my mind, has made decisions about what players can and can't do, and is trying to patch together a side that can scrape together enough points to stay up. A side still without Pedro Obiang, Michail Antonio, Winston Reid and James Collins.
Embed from Getty Images
All this shows we cannot cope with even a few injuries. The squad is not big enough or good enough and has not been reinforced properly by the people who make these decisions. OK, David Sullivan.
I fail to see how anyone can suggest we can play Marko, Lanzini, Carroll and Hernandez in the same side, we would get slaughtered. That's how we finished on Sunday in north London. Yes, Moyes could set up with a bit more attacking intent against the likes of Stoke. But let's see what happens if he does that against Manchester City on Sunday.
It is the fault of four failed transfer windows. One fact here, in the 72 league games we have played since leaving the Boleyn, we have won just 20. And conceded 127. I repeat 127! Is this Moyes' fault?
And now he has compounded his errors, in many minds, by digging out Rice. For the record, it's not the way it should be done. It's been a rotten week, a win against Stoke and a point at Arsenal and we would be virtually safe. Maybe Moyes let his annoyance and frustration get the better of him.
But I am not sure being critical of a player in public is the biggest crime. Certainly the likes of Alex Ferguson never criticised his players in public, but Jose does, frequently. He is never off Paul Pogba's back.
There is a long used argument that if you are good enough, you are old enough. And if you are good enough to play in the Premier League and handle those pressures, then you should be able to take criticism on the chin.
Yes, I can hear you say, nobody slags off Joe Hart when he throws one in against Stoke or gets beaten at his near post for Arsenal's second. But he has been around the block and knows full well when he makes mistakes. Rice could just need telling quickly to concentrate his mind next time around.
Yes, it should be in private, and probably Moyes would think twice next time. But I really think Rice is grown up enough now not to be over bothered about when and how he was criticised.
I'm young.. I'll make mistakes.. it's all a leaning process to get to the top. thank you too the fans again who were brilliant❤⚒ ready to bounce back next week.

— Declan Rice (@_DeclanRice) April 22, 2018
Rice handled it well with his own careful response on twitter. I actually think that players get too much protection over their performances. I doubt he is really over-worried about Moyes' timing, he is more upset that he did something wrong.
There is a suggestion that Hart called "away" and Rice misheard him. Maybe Moyes' public reaction will mean he will never do that again. Get the ball away, debate it later.
There is no time for sensibility in football, too much money is at stake. In could be Moyes' version of tough love, it may work. The lad will get plenty of support from senior colleagues and he will never listen to a call again and duck!
But the real, real problem for me was seeing how things collapse the moment we take off midfield runners like Fernandes. He is no great player, but he presses, runs, gets in the way and protects Pablo Zabaleta to a certain extent. How we miss Pedro Obiang, still recovering from that terrible, unpunished tackle at Wigan.
What we don't have is cover, back-up, a big enough squad of a good level. Lets face it, if James Collins had been fit he would have been playing rather than sitting two rows in front of me in the away end on Sunday.
Pretty impressive that, don't you think? He was inundated with selfie after selfie after selfie all with a smile and good grace. Top man Ginge, you will be missed. It seems clear he won't be given a new contract, too many injuries I assume. But if we go down, I bet we keep him on.
Let's not go there for now. We still need points to survive, we can't keep waiting for Stoke, Southampton, Swansea and Huddersfield to foul up.
Whether Moyes survives this latest uproar is anyone's guess. Many have made their minds up. They don't like his lack of style and defensive selections. People seem to want a bright, young, adventurous manager.
Embed from Getty Images
Some want Rafa Benitez. To my mind the best option. But he has kept Newcastle up, got them into the top half and has yet to discuss a contract extension there. He has one year of his current deal to go, and would cost our owners a fortune. Owners who do not like buying managers out of contracts.
I have seen folk suggest that he has family ' up there' so will not come to us. He actually lives in Caldy near Chester, where his young daughters are at private school. That is roughly 200 miles from Newcastle, about the same distance from Wirral to London, so I doubt where he lives has much to do with it.
The bottom line is that our owners can either go for the fresh young coaches who have worked in the bottom half of La Liga (the current flavour of the month) or go for a manager like Benitez or Bournemouth's Eddie Howe. I don't see too many other options, you wonder what way our owners will jump now?

Please note that the opinions expressed in this article are those of the author and do not necessarily represent the views of, nor should be attributed to, KUMB.com.
---
Your Comments
comments powered by

Disqus