Filed: Tuesday, 28th August 2018
By: Paul Walker

I have a confession to make. When Manuel Pellegrini was installed as West Ham manager, I was not that sold on the idea.
Not totally against it, but not jumping up and down with glee like the rest of the Irons family and the clubís various spin merchants seemed to be.

Embed from Getty Images


I had witnessed his demise at Manchester City from closer quarters than many. He knew mid-season just over two years ago that he was going to be replaced by the most charismatic, and probably the best, manager in the world. Pep Guardiola was on his way and the whole thing had been sorted by the ex-Barcelona ímafiaí that now run the current Premier League champions.

Pellegrini was out--it was even announced in the February ,2016, despite having won the title and produced a brand of attacking football that was as easy on the eye as it was ruthless.

So why then go to China, apart from the obvious shed loads of cash? Was he not able to find a club in Europe to keep him in the splendour to which he was accustomed? China is a long way off and the beginning of the long goodbye from serious football.

He stayed two years and only came back because the Chinese league changed the rules about the quantity of foreign players each club could sign. Oh, and David Sullivan was bending his ear!

Once again, were we the only club he could have gone to. Was their not a club in the Champions League or UEFA Cup who wanted him? Was he, at little more than 62, considered to be past his best? we will never know.

So although I welcomed a man well respected and with a love of attacking, expansive football, there was always that doubt nagging away at me. Were we the last stopping off point as he accumulated his pension before returning to Chile.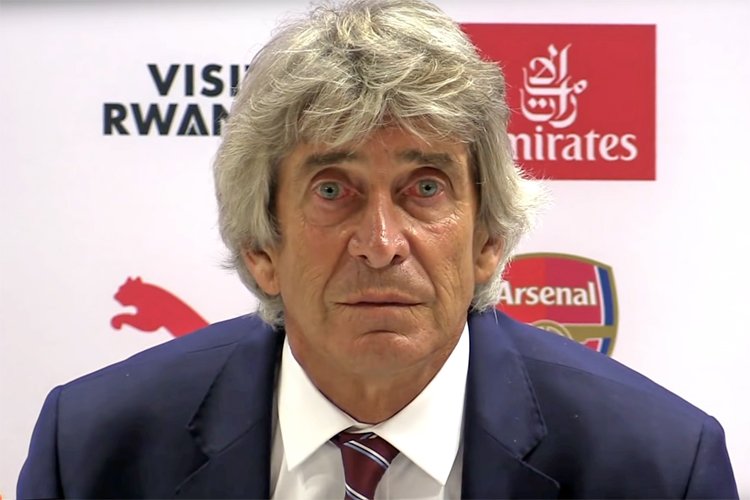 But I wanted to give it a go, I wanted to feel as excited as every one else. And it would be easy after three successive defeats to tell myself, very quietly, that I told you so.
But there was something about the man after the Arsenal game, something about his attitude and what he has been trying to preach to the team. He wanted a different mindset, something very different from the way West Ham have been these past few years, even longer maybe.
I never quite bought the idea he spouted that the team were still hindered by memories of last season. Only half of the players fielded were around under the previous regime. But I do believe he has been hammering away at the theory that he wants players to believe in themselves, have the balls to attack in away games.
This is more than just spending £100m on nine new players, it is installing confidence and courage. There is still plenty to do, but I watched the highlights and it was nowhere near as bad as I expected, having experienced more than a few defeats on the grounds of the supposed big clubs.
I was trying to follow the game on my phone while watching my local Division Two club. That was pretty horrific, not football as I know it coupled with watching the details from north London flickering away in front of me.
So seeing how well some parts of our team operated was a welcomed end to the day. Felipe Anderson was electric, Lucasz Fabianski again good and Carlos Sanchez a surprise package. Robert Snodgrass beavered away as he does, and should have scored, while Arnie could well have had a couple more. \Most of all it was good to see a home team made to run and work, when they were caught out so often.
Lets just keep it going like this. Wolves are next, they looked pretty decent holding Manchester City and they pressed frantically to stop the champions in their tracks. Saturday will not be easy, but we are beginning to look like a team.
Embed from Getty Images
To some it has looked like Pelle is searching for his best team, he has already used two different central defensive partnerships and only six players have started all three matches.Fabianski, Fabian Balbuena, Arthur Masuaku, Jack Wilshere, Anderson and Arnautovic Four players have been axed from a side after poor performances and not even been on the bench for the following game.
In all 18 different players have been used so far, with Adrian, Pedro Obiang and Aaron Cresswell not getting beyond the subs bench. You could ask whether a lot of this experimenting and shuffling of resources could not have been done in the six pre-season first team matches, rather than in the unforgiving glare of the Premier League spotlight.
I am still, though, prepared to give it time. Patience is a virtue seldom in a woman but never in a football fan, or something along those lines.
Admittedly I have only seen the Arsenal game on MOTD, never the best yardstick, but it seemed a much more confident, aggressive performance. We created plenty of chances and Anderson, running from deep, was outstanding. He covered more yards than any other West Ham player.
We gave away a comedy, downright stupid, second goal, Arnie got injured and they got another right at the death when we were throwing everything forward.
But it was Pellegriniís view on the style and philosophy of the side that impressed me most. I have always felt we are a defeatist club at times, the fans have seen so much rubbish, so much heartbreak over the decades, that we donít expect to win games. Thatís a bonus.
Pellegrini has already touched on this by showing his displeasure when the ground empties ten minutes before the end at the LS when we are only 2-1 down. Imagine the atmosphere at Anfield if that happens to Liverpool. The stadium is rocking as they fight for a draw.
Embed from Getty Images
The same at Old Trafford where under Fergie, at least, they pulverised teams in the final stages if they were losing. Ironically, that was the same at Goodison Park under David Moyes, they went right to the last seconds.
Trouble is, we have seen so much rubbish that we seem to know that West Ham do not mount magnificent comebacks. There is too much acceptance.
But Pellegrini has something more than just producing an attacking side on his mind. He wants us to act like a big team, play like a big team and go into big time rivalsí grounds with that in the forefront of our minds.
None of this ten men behind the ball, sitting deep and trying to hit on the break and nick a result. Thatís the big Sam way, and to a lesser extent, the Moyes way too. It smacks of an inferiority complex, something that Pelle has never experienced at Manchester City or Real Madrid.
And thatís the way they looked at the Emirates. In past such games we defend and ship four goals. We may have lost on Saturday but the Hammers fans there were happy with the attitude, the belief. If we are going to lose those games, and we always do, you might as well go for it and play with confidence and belief in your opponentsí half.
If Pellegrini can install this level of mental toughness into our side, he will be a long way towards the West Ham way that Allardyce could never discover, or even admit existed.
Embed from Getty Images
Pellegrini is not going to change his style. He will continue with a back four, there will be width and pace up front and to hell with the critics. We have to improve at the back, but Balbuena is Manuelís man, and heís going to be given every chance to find his feet in the Premier League. Thatís obvious.
Frankly I would rather lose 4-0 away to the big boys playing like this than lose 4-0 playing the big Sam way.

Please note that the opinions expressed in this article are those of the author and do not necessarily represent the views of, nor should be attributed to, KUMB.com.
---
Your Comments
comments powered by

Disqus