Filed: Friday, 5th October 2018
By: Preview Percy

Despite the fact we beat Man Utd Preview Percy STILL isn't happy. And the reason? Pretty much the same reason as why he wasn't happy after the Macclesfield game actually. Here's his look at this evening's trip to the seaside....
And after what has turned out to be a bit of a week we move on to the sunny south coast where we will be hosted at Falmer by Brighton And Hove Albion. It's a Friday night game for the benefit of the channel for which that oik Murdoch just conned a king's ransom out of an American company. 8pm kick-off which is a pain but at least it's not too far to travel and the last train should be achievable.

Embed from Getty Images


Brighton then. Actually, not quite as good a start to the season as I thought they had had. A win, two draws and four defeats is their record thus far this season. And the win came against Man Utd so probably doesn't count.

Their last five have produced two points out of a possible 15, comprising of a defeat at Anfield (1-0), draws at home to Fulham and away to Southampton (both 2-2) and defeats at home to Spurs (1-2) and away at Man City (2-0). All of which, after the dust has settled on the latest round of fixtures leaves them with five points and in 15th place, two points and one place behind ourselves.

According to Daisy, the work experience girl with the beautiful smile, they brought in no fewer than nine players during the close season. First cab off the rank was Florian Andone. He arrived for an undisclosed fee of €6m (about £5.4m at the Post Office which we now have to use since Thomas Cook told us to stop bothering them). That, apparently, was the release clause in his contract at Deportivo La Corunna, which was activated on the relegation of that club last season. Andone is a full Romanian International although he was brought up in Spain from the age of 12. However, the last of his 21 caps came last year – his return of one goal in that period suggests that the Romanian FA won't be in too much of a hurry to dig out his mobile number. He has yet to make his full debut for Brighton, a groin problem proving to be more troublesome than expected.

They acquired the services of defender Leon Balogun from German outfit Mainz 05, coming on a free which is the same in all currencies. He was born in West Berlin (and how odd does it feel to be referring to that particular place name again) a year or two before the wall came down, which makes me wonder whether anyone born in one of the Allied sectors of the city would have qualified to play for the then USSR, USA, France or any of the countries in the UK.

In the end, by the time Balogun was old enough to start thinking about international football the Berlin Wall (or "Anti-Fascist Protection Rampart" to give it its hilarious official name) was largely in small pieces resting on Islington mantelpieces and when it came to international duty he plumped for his Dad's Nigeria for whom he has over 20 caps. He's made a couple of appearances this season, his debut coming as a sub in the defeat of Moan Utd.

Embed from Getty Images


Another with a couple of appearances under his belt is Brazilian full-back Bernado. His "undisclosed" fee was said to be in the region of £9m. When you look through the list of his previous clubs you may discern a pattern. Having started his career in his native Brazil with Red Bull Brasil, his subsequent career has involved spells at Red Bull Salzburg and RB Leipzig, whose the owners claim that the RB stands for Rasen Ballsports (lawn ball sports). Yeah right. One suspects that the player had a resting heart beat of several million bpm before moving to Sussex, though this will have had the advantage of at least keeping him awake through team meetings. One of his two appearances came in the League Cup which is sponsored by another purveyor of those tooth-rotting so-called energy drinks. There's probably some sort of irony in that but he'll be spared having to neck some of the competition sponsor's product on camera for the foreseeable as Southampton knocked them out.

They spent a cool 50m South African Rand (or, if you prefer, a less cool £2.8m) on striker Percy Tau who, due to his failure to score a work permit from HMG, was promptly shipped out on loan to Belgian 2nd tier outfit Union SG, the majority ownership of which is in the hands of Brighton owner Tony Bloom. Won it in a bet I expect. Still, it's handy to have a spare club to take players off your hands as and when required. I wouldn't have normally have mentioned Tau amongst the new signings but he does have a splendid first name so he qualifies for inclusion.

One new arrival who has had a bit more game time is 21 year-old defender Yves Boussama. He arrived for a few bob shy of £15m, a figure which could rise to around £17m if all the add-ons end up getting, er, added-on. Although born in the Ivory Coast he was brought up in Mali and it is to the Malian national side that he has pledged his footballing troth. He's been a full international for Les Aigles since 2015 and scored a late winner against his birth country in the 2016 African Cuppa Soup (though Mali went onto be beaten by DR Congo in the final). Remember these countries – they'll come in useful in "Pointless" one day. A recruit from Lille, he's made 7 appearances this season, starting four of his six league matches in the process.

Iranian winger Alireza Jahanbakhsh (which I believe is probably Iranian for Al Jackson) arrived for a club record undisclosed fee of £17m. You can never keep the size of an undisclosed fee secret from Daisy the Work Experience Girl with the beautiful smile you know. He arrived from AZ "Where's our 67 gone?" Alkmaar, where his goalscoring exploits saw him become top scorer in the Eredivisie, becoming the first Asian player to take that accolade in any of the major European leagues. And the Dutch league. Al played in all three of his group matches in the World Cup facing Morocco, Spain and Portugal in the process. His six league appearances have all come from the racing car seats this season, suggesting that he is still coming to terms with the demands of the English game. Either that or Brighton like to spend club record fees on subs.

They also have a couple of players "known to the police" amongst their midst. I suspect that the next we hear of the case of HM Revenue & Customs v Mr & Mrs Glenn Murray will be when the verdict is announced. Mr & Mrs M were arrested back in January on suspicion of involvement in a tax fraud worth in excess of £1m so the lack of comment from either side of the case since then suggests that reporting restrictions have not been lifted.

Embed from Getty Images


Unlike those pertaining to R v Bong in which the defendant was found guilty of doing 90 along the A27 in one of the bits where you can actually do 70. Bong (no relation to Kevin Phillips I believe) was fined £667 plus costs for his Land Rover romp.

I shall move on to us now. I'm still annoyed you know. Having seen us score 1,2,3,4,5,6,7,8, and 10 in my lifetime of watching the team the Macclesfield match was an ideal opportunity to get the missing 9. "Nevermind" I thought. "We have the Salford lot on Saturday. We can do it then". So I'm annoyed that we didn't. Ok all joking apart what a splendid performance that was, Inevitably the papers and tv people saw us as having bit parts in the whole thing. As if our opponents had come on and played a match with absolutely no opposition in front of them and still lost 3-1.

Part of that is down to the twin Salford-Scouse epicentres of coverage that the media operates – I got home from that League Cup semi-final at Birmingham a few years back and when I watched my recording of the match discovered that pre-match and half time were pretty much all about Liverpool which, as far as I was aware, not one of the teams in action that night.

However there were a few comments here and there suggesting that, you know, that other side on the pitch, the one that scored three, were not that bad, actually. Even the normally "unbalanced by chip on shoulder" Danny Murphy took time out from trying to manipulate the Declan Rice contract talks on behalf of his agent mate to say that the win was deserved, though thinking about it that might well have been another agent tactic to big up his client. Benefit of the doubt – for now.

Predictably, Mourinho went into overdrive over the refereeing – "the first was offside" – technically yes though given that it involved the front half of Zabaleta's boot being over the imaginary line it would have been a damned fine spot by the lino to pick it up. It wasn't as offside as any of the three players involved in their second goal at the Olympic the other season which involved yards (or metres if you must) rather than fractions of inches (or millimetres if you must).

Embed from Getty Images


"Oh the second was an own goal" he bleated. Possibly – though if it was surely a failure by your own player to do a decent job of closing down had more to do with it than just "bad luck". "…and the third was a foul" he moaned. Which is just a straightforward lie basically. Tell you what Mourinho. I'll give you a quid for every time West Ham have benefited from a dubious refereeing decision if you give me a quid for every time that Moan Utd have done so. Bankruptcy court is that way, though I suppose I'll have to join the queue alongside the Spanish tax authorities to get my millions.

Back to us and there were some superb performances out there (tv companies please note). Fabianski's save from that Fellaini was simply breathtaking and in my opinion was nearly (but not quite) on a par with Banksy's effort against Brazil in the 1970 World Cup. Zabaleta is the living embodiment of the word "wily" and that midfield axis of Noble, Rice and Obiang looks to be the combination to stick with. Sorry Wilshere but I can't see you getting a start for a while once your ankle's healed up. The front three caused the visitors all sorts of issues all day – Arnie looks like a nightmare to play against when in this form and, note, all three were on the scoresheet (with a bit of poetic licence perhaps for Yarmo's effort).

What would have been the icing on the cake would have been if Arnie could have stuck that one away when we exposed the one fatal flaw in their training ground corner plan, which was that it failed to account for the opposition actually being on the pitch at the time they took the corner. It would have only left us five to get as well for me to get my set of nine. Just saying guys.

Talking of corners, that one you scored your goal from Mourinho? It wasn't.

Injuries and we are down to the same five long termers (Wilshere, Carroll, Sanchez, Lanzini and Reid) who will start to become available in dribs and drabs between November and January – with the exception of Sanchez whose knee is a nasty one. Hernandez is rated as 50-50 as he recovers from glandular fever. But, assuming nothing happens twixt me finishing this column and Friday night it doesn't require a leak enquiry to suggest that the team is likely to be unchanged for this one. If anyone asks I guessed, ok?

Prediction? I'm going all optimistic today and going to go for an away win as the investment in the club by the aliens from planet Kepler 442B starts to pay dividends. The £2.50 that would have gone on a pair of Wenger Photochromatic 5000 spectacles to give to Mourinho will instead, using the Winstone Turf Accountancy App (When The Fun Stops Allardyce will become Man Utd manager), be placed on a 2-1 away win. Hope that doesn't jinx things.

Enjoy the game!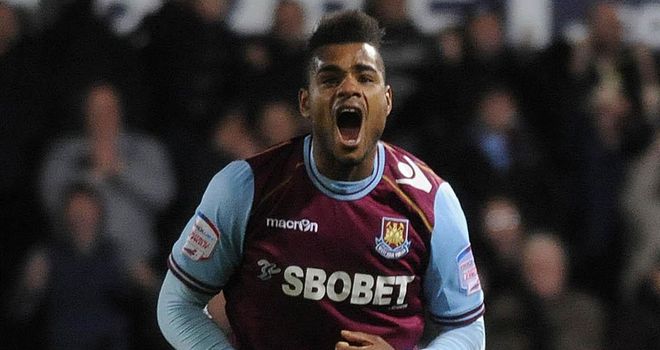 When Last We Met At The Credit Card Stadium
Lost 3-1 (Premier League February 2018)
Hernandez got us into the game after Murray's early opener before a freak effort by Izquierdo restored their lead. Gross made it 3-1 as we were treated to the sight of away stewards being sent in to try and confiscate anti-board banners.
Referee: Kevin Friend
Did this match back in 2011. Inconsistent is his middle name.
Danger Man: Glenn Murray
One of those players who can make a nuisance of himself without actually being any bloody good.
Percy's Poser:
Last week we gave you the following incomplete headline from the Manchester Evening News:
"The X-XXX-XXXX moment police dealt with an escaped cow in Didsbury"
Congratulations to Margot Leadbetter of Surbiton for correctly stating that the missing words were "a-moo-sing". They don't get out much up there.
For this week's poser we visit the Brighton Argus and ask you to complete the following headline:
"Drunk Flasher who exposed his bottom to onlookers while drunk has been ordered to clean up his XXX"
Good luck everybody and be careful!

Please note that the opinions expressed in this article are those of the author and do not necessarily represent the views of, nor should be attributed to, KUMB.com.
---
Your Comments
comments powered by

Disqus