Filed: Monday, 17th December 2018
By: Paul Walker

It was a day to remember, surely, when West Ham boss Manuel Pellegrini was inducted into the Claret and Blue Army.
With the Fulham Palace Road and the Thames hardly distinguishable, with West Ham's travelling fans drenched, Pellegrini heard his name booming out from the raucous Putney Road end.

It was mentioned to the Chilean after the match, he expressed his delight and pointed out that he has always had a decent rapport with fans of any club he has managed. But I doubt Pellegrini really understood the honour that had just been bestowed upon him.

His name was 'fronting' the Claret and Blue army chant, and you really do not hear a manager's name incorporated into that very special chant very often by West Ham fans.

Embed from Getty Images


This may all seem a bit childish to the uninitiated, but to the thousands who understand such things, it's very serious. When you have sung John Lyall or Billy Bonds name in the 'Army' chant, you know it is sacrilege to even attempt to put, say, Big Fat Sam's moniker in that category of devotion.

For much of the last decade or so, that chant has determinedly been "We are West Ham's claret and blue army" largely because there has been nobody sitting on the bench , who the fans respect, like or trust enough to be honoured in such a way.

Thinking back, and I am sure someone will correct me if I am wrong, but I feel the last manager to have his name sung in this way was Alan Pardew, largely because of the run to the FA Cup final. Once he was fired in 2006, nobody since has come close to that honour.

Not David Moyes, not even the much-liked Slaven Bilic, certainly not the universally disliked Sam Allardyce, who thought we were all deluded. Not Avram Grant, nor Gianfranco Zola or even one of our own Alan Curbishley.

Even before Pardew, I am not sure Glenn Roeder, even Harry Redknapp or Lou Macari had their names sung in that way. That real, long-standing honour was afforded Bonds and Lyall certainly, for a reason. And if you have to even ask why, you are not West Ham, are you?

I have found that it is usually the travelling support who make these decision, and I have been up and down the country with this lot of reprobates for may years, enough time to remember such things.

But Pellegrini, after just six months, 20 games in charge and nine wins, is surely the quickest to be elevated to such a position.

Embed from Getty Images


I felt, when the chant started, that it may have been a touch early, but it's Christmas, lets not be a miserable old git and go with the flow.

The reason is obvious. He has injected a style of play much more in keeping with how we all want West Ham to play. The win at Fulham, the fourth on the trot, gave us our best run of wins for almost five years. Add a fifth on Saturday against Watford and that I believe will take us back to the very beginning of 2006 when we actually won seven on the spin.

So Pellegrini should be honoured to have been taken to our hearts so quickly. He has injected an attitude, a belief amongst the players, they are beginning to perform as if they do not expect to lose. You can't say that about much of the past 12 years since Pardew departed.

I heard Michael Owen on BT Sport say we were set-up like a Champions League side. Centre backs wide, holding midfielder deep, two full backs pushed on and a front line of pace and attacking quality. Praise indeed.

Pellegrini insists that when things didn't start well, he never once considered changing his ideology. He stuck to what he knows best, and what he knows wins matches. The players have bought into it, us fans have kept our fingers crossed and it looks to be working well.

I know I shouldn't have to say this, but a bit of calm would not go amiss now. Far too much over-excitement I see. Too much of the 'these are sides we should be beating' is doing the rounds. Too much boasting about how many points we are going to get from a seemingly 'easy' set of fixtures.

Not much respect there sometimes, and it only plays into opponents' hands, because they will see it all and react. Remember Troy Deeney's annoyance at some show-boating from Dimitri Payet and Manu Lanzini? Look where that got us.

But it is going well, isn't it? Pellegrini has that top-level knack of improving players. It seems he handled Michail Antonio's training recently personally. Having lost Arnie for a while and there being a need for a physical presence up front, Antonio was the man.

Embed from Getty Images


Pelle can't trust Andy Carroll's fitness or availability, so Antonio got the Pelle treatment - and look how much he has improved. Earlier this season he had looked heavy, slow and struggling for confidence while recovering match fitness after injury.

But at Craven Cottage he played with so much more discipline. No constant loss of possession; no blind alley, surging runs. He tormented Fulham with his power, pace and hold -up play, and his goal - controlled with his right foot and slotted home with his left - showed a level of technical ability many felt he did not possess.

Robert Snodgrass has improved out of all recognition under Pelle's control, Javier Hernandez is working, running, even creating an assist, it seems his first for five years. He'll have to keep going like this or he'll be back on the bench when Arnie returns.

Arthur Masuaku has also become more controlled and disciplined, despite the stick he is still getting from fans. Fabian Balbuena and Issa Diop have also developed into an impressive defensive partnership, while Felipe Anderson has learned what is necessary to survive and succeed in the Premier League.

And he's got his own song now too. To the tune of Simon and Garfunkel's "Mrs Robinson" song from the Graduate, it goes: "Here's to you Felipe Anderson, West Ham loves you more than you will know, wooa wooa."

I know this because the big lad next to me on Saturday - I'd let this unit have my seat so he could sit with his mates - spent the whole game singing this on his own until everyone else joined in.

Brought back memories of Anne Bancroft, for those old enough to remember!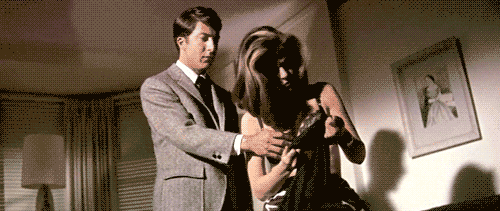 And Anderson is now so obviously the key. The new Payet - even better, maybe, than Paolo Di Canio. From the moment Payet left in January 2017, until the end of last season, West Ham won just 14 of 54 league matches, we relied on him so much.
But Anderson, with clever control, technique, pace and a new-found ability to track back and tackle - one priceless challenge one right in front of Pelle in the second half in particular - has seen the Brazilian adapt to our conditions and become a legend in the making.
His ability to find space, hold possession in tight areas and attack at pace - there's almost an assist or goal in every game now - has made him a nightmare to defend against and one of the Premier League's most in form players.
Long may it continue. We are looking upwards now, rather than down at the relegation fight. That's a change of attitude for fans as well as players. And that's all down to Pellegrini.

Please note that the opinions expressed in this article are those of the author and do not necessarily represent the views of, nor should be attributed to, KUMB.com.
---
Your Comments
comments powered by

Disqus