Filed: Thursday, 14th March 2019
By: Paul Walker

The question surely is - why? Why have West Ham chosen now to drop a controversial season ticket hike onto their fans? Why, after the feelgood factor of the wonderful Billy Bonds tribute, do the club risk alienating their fan base so quickly for no obvious reason?
Is it because the club do not think things through? Do they just not care about the opinions of fans, when notice of variable price rises from 9% to 90% come tumbling into their e-mail in tray?

Does it not occur to the club that bringing the renewal date forward, and then giving an April date before the end of the season as the deadline for using up your ímoney in the bankí ticket exchange, is just a bit naughty?

Itís not the price here that is the point, some can afford it, some canít. Itís an arguable point that this could have been a lot worse and we have all been waiting for such changes for some while, itís no surprise. It has split the fans, yet again.

Embed from Getty Images


But itís the way itís been done, and the way the newly formed Official Supporters Board have been totally ignored. So what is the point of the OSB if they are not to be consulted? More of that later.

And thereís not a word of explanation. Just a list of what itís going to cost, take it or leave it, and donít be late with your cash because thereís thousands on the waiting list, you know. Adults may even be sold those kids' seats.

And then making the overall renewal date mid-month when lots of fans do not get paid until the end of a month. Not everyone can suddenly put their hands on anything between £300 and £1,000 just like that. Funnily enough, lots of people save up for their season ticket. We donít all live in Surrey, Essex or Kensington mansions.

But again, the question is why? And why target the kids? What an own goal. Why choose a few days after the Cardiff disaster to send out a glittery promotional film on the subject - one which seems to want to celebrate we havenít won anything for 40 years, because much was made of the 40th anniversary of the FA Cup Final triumph over Arsenal.
 
I know thatís a bit smarty-pants, but these things get you like that. The media department were not to know the fan base would be in uproar over the Cardiff debacle. Sadly it smacked of the clever decision to trumpet Marko Arnautovic's new, enhanced contract just 20 minutes after the FA Cup disaster at Wimbledon.

We saw that calamity unfold on TV after watching one of the worst cup disgraces in our history. I recall Manuel Pellegrini was not best pleased.

The real annoying bit is that the club have targeted the under 16s, the parents who have been encouraged to buy cheap STs for their kids, the youngsters we want as our future fans. They used the children to boost their ticket sales in that first Stratford season, now they are dumping on those same kids and their parents. Such wonderful PR.

I am aware that there are some quotes floating about from David Sullivan from a couple of years back, telling us all how vital it was that kids were encouraged, that they hadnít taken the stadium just to bleed supporters for every penny. The club have to make football available to the average family man. Now those quotes are not mine, so I have paraphrased them. I expect them to surface any time soon.

Embed from Getty Images


There are clearly two sides to this debate. Many fans insist that there has been a price freeze for some while dating back to the Boleyn. We have some of the cheapest ticket prices in the Premier League, certainly in London. For a lot of folk the rise is around £50. Price of a good night out with drinks, so for those who can afford it, not a bad deal. Live with it, what did you expect, no price rises ever?

And of course that is a valid argument. But fathers with kids and those at the poorer end of the market, this announcement is a big deal. One guy I noticed had his ticket and two for his lads, and will be £150 more out of pocket. Some under 16 tickets have almost doubled.

And the club have frozen the cheapest band 5 tickets, I suppose so they can continue to boast that we have the cheapest PL season tickets in London.

The problem the club have is those 10,000 cheap kids tickets that Lady Karren keeps rattling on about. It unbalances an overall ticketing policy. That Ďaffordable family footballí thing that was used, in effect to flog tickets ahead of the move to Stratford because the club were terrified they would not fill the Olympic Stadium and be open to ridicule.

I never thought they would have a problem, really. Iíve been around this club now for 62 years and I know this fan base better than most. We have a massive following, someone suggested 500,000 in east London and Essex alone. We would always have filed the place, we have 54,000 season ticket holders now, a 60,000 sell out and by next season it will be 62,500. We are a big club.

But those 10,000 cheap tickets have damaged the balance sheet. And they have been wide open to misuse. Frankly we are not making as much money as the board had hoped. The last accounts showed revenue down £8m, operating profit down £32m, tickets down £4m, TV and commercial down £3m, merchandising down £1.5m, wages up £11m.

And it would seem that the next accounts may not be too pretty either with the £89m on new players, without selling enough players to balance it out.

There is an accepted theory that PL clubs could play without any fans at all and still make a healthy profit, so much do Sky and the overseas rights pump in. We are not that important, they could let us in for free. (Sorry, I know thatís daft, but true.) So our season ticket money is but a drop in the ocean.

So is it worth all the hassle to drop these price rises on us now, in March, for heavenís sake? You would think it was planned. A little over a week after the glorious unity created by the opening of the Billy Bonds stand, and the rapturous reception the great man received, the club have shredded that good will with the ST announcements. Brilliant job that, everyone.

Embed from Getty Images


And what is really annoying is that they have let it be known through their usual favoured media sources that this is all because of last summerís £89m transfer spend-up. Canít sustain that, we are told. There is a theory in advertising or politics, all the same really, that if you tell the punters something often enough they will believe it. I am surprised the club didnít commission a big red bus to make the announcement!

I saw somewhere on social media that you cannot have big transfers alongside low season ticket prices. So we are being told we have to fund the transfers, eh, is that the point?

It made me think how back in the black and white days of the '60s when the West Ham supporters club took buckets round the ground to help fund stadium improvements and the rich landed gentry that used to run our club had the nerve to take the cash from the poor working class East Enders, the dockers and the factory workers who could ill-afford to give the rich owners their cash.

I do hope the Supporters Club, now they are part of the OSB machine, have not been asked to cough up again!

Now I am no mathematician, I may have mentioned it before, but to tell people their season tickets must cost more so we can buy Maxi Sanchez is utter nonsense.

The last time I looked at the recently published accounts, the club made £24m on ticket sales, down £4m from the previous years. Now the average prices hike across the various bands is about 17 per cent; some, who have the time to go through these things with a fine toothcomb, say a little lower. So letsí be kind and say 15 per cent.

Now if we have a season-long take of £24m, and increase that by 15 per cent, thatís £3.6m extra income from the club. Tell me, what part of Sanchezís anatomy could we buy with £3.6m? (Shut up at the back..)

So itís nothing to do with buying new players. Many thought that the extra revenue from 30,000 more fans would pay for some of that. So the club have gone to all this trouble of revisiting various ticket prices, and they are going to pick up an extra £3.6m. So I donít want to hear any more nonsense of us funding a transfer budget.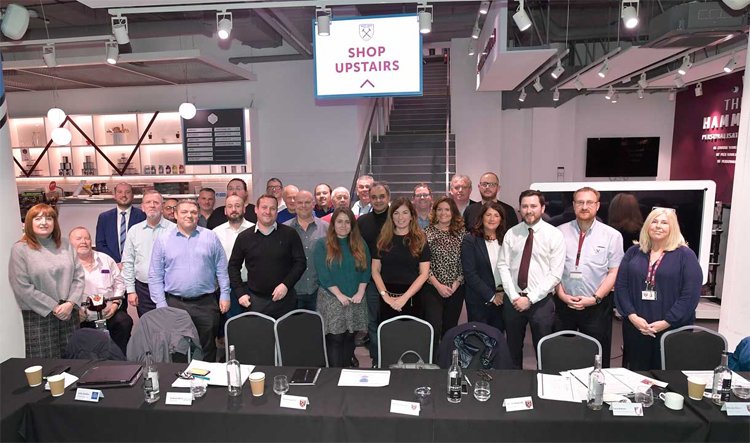 Hung out to dry: the OSB
And then thereís the poor OSB. Not told a thing. No private briefings. Nothing. They are supposed to be having a ticket sub-committee next week with the clubís head of ticketing. Bit late now, donít you think?
It does the credibility of the new OSB no good at all. There are many who see it as little more than a demilitarised buffer zone to keep the troublesome fansí groups, who ask difficult questions, away from Bradyís bosses.
I notice the WHUISA have issued a statement, articulate, and to the point, questioning the new prices. They have been ignored, I believe. They also sent out an open letter recently to the club, pointing out what they considered to be misleading information that appeared in the recently published minutes of the last OSB meeting. That seems to have been ignored too.
But why am I surprised? This club do not seem to take advice, ask for input, or just run through stuff with their fans. Now the new OSB are finding this out the hard way.

Please note that the opinions expressed in this article are those of the author and do not necessarily represent the views of, nor should be attributed to, KUMB.com.
---
Your Comments
comments powered by

Disqus