SHIRT WILL NOW BE PROFESSIONALLY FRAMED

Fellow KUMBers, those of you who know me in person will be fully aware of the various fund raising efforts that I have undertaken this past year to support my 4 year old niece who in her young little life has already been through more than most of you and your families will hopefully ever have to go through. This includes a full heart transplant and two brain operations.
So now I turn to the hugely generous KUMB community in an attempt to raise not just funds, but also awareness of the importance of organ donation.
First up... the bit you clicked on the topic link for right... the signed shirt...Here it is...!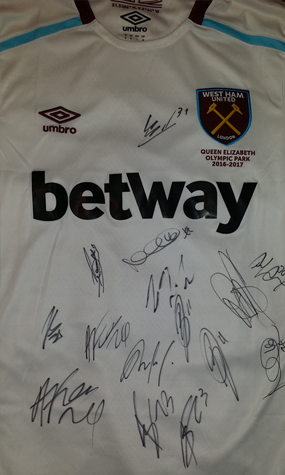 I have, up for auction to the KUMB community
only
, one squad signed white away shirt...!
SHIRT WILL NOW BE PROFESSIONALLY FRAMED

This shirt was signed by the full squad who made the trip out to Dubai this winter and was gifted to me by my good friends in the Dubai Hammers with a little bit of help from our very own UTJ who made it possible via Max Fitzgerald at the club. I really can't thank all of them enough for the gesture!
I am kicking off the auction right here, right now with my own bid of 50 quid and the mods have agreed to let it run for just over a week, ending at the exact same time that our season ends with a full time whistle up at Burnley.
Please reply below with your bids and please only bid if you are serious.
For those keen to know why the shirt is up for auction, here is a little info on my niece, Rosie and her struggle to date...
Rosie was a perfectly happy and able little girl up until the age of two when she began getting ill and was eventually diagnosed with Restrictive Cardiomyopathy. At three she suffered a cardiac arrest, was placed on the urgent transplant list on Christmas Eve 2015 and in a February 2016 was fitted with a mechanical heart at Great Ormond Street Hospital.
The mechanical heart resulted in Rosie having two brain bleeds, both requiring emergency craniotomies, then multiple strokes.
Thanks to a wonderful, selfless, courageous family, Rosie received a heart transplant in summer 2016. The surgeon said it was a 'perfect transplant operation' and Rosie recovered fantastically well.
Sadly the multiple strokes have left Rosie with bilateral Dystonia movement disorder and she was admitted to The Children's Trust, Tadworth for four months of intensive neuro rehabilitation.
Rosie has made good progress but is still unable to sit or stand unaided, to eat or to communicate.
At The Children's Trust, Rosie has received at least three hours of intensive therapy each day and access to some amazing equipment to help her rehabilitation. At home, the local authority can only offer one joint physio and occupational therapy session per month.
We want Rosie to continue to improve so are going to do all we can to privately fund additional therapy and specialist equipment.
We are incredibly grateful for any help in getting Rosie as good as she can be to enable her to enjoy every precious day that the gift of a new heart has given her.
We urge all families to consider signing up to become organ donors, it is certainly not a conversation we ever wanted to have but I can assure you that if you or your child needs an organ, you won't think twice about accepting one. So please, please, please consider donating them also.
Register to be an organ donor here...
https://www.organdonation.nhs.uk/
For those of you interested in following Rosie's journey from the very start, visit her website...
http://www.RegisterForRosie.com
And for those of you not able to wade in with the inevitable big hitters bidding on the shirt but still keen to help out in some way, Rosie has her own funding page here...
https://www.justgiving.com/crowdfunding/RosieDay1
One final note, we are also holding a football fun day at Hornchurch Stadium on 20th May where fans of WHU will take on fans of Spurs, Arsenal and Hornchurch in a 'friendly' competition. Anyone in the area is welcome to come along, throw some money in a bucket and support the WHU fans team!
(NB. if anyone can supply a full set of sky blue WHU away shirts just for the day I would be massively grateful for that too!)
Over to you KUMB... I know you won't let me down!
Sutts x