skysports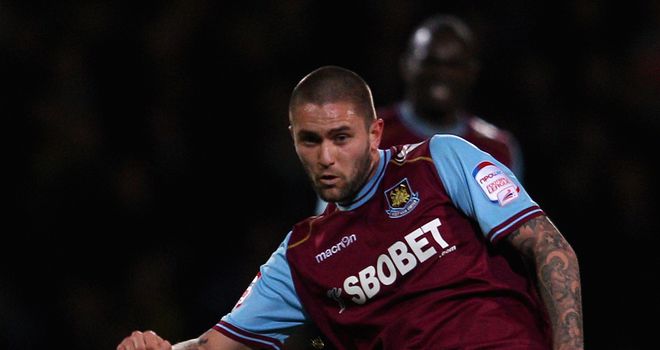 Lansbury backing Hammers


Henri Lansbury is confident West Ham can perform well next season as they return to the Premier League after a year in the second tier.

Lansbury has spent the whole of this term on loan at Upton Park from Arsenal and feels the Hammers are well equipped for life in the top flight.

He was impressed by the way West Ham kept their nerve after being made favourites to earn promotion and successfully negotiated the play-offs.

"There are some good players here and they all want to do well," the England Under 21 midfielder told West Ham's official website.

"People were talking about pressure and being favourites for the final and all of that, but that has been around all season. I think the lads can do well next year, there is no reason why not."
Massive

With the club's finances delicately poised, Sam Allardyce was charged with gaining promotion in his first season at the helm of the East London club and Lansbury is pleased for all involved.

He said: "It is massive for the club obviously as it means being back in the Premier League. It is also massive for the West Ham fans.

"You know they would have made sure they had a good day out at Wembley whatever happened as it is such a great place to come to.

"But the fact that their team won means so much and we are all glad that this could happen for them as they deserve it. They have certainly been fantastic in my time here."
london24

Cottee: I'd love to see Michael Owen at West Ham

Hammers legend doesn't think it would be the end of the world if Rob Green left the club


It is set to be another summer of change at West Ham but unlike last year I don't expect that we will need to knock the house down a build again, writes Tony Cottee.

We have the nucleus of a Premier League squad at the moment, with the likes of James Tomkins, Mark Noble, Kevin Nolan and Carlton Cole and with a few additions over the coming months we should be strong enough for the top flight.

I would personally like to see six or seven new faces arrive at Upton Park and I think that the most important position we need to cover is defence.

We need two new full-backs as well as central defensive cover for Tomkins and Winston Reid, especially now Abdoulaye Faye has been released.

There is a lot of talk about Robert Green departing the club when his contract expires at the end of next month and I think if the England man does leave, he can do so with his head held high.

He has been a good servant to the club, but it won't be the end of the world if he does leave.

There are suitable replacements for him with the likes of Paul Robinson of Blackburn and Sunderland's Craig Gordon rumoured to be of interest.

I would also like to see the Hammers sign a creative midfielder and a striker, a real goalscorer which will be crucial in the Premier League.

My first choice would be to go all out to get Michael Owen.

He may have had some injury problems, but a frontline of him and Cole would be great to see in the Premier League.

People forget that Owen is only 32 years old and I think that he still has lots of goals in him and would love to see him at Upton Park.

In terms of departures, I won't be too sad to see the likes of Papa Bouba Diop, Julien Faubert and John Carew leave the club.

Some of those players were brought in just to get West Ham out of the Championship and now that is done, they are surplus to requirements, unfortunately.
londojn24

West Ham chairman: Wembley win was the best day of my footballing life

West Ham co-chairman David Gold has had glorious days in football in the past, but as you watched him strolling around the turf at Wembley Stadium on Saturday, you could see that this was more special than all the rest.

"This is my greatest day in football," said Gold, the grin on his face failing to hide the overwhelming pride that he was feeling.

"This is my football club. That's not to say that I didn't give everything to Birmingham City because I did, but here I give more because this is my club."

You could see it in his face. You could see by the way he was reluctant to let the trophy from his grasp.

While co-owner David Sullivan is the more outspoken of the chairmen, Gold is the heart of the club, he feels the pain and suffers the same nerves as the supporters because he is one.

Stressful

"It was nerve-racking and disppointing in the fact that it was stressful," he said. "They came out after half time, scored straight away and from that moment on I was thinking they are the better side and they are the more likely to score.

"They looked the better side, but you have got to ride your luck and we did that and I think we deserved that bit of luck."

You could tell he had kicked every ball, suffered every anxiety and not because of the £30million fortune that he had invested on promotion, but because West Ham is his team.

"You could argue that we all ride our luck in this business and many games during the season the luck was against us.

"Here, the luck only really came with the fact that they didn't score when they should have."

It was not how Gold and Sullivan had planned the season. It was supposed to be a waltz towards the Championship title, but with promotion finally secured, there was time for the chairman to joke.

"I think this was a cunning plan on Sam's behalf," smiled Gold.

"Originally we said to him 'get us promoted as champions' and he didn't do that, then we said, 'get us promoted automatically' and he didn't do that. I think it was because he wanted to come here!"

After the mistakes of appointing Avram Grant as manager and the consequent relegation, the transformation has been completed at West Ham and Gold can rightly take part of the credit for that.

He is West Ham through and through and you only have to listen to him talk about the club he loves to realise just how deep that goes.

"I stand on the balcony of the boardroom at Upton Park, look out and I can see my house where I used to live as a kid," he reflected.

"I can see the front room where I used to peer out of and look up and see the stadium from when I was seven-years-old.

"I can see my school which got bombed during the war and just beyond that I can see the Olympic Stadium.

"So there is my whole life. Standing at West Ham I can see the past, the present and the future."

And that future is surely a brighter one for West Ham fans with people like Gold on board – the co-chairman should know, he is one of them!



claret and blue in my blood
Safe Hands: On the Field and Off For the Hammers


I put my life on hold for a week or so, while West Ham secured Promotion in the Final at Wembley, so you can understand, I hope, why I took some time for other things, and to let things sink and to gather my thoughts. I've had a smile on my kisser for days thinking about not only what promotion brings us on the field next year, but what it brings us off the field too. It's quite amazing how far the club has come this season, since the dark days of April 2011 and the end of the bewildering Grant era. Many of you have noticed too, given the comments this week.

KUMB had, in my opinion, a very good article on much of what I have been ruminating on this week, and I will pick up on some of Paul Walker's points, but, if you haven't read it, then don't wait - it's very cogent and thought-provoking with respect to the club's future, while revealing much about hitherto unknown aspects of the Paul Ince saga with the club as well.

The name Ince brings me on to another point: the future. It must be difficult to make signings this time of year with most football players taking much needed rests and family time to recoup from the mental and physical strains of the season. However, I do believe that the club are working diligently in this area. My respect for Allardyce is already well documented, but I have to say he added another feather to his bow for me, when he announced the 6 players to be released at the end of their contracts next month. Some of the players that he named surprised me: Faye and Diop in particular. Apart from both these players being Allardyce "clones", having a long-established rapport with him, and having playing careers orbiting Allardyce's own managerial career, they have both performed very well for West Ham this season. It would have been easy for Sam to have been swayed by loyalty or nostalgia and to have contrived to have kept them on the books - particularly Faye - for one more season in the Premiership, perhaps citing their experience, physical stature, and solid work-ethic, but he didn't.

Faye was a first choice CB for much of the season, and he played some sterling games where his dogged defensive nouse saved our collective bacon many times. But his release signals Allardyce's single-minded professionalism and his clarity: his ability to cut through sentimentalism and not to be clouded by the past. He knows that while Faye has been a loyal and good servant this season, he is getting well past his prime. While his tackles are still first class and extremely well-timed, his pace is slowing and, given his advancing age, his injuries are likely to mount up.

Faubert and Diop will also be fondly remembered by me, but I have to say, neither strike me as Premier League material. John Carew was devastating in one game when he played up front with Baldock against Blackpool at home, but that aside, he was anonymous both on and off the field, and won't be remembered by me for long! Nouble showed great promise but never really delivered. Certainly he's not Premier League material right now. I can honestly say I have never seen Olly Lee play and can therefore only concur with what both Carr and Allardyce must see as little potential in the near future. Of course, McCartney, Lansbury and Collins to mention a few, are not West Ham property. McCartney would be a great full time acquisition, and Lansbury, while hot and cold last year, could be a fine purchase too: Arsene?

I'm quite sure these are not the only players we will see leave this season, but it's likely the others that do leave will generate transfer fees. There are other players that I feel will have less first eleven football next season, probably spending much of their time as squad players and on the bench. I'm not sure about JOB, Demel, Taylor, O'Neill and Baldock to name a few. Of course, getting back to a realistic bench of 7 will be a boon for many of the younger players on the books, who may well find themselves given the chances to build some experience during the season from the bench.

On the flip side, what about potential targets? I see plenty of bloggers indicating that Sam should be poaching from relegated teams; however, a word of caution here: those players have shown the distinct ability to implode by suffering relegation, and stacking our team with too many of these players may have a deleterious effect on what can, presently, only be called a fabulously confident and united changing room at the Boleyn. That said, there are some players that could be useful, but I caution against buying defenders from Wolves! I watched Wolves on several occasions last season, and I have to say that the defensive unit was far worse than I have ever seen in the Premier League, and worse than many in the Championship. To say it was rudderless, showed no initiative or native instinct, was incompetent and completely disorganized is a cliche, but nonetheless, it this case, it's true.

While the Premier League is a potential source for players, so our squad could be boosted by the many talented players we saw this year in the Championship. We have had an education to which most Premier League teams were not privy too: we have seen fresh, young and enthusiastic talent who are relatively unknown outside their team and league. That's an opportunity not to be missed. Not only are some of the players young, fresh and well-schooled, they are also cheap and surprisingly technically gifted. A couple of areas the Hammers lacked all season long was in pace and width. In Vaz, who arrived in late January, we have a pacey winger who is not afraid to take on players, and can't wait to see him destroy many a defence in the Premier League. Taylor, on the other hand, is a good crosser, but his pace is not scintillating, and nor is ability to take on players.

I put it to you, as Paul Walker alluded, that we ought to put our feelings for the name Ince firmly on the back-burner and consider Blackpool's Ince JR. He was almost unplayable until McCartney managed to snuff some of his inspirational play out, but given more experience and a few more years, I can see 20 year old Tom Ince becoming a right handful for many defences and an incredible player. Simply put, we should move for him. Setting up like Swansea, with pace, width and unboundless youthful enthusiasm would certainly be something for us emulate next season, and young players like Ince could only add to our squad. Faubert or Ince? I know who I'd rather have. Speaking of Blackpool, I thought 26 year old Martinez was a cracker as was young Matt Phillips. There are many other examples of young, quick and technically gifted players in the Championship that could certainly add to the positive, enthusiastic and never-say-die experience our team has shown these last few games.

Of course there are some contracts we want to sew up at our own club too: among them for me, Green is a must. I know Robinson and Almunia are available, but Green is heads above them: he has been more than a pair of safe hands, he has also been a loyal servant and has plenty of leadership attributes. And we've seen how much a good leader has improved our team's winning mentality.

It's not only on the pitch where I think we are in safe hands; off of it too, the club are in safe hands. The two Davids are steadily reducing the debt, financing deals with personal money, and staying positive. Gone are the morale-damaging media-spotlighted sound-bites, replaced by sage and canny counsel. The future for the club is bright, and with some careful player acquisitions, some diligent money-management, patience from the fans the club can come back stronger than ever.

As fans we have to continue to reign in our expectations: no club has gone straight up and managed to compete in the Champions League next season. Next season for us will be one of consolidation and future planning. It remains to be seen if Pardew's Newcastle can manage to sustain what, in all likelihood, was inspired as much by an underperformed Chelsea, Liverpool and, initially, Arsenal as it was by his managerial prowess. West Ham aren't going to win the league; after all, they haven't so far! But a sound 7th to 14th place would be a realistic if optimistic expectation for next season, given some sound player investment and Sam's tutelage.

The players have three weeks off; then it's back to it. Let's hope for some new faces as well as the return of some more familiar ones.






Manchester City are set to make another move to sign Barcelona star Dani Alves, 29. According to reports in Spain they have offered £12m and Aleksandar Kolarov.

talkSPORT

Manchester City striker Mario Balotelli has reiterated his desire to stay at the club, playing down reports in the Italian press that he is to join AC Milan.

Manchester Evening News

Manchester United are set to make an improved offer of £13m for Shinji Kagawa, 23, from Borussia Dortmund.

Daily Mail

Tottenham are close to signing central defender Jan Vertonghen, 25, from Ajax for a fee of £9.6m.

The Guardian

Arsenal are ready to open the bidding for Montpellier striker Olivier Giroud by offering £6.4m, plus Marouane Chamakh, for the 25-year-old.

The Metro

Liverpool target Roberto Martinez

Wigan chairman Dave Whelan has urged Roberto Martinez to think carefully about joining Liverpool to work under a football director.

Daily Mirror

Fabio Capello is the latest manager to turn down Liverpool but he still hopes a move to Chelsea could materialise.

Daily Mail

Steve Bruce is wanted by Hull City to replace Nick Barmby but he will not make any decision yet as he eyes a third return to Wigan, should Martinez leave .

Daily Mirror

Chelsea interim boss Roberto Di Matteo has emerged as a target for Napoli after talks with Chelsea stalled.

talkSPORT


The Dutch national side have been warming up for 2012 by appearing in a "Birdie Song" commercial for a supermarket, which has appeared on their national TV


FABIO AURELIO has returned to his native Brazil after being released by Liverpool.
Follow The Scottish Sun on Twitter

The ex-Valencia left-back, 32, signed for Gremio after a six-year spell at Anfield — where he made just 58 league starts due to a string of injuries.

ASAMOAH GYAN has turned his back on a Sunderland return by agreeing to extend his £120,000-a-week stay with UAE outfit Al Ain.

The Ghana striker scored 20 goals in 17 games after arriving from Wearside in September.

STEVE BRUCE is ready to bounce back into management with Hull.

Bruce has been out of work since being dismissed as Sunderland boss last November.

But Tigers owner Assem Allam sees him as No 1 choice to replace the sacked Nick Barmby.

Bruce, 51, is set to return from holiday for talks after Barmby's appeal against his axing — for comments about the club's recruitment policy — was dismissed by Allam last night.

Allam said: "Nick's behaviour has led to a breakdown of trust."

babe of the day
https://fbcdn-sphotos-a.akamaihd.net/hp ... 5145_n.jpg
http://p.twimg.com/AtRTLZQCIAAqQvY.jpg
.