Filed: Wednesday, 29th June 2016
By: Staff Writer
West Ham United have welcomed the BBC's decision to uphold a complaint by the LLDC regarding a recent programme aired by the corporation regarding the club's move to Stratford.
The London Legacy Development Corporation complained that the programme, which first aired last August and was presented by BBC Sports Editor Dan Roan - a long-term opponent of United's relocation - had been "unfair", "biased" and "inaccurate" in its summary of West Ham's impending move to E20.

And that complain has been "partly upheld" by the BBC, who declared that the programme makers failed to meet the BBC's editorial standards "had not been met".

"The ECU [Editorial Complaints Unit] did not find overall bias, but did find that some significant points ... had been omitted from the programme, resulting in unfairness to the LLDC and bias in relation to the points in question", read a statement.

"As a consequence the ECU's finding was that the BBC's editorial standards in the relevant areas had not been met. The ECU found no inaccuracy which would have materially affected viewers' understanding of the issues under discussion."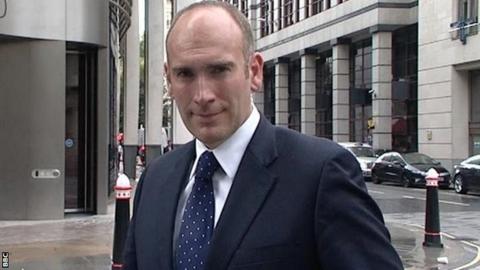 BBC Sports Editor Dan Roan presented the heavily-criticised documentary
West Ham responded by welcoming the BBC's decision. "It was clear from the outset of the project, when the production team first approached West Ham to take part in filming, that their line of questioning was heavily biased and on that basis the club chose not to take part," it read.
"The club did however, in good faith, issue a statement to the programme makers outlining the club's position on the important issues raised. Disappointingly, but not surprisingly, only a small section of that statement was reflected in the programme.
"It is now clear that the documentary should never have aired in the format that it did and we therefore hope that its producers will now do the right thing and issue an apology to West Ham United for the biased reporting contained within it."
The documentary, courtesy of YouTube
With regards to further action, the BBC added: "The production team has been reminded of the need to ensure that contributors' responses to criticisms are properly reflected in programmes, particularly when they are the sole representatives of those towards whom criticism has been directed."
---
Weekend transfer round-up
[26th Jun 2016]
Noble, Ogbonna, Randolph & Bilic: Friday's news
[24th Jun 2016]
Lanzini hoping to make the cut
[20th Jun 2016]
Payet, Feghouli, Sinclair & Bilic: Thursday's news
[16th Jun 2016]
Irons away on opening day
[15th Jun 2016]
Lacazaette bid rejected, West Ham not dejected
[14th Jun 2016]
Payet, Bilic & Ogbonna: Friday's news
[10th Jun 2016]
Sowing the seeds of love
[9th Jun 2016]
Vermaelen, Antonio & Payet: Thursday's news
[9th Jun 2016]
Bilic meets Modric
[7th Jun 2016]
---
Your Comments
comments powered by

Disqus
---
---