FA Cup
Sunday, 13th March 2016
Manchester United 1
West Ham United 1
by Gordon Thrower
Another day, another trip to Old Trafford cheated out of a win.
I made a weekend of this one popping up first thing on Saturday morning to see a handily located ex, leaving me a nice handy journey into Manchester. Desperately trying to avoid thinking about the match we convened with Upton Girlie who was still sozzled after a weekend in Cork where she had the misfortune to be drinking with my Mum who has been known to enjoy the occasional gin or two.

Team news was that Reid had made the starting XI and we went with two up front in the form of Carroll and Eminike. Valencia and Sakho were on the bench leaving us lining up as follows: Randolph, Antonio, Cresswell, Reid, Ogbonna, Kouyate, Noble, Lanzini, Payet, Emenike, Carroll.

A word about the Theatre Of Tacky Marketing Slogans. The stewarding sucks. A small rucksack containing my overnight gear was deemed to be too large to be allowed in by the jobsworth in the South Stand. The funny thing is that it was about a quarter of the size of stuff that was happily being allowed into the away section. Of course the bag drop-off site is located the other side of the ground meaning an early arrival at the ground turned into a rush to get to one's seat in time. Still they are used to officials applying double standards up there aren't we.

Only 90 seconds had elapsed when Reid picked up a yellow for a late but non-malicious challenge on Martial. Had the roles of the participants been reversed it was unlikely the card would have been issued, something that Atkinson went on to prove with monotonous regularity.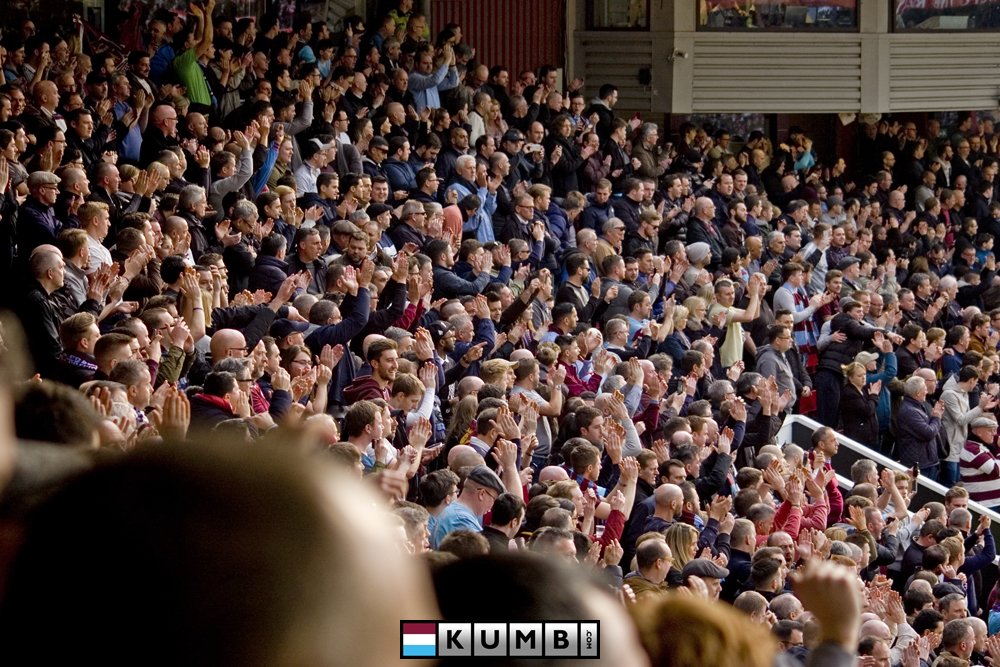 9,000 strong: the travelling faithful in full voice
In a tightish first half as things settled we had the better of the chances. After Carroll had shot over he fed Eminike who through on goal shot narrowly wide from an angle. Good stuff was happening on the left and Payet found room on the edge of the box. The degree of difficulty for the volley was high enough for him to hook it well wide.
Cresswell was continually getting into good positions on the left and his cross on 10 minutes was met by a prodigious leap by Carroll who, sadly was unable to keep the header down. This effort was followed by one of only two notable contributions from Fellaini in the whole match, poleaxing Koyate with an arm to the face. Apparently this offence only warrants a free-kick these days. Cresswell was again involved eight minutes later, fine work from Noble and Payet feeding the left back on the overlap. Eminike met the cross well but his header gave the busy De Gea an easy save, when a couple of feet either side would have seen us go one up. Oh would that it had been Carroll.
The home side's best chance came just shy of the half hour after Rojo and Martial swapped passes, the former's cutback finding Herrera whose shot bothered passing aircraft rather than Randolph. Fellaini picked up a yellow card for a sly tug on Noble and spent the next minute or two moaning at Atkinson for it despite the clear-cut nature of the offence.
With five minutes of the half left we won a free-kick thanks to some over-zealous marking by Rashford on Carroll. Payet's delivery caused some mild consternation in the home defence but never quite fell properly for anyone to get a proper shot in on goal until it eventually fell to Eminike whose shot was blocked on the edge of the six-yard box. And that was pretty much it for the 45.
It was a bright start to the second period as Antonio got down the right hand side. I'm not sure that his cross was going to a Hammer head but De Gea cut out the cross with a spectacular – maybe overly so – dive.
Poyet then picked up a ludicrous booking. Lingaard cut across the front of him and a coming together was as inevitable as it was accidental. Atkinson couldn't wait to brandish a yellow that removed all doubt as to his competence, though frankly we've seen him so many times we should have known how bad he was in the first place. Having said that, even Atkinson wasn't stupid enough to give them the penalty shout they appealed for a few minutes later, a Herrera shot ricocheting off Reid's thigh onto his elbow from about two feet away. The fact that they appealed for the spot kick in the first place speaks volumes for the preferential treatment they've had there over the years – they've come to expect dodgy refereeing decisions to go in their favour.
Just after the hour we made a couple of changes. Obiang came on for Reid whose replacement was, hopefully, precautionary in nature, this being his first game back for a bit. A couple of minutes later Sakho replaced Eminike.
Then came the moment that they are all moaning about in Kingston Upon Thames. Payet burst into the box and appeared to be tripped by Rojo. Having seen the replay it turned out to be another Benteke. There was minimal contact – certainly not enough to see the player go down. However, years of watching the hosts do precisely the same thing and playing the "oh he was entitled to go down" card they are hardly in any position to complain.
What it didn't get was a yellow card which, though possibly incorrect, was fair enough given the fact that Atkinson hadn't seen fit to issue a yellow to any of the five home players who had displayed unusual unsteadiness over the course of the match. A sending off would also have been harsh in the extreme considering the original yellow had been issued more on a whim than in relation to any notion of the laws of the game.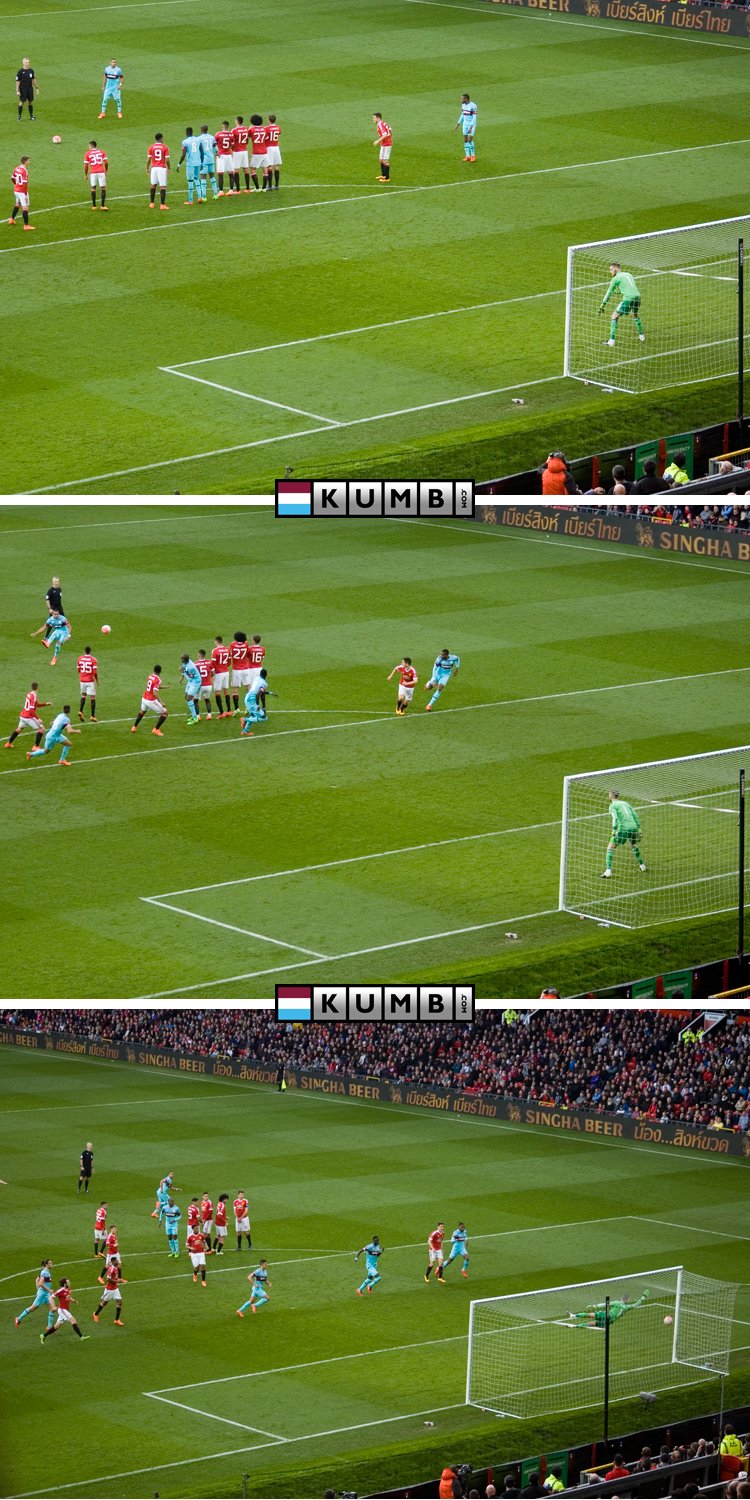 Going, going, gone: Payet with another world-class strike
Then we saw the best of Payet. Blind had three goes at fouling Payet who was moving sideways across the pitch before the Frenchman finally went down. He lined up the free kick about 30 yards out and, well I suspect you've all seen it by now. Magnificent just about sums it up. Actually it doesn't do it justice. I'm racking my brains to remember a better free-kick from a West Ham player in the 48 years I've been going. I may have to get back to you on that one, one day.
We had 22 minutes left to see out and were looking reasonably comfortable too. Payet had a foot race with Varela chasing onto a through ball. There was a wrestling match which had a large element of "six of one" about it. Had it been a bit clearer Varela might have had to walk but Payet's involvement meant that Atkinson could avoid the need to actually display some bottle and, adjudging Payet's involvement to have occurred first, he awarded the free-kick in the defender's favour.
With nine left Valencia came on for Carroll who had run his legs off. Unfortunately the home side were then presented with an undeserved lifeline courtesy, as is usually the case up there, of some diabolical refereeing. Herrera lofted a hopeful cross to the far side where Martial hooked it in. The fact that sub Schweinsteiger was a) offside, and b) bundling Randolph into the back of the net a-la Nat Lofthouse seemed to not be enough for Atkinson to give, presumably he was waiting for an actual murder to be committed before possibly giving a drop ball. Strangely none of this seemed to get a mention from the home support.
Three minutes of stoppage were added – it would probably have been more but Atkinson felt that his work in their favour was done for the day. Antonio did his best to prevent a replay during added time, his run down the right culminating in a shot that brought out a fine save from De Gea. This led to a run of corners that the home side were unable to clear but we were unable to profit from and, when Atkinson had had enough the game ended.
Of course we were disappointed at not having dispatched with inferior opposition at the first attempt but that has to be tempered by the fact that we get one last FA Cup match under the lights at the Boleyn, where at least we will be spared the sight of adverts telling us of our club's "Agricultural Vehicle Partner" - though at least I now know who to avoid should I ever be in the market for a combine harvester.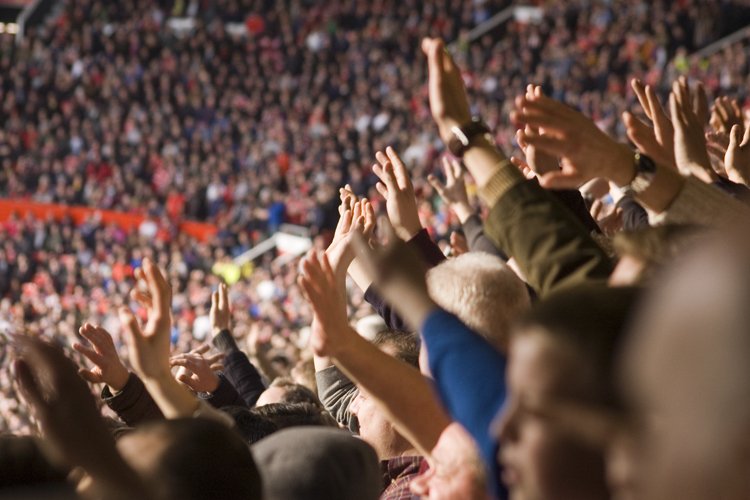 Que Sera Sera: still on our way to Wembley
Finally, those of you who travelled home by train will be aware of the debacle that occurred at Piccadilly Station where the efforts of the British Transport Police couldn't have endangered the travelling public more if they had deliberately set out to do so. Sadly much of the reporting of the events that took place centred on the "football supporters misbehaving" angle they love to promote.
One even seemed mentioned the fact that "ordinary travellers" were caught up in the whole mess, somehow insinuating that the footballer is a second class citizen of some sort. Sadly that's how we were treated by the BTP on Sunday night.
It's all very well bringing in cheap tickets but if anyone in power is serious about looking after the lot of the travelling supporter they could do worse than taking a look at the way we are treated on the road by idiots like those in charge at Manchester Piccadilly. It would be a shame if some of the 9,000 who made the effort to go were put off by the incompetent actions of a few police without a clue how to handle large crowds.
So onwards and upwards. We will have to wait for a while for the replay date – the daft rules that mean we can't play on a day when UEFA are holding a tea party or something means that we will probably only know the date ten minutes after kick-off. Until then I for one won't be giving the next round a single thought.
Just in case.


* Want to submit your match reports to KUMB.com? More details here ...
Click here to view all West Ham United vs Manchester United match reports
Click here to view all match reports by Gordon Thrower
---
Player Ratings
Darren Randolph
Not really tested up to the point he was bundled into the back of the net by Schweinsteiger.
Michail Antonio
Stuck to his task well but having him at left back always seems like a bit of a waste – as his last minute run and shot suggested.
Aaron Cresswell
Solid enough at the back and provided a decent, if underused threat on the left, especially in the first half.
Winston Reid
Spectacular he ain't. Steady he is.
Angelo Ogbonna
Spectacular he ain't. Steady he is.
Cheikhou Kouyate
Another strong performance from a player who doesn't catch the eye in the same manner as Payet but whose presence is arguably just as important.
Mark Noble
My MOTM. He ran the midfield and some of his passing was a joy to behold.
Dimitri Payet
The goal was sublime but don't go down as easily in future – it's not what we want to see at the Boleyn. We're classier than that.
Manuel Lanzini
Flitted in and out of things a bit and his second half was more out than in.
Emmanuel Emenike
Lacked a certain sharpness and failed the make the most of two good chances.
Andy Carroll
Caused the home side problems in the air and on the ground, something that seemed to surprise them. Not us though.
Pedro Obiang
(Replaced Reid) A solid half hour in replacing the Kiwi.
Diafra Sakho
(Replaced Emenike) Unlucky to hit the post.
Enner Valencia
(Replaced Carroll) A quiet ten minute cameo.
Adrian San Miguel Del Castillo
Did not play.
Joey O'Brien
Did not play.
Alex Song
Did not play.
Victor Moses
Did not play.
---
Match Facts
Referee: Martin Atkinson.
Attendance: 0.
Man of the Match: Mark Noble.
West Ham United
Darren Randolph, Michail Antonio, Aaron Cresswell, Winston Reid, Angelo Ogbonna, Cheikhou Kouyate, Mark Noble, Dimitri Payet, Manuel Lanzini, Emmanuel Emenike, Andy Carroll.
Goals: Dimitri Payet 68 .
Booked: Winston Reid 1 Dimitri Payet 54 Cheikhou Kouyate 57 Michail Antonio 78 .
Sent off: None.
Manchester United
De Gea, Varela, Smalling, Rojo, Blind, Carrick, Fellaini, Lingard, Herrera, Martial, Rashford .
Substitutes: Darmian (Varela 87), Schweinsteiger (Fellaini 76), Memphis (Rashford 76).
Subs not used: Romero, Williams, Schneiderlin, Januzaj.
Goals: Martial (83).
Booked: Fellaini, Carrick.
Sent Off: None sent off..
---
---
---