Premier League
Saturday, 14th March 2015
Arsenal 7
West Ham United 8
by Staff Writer
Minute 15. Minute 27. Minute 75. Minute 93.
Jose Mourinho's decision to adopt a siege mentality ahead of tonight's London derby may have indirectly helped Chelsea to three vital points at the Boleyn Ground tonight.

Mourinho's recent series of semi-delirious rants, in which he insisted a campaign was afoot to prevent his team from winning the Premier League are unlikely to be regurgitated tonight after referee Andre Marriner gave Chelsea the benefit of the doubt at all crucial points of the game:

Minute 15: John Terry is cautioned for deliberately checking Enner Valencia's run with the striker driving towards goal

Minute 27: Eden Hazard's header is allowed to stand despite replays showing he scored from an offside position

Minute 75: John Terry blocks Cheik Kouyate's burst on the edge of Chelsea's penalty area, leaving the midfielder with a black eye - but Marriner deems the challenge accidental

Minute 93: Substitute Nene's shot is handled in the area by Gary Cahill but no penalty given

That Marriner appeared to err on the side of Chelsea for the game's main talking points should perhaps be no surprise. Last season Mourinho described the controversial official as "one of the best referees in the country - if not in Europe" - and it's unlikely that he'll be changing his view based on tonight's events.

Marriner's dreadful performance aside, West Ham, playing in front of a packed Boleyn crowd were as good as they have been at any point since the New Year - even if the Hammers' appalling Premier League run now extends to just one win in the last 11 games.

Indeed, there was little to separate tonight's effort from those which saw a return of three points from the fixtures against Manchester City and Liverpool here earlier in the season, bar perhaps a little luck and assistance from the match officials.


How did #CFC win that! Thought #WHUFC were fantastic tonight. Great atmosphere as well. Special mention for Kev Nolan, captains performance.

— Matthew Etherington (@mattyethers) March 4, 2015
West Ham mustered a total of 18 shots at goal, but tellingly only five of those were on target.
Kouyate conjured the first of those 15 minutes in when he forced Courtois to make a point blank save following a clever pass from the reinstated Kevin Nolan, in for Alex Song. Then nine minutes before the break, Diafra Sakho missed a gilt-edged chance when he could only head straight at the 'keeper with the entire North Bank end goal at his mercy.
Eight minutes after the restart Chelsea's giant stopper was called into action to deny Sakho again, when the Senegal striker's close-range header was parried to safety (eventually). He was left equally frustrated when the Belgian snuffed out another header on the hour mark.
In imperious form, Courtois' only error came 18 minutes from the end of normal time when he spilled Valencia's drive - only to breathe a sigh of relief when Cahill dived in to prevent Sakho from turning the rebound over the line.
Chelsea, who were crowned Capital One Cup champions only 72 hours earlier posed few threats until West Ham began to push numbers forward late on in search of an equaliser. However it was the Blues who grabbed the game's only goal, which was enough to secure all three points - albeit in controversial circumstances.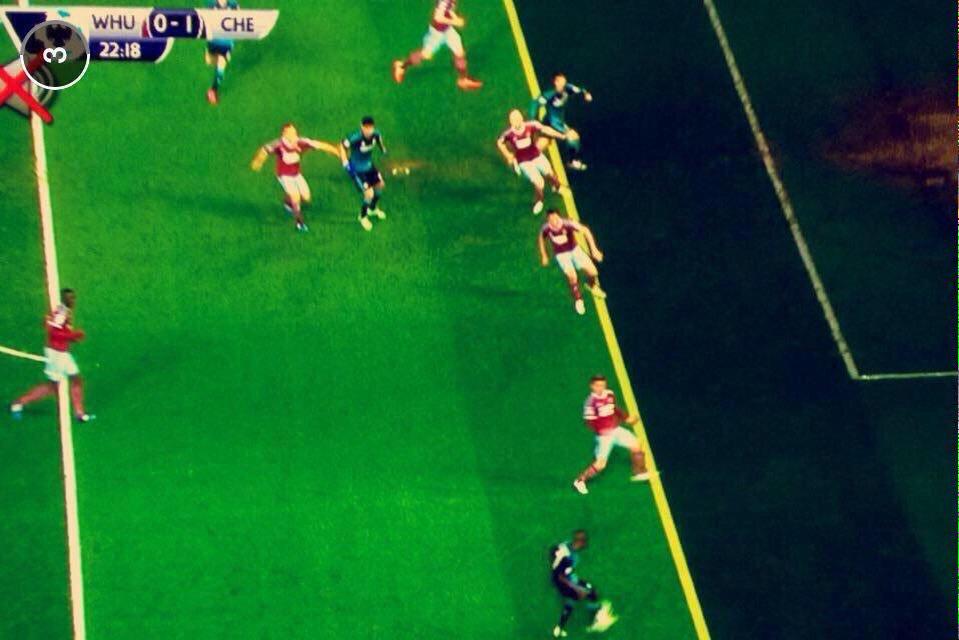 Hazard was beyond the last defender - far more so than when Kevin Nolan was denied a late equaliser at Old Trafford at the beginning of the season - when Ramires chipped the ball into his path . However his header was allowed to stand, despite West Ham's enthusiastic protestations.
The closest the visitors came to adding a second came when Adrian was relieved to see Ramires' shot rebound off the post before falling into his arms, 11 minutes into the second half. In the clear, with only the 'keeper to beat, the Brazilian opted for accuracy rather than power - and found neither.
In the end - which came after an additional seven minutes and 30 seconds, time largely added on as a result of the injury to Kouyate caused by Terry's cynical check - Ramires' miss proved inconsequential and Hazard's goal enough to secure all three points.
Tellingly perhaps, the Hammers left the field to a resounding chorus of approval from the home fans. Whilst Chelsea may have won the battle, they were certainly made to fight all the way. For West Ham, for once, it was an honourable defeat.
How did #CFC win that! Thought #WHUFC were fantastic tonight. Great atmosphere as well. Special mention for Kev Nolan, captains performance.

— Matthew Etherington (@mattyethers) March 4, 2015
* Want to submit your match reports to KUMB.com? More details here ...
Click here to view all match reports by this writer
---
Player Ratings
Adrian San Miguel del Castillo
It would not be right to say that we'd have lost were it not for... I'm sure Jussi would have done equally as well. But the man between the sticks has to stay alert through dullish periods, and do his job when the time comes. Adrian did. And he saved the penalty and so nearly got to the rebound. Dammit!
Carl Jenkinson
Had a lot of defending to do today, which he did well enough. That limited his chances to go forwards, though.
Aaron Cresswell
Had a fairly stiff test defensively today. He passed (especially with that cross, aha!), but not with flying colours. A few errors in amongst...
Winston Reid
A good return to the side. A pity we shall lose him.
James Tomkins
Whilst he did a decent job; with Reid, made Kane largely anonymous; I'm starting to get very cheesed off with his play-acting. First minute of stoppage time, Soldado's high boot catches JT on the... arm! The arm, James, the arm! But you start clutching your damn head again! Cut out the blatant cheating, you prize twit!
Alex Song
A couple of bad moments, giving away a soft, silly penalty particularly. Otherwise, a solid under-the-radar display today - a lot of good work, though little to catch the eye.
Cheikhou Kouyate
By not very much, Man of the Match. Energetic, committed, and wasn't that a lovely thumping header for the opener!
Mark Noble
A little lucky not to be sent off. He looked decidedly miffed to be taken off, but I think it was the right decision - he was walking a knife edge by then. Decent but not outstanding.
Stewart Downing
No shirker, but definitely somewhat subdued when not at the point of the diamond.
Enner Valencia
Doesn't he run! I'm not one for stats much, but I'd be interested to see which of him and Sakho covers the most ground. Speaking of Sakho, Enner might be having a few words about the lack of a square ball for an easy tap in just before we did score our second...
Diafra Sakho
As per Valencia, terrific work rate up front. A bit greedy with that chance on 58, but made up for it by sneaking in at the back stick a few minutes later.
Carlton Cole
(Replaced Noble) On for Noble on 66; off again 20 minutes later with what looked like a pulled hamstring. No effect on the game.
Matt Jarvis
(Replaced Valencia) Came on, ran around for 20 minutes. Can't remember him doing anything notable.
James Collins
(Replaced Cole) On when Cole had to be withdrawn with less than 10 minutes to play. No chance to make an impression.
Jussi Jaaskelainen
Did not play.
Guy Demel
Did not play.
Joey O'Brien
Did not play.
Matt Jarvis
Did not play.
---
Match Facts
Referee: Mike Dean.
Attendance: 0.
Man of the Match: Cheikhou Kouyate.
West Ham United
Goals: Cheikhou Kouyate 22 Diafra Sakho 62
Booked: Mark Noble 45 Aaron Cresswell 51 .
Sent Off: None sent off. .
Arsenal
.
Substitutes: .
Subs not used: .
Goals: Rose (81), Kane (pen 90+6).
Booked: n/a.
Sent Off: None sent off..
---
---