Filed: Wednesday, 3rd January 2018
By: Staff Writer
The Baggies are in serious danger of losing their bounce after yet another defeat that threatens their Premier League survival.
See what the residents of West Bromwich think of their latest reversal in your latest edition of the OV...


"The best team we have and it still wasn't good enough. We simply don't have the luck nor the conviction to put our chances away. That, and our strike force being inept. I think that's it now. Don't beat teams around you then where do the points come from? Fans keep saying about this game being a 'must-win match', but we keep losing these must-win games. This has been coming for a while. Try and do everything on the cheap and in this league you get punished. Not blaming Pardew or the players, they gave it their all. Just sick of the lack of ambition."
- 17GD

"Given the ridiculous turnaround time and the fresh legs of West Ham plus all the injuries, I thought we did well for a lot of the game and were unfortunate to lose in the manner we did."
- baggie82

"We probably have two Premier League-standard attacking midfielders in Phillips and Chadli. If they don't play, we don't create and we don't score. That's what will take us down. Defensively we didn't deal with Carroll tonight, no idea why we didn't get Hegazi to man-mark him but it's a little late for that. Gibbs might have been at fault for the last goal, but playing two games in two days when he's expected to be up and down the entire pitch, not entirely surprised he wasn't there at the death when we needed him most. Gutting to lose at the end like that."
- macc_baggie

"Just wondered if anyone knows the whereabouts of Kieran Gibbs? Couldn't see him anywhere in the mix for their second goal last night. Best not still be wandering around Pudding Lane looking for the coach back. Hope he's got some sandwiches with him."
- SmethDan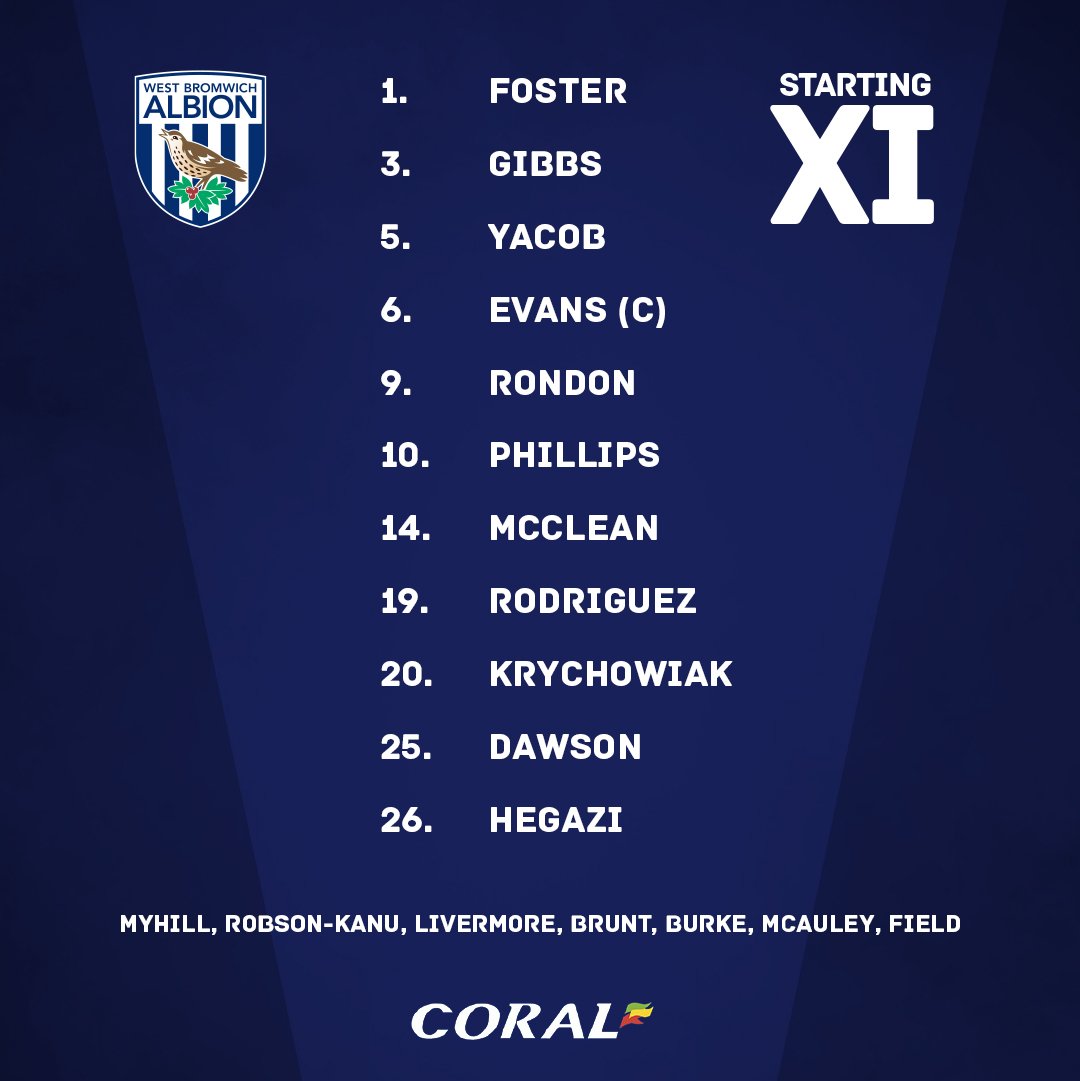 "Why did we change our side of attack? We had them beat on the left, we changed to the right for the second half. Noble came on, but we still had them beat on the left. We played to their advantages. Their attacks came down our right hand side, and we know what happened there. We had speed on the left and were very sluggish on the right. Kanu was more on the right wing rather than even in the middle."
- Droitwich Baggie
"The game was on a knife-edge and could literally have gone either way. As a team we are as good as West Ham, except their strikers are that little bit more clinical. Rondon had a very good game today (and I'm not his greatest fan), but we still need an extra clinical finisher."
- alex1
"The fact we had no recovery time for this game has played a large part in the result, I saw nothing in West Ham that is any better than us. There's still plenty of football to play, the only worry is players like Burke and McClean, neither of whoim appear to have a football brain. If we buy a couple of players this week (we should have identified these if the Director of Football has done his job) then we should improve."
- kirk
"Pardew and Pulls have both failed to get anything from this lot all season,we've spunked the money on players who either have fitness issues or quiet simply ain't good enough. In our last 101 games we've only managed one or more goal 26 times - that tells you why our stay in the Premier League is coming to an end. Pulis built the squad around players keeping games tight and Pardew is trying to play a more offensive game. Two experienced managers trying to make a banjo sound like a violin. The players are the problem."
- caravanc58
"Played Stoke, who had the worst defence in league, conceded three. Played Swansea, who have scored least in league, lost 1-0. Played West Ham, who havenít won a game from a losing position, lose 2-1. Championship here we come."
- Mister AT
🎥 The gaffer has his say...

Full interview ➡️ https://t.co/TWU5IeEXeJ#WBA pic.twitter.com/udvHHj4TSq

ó West Bromwich Albion (@WBA) January 2, 2018
"We've now lost the three games he needed to get something from. Foster was man of the match before they scored the winner so it wasn't a great or even half decent performance. Pardew bottled it before kick off, the players bottled it on the pitch. We've totally gone and we've got the wrong man at the helm to turn it round."
- TheJacko2000
"I think it's time to accept we're heading down. That game summed us up unfortunately. How many points have we dropped from winning positions? Two soft goals again. CBs beaten in the air and full backs caught out of position. How many times have we said that this season? 30 seconds to hold on for a point and they couldn't even do that in the end!"
- TheBrom
"I absolutely hate to say this. Yes we are down. Yes we are even worse than that appalling Villa side. And yes if we carry on like this we will cutting ourselves a new hole in the Chumps league into bloody League One at the first asking. Appalling stuff, we are just dreadful and for the first time ever I feel ashamed of us. I have officially lost my boing."
- ex coseley kid
"Oh well, next trip to east London, Millwall."
- WBAinDEVON
* The above comments originally appeared first on westbrom.com.
---
In brief - Tuesday's news round-up
[15th Jan 2019]
In brief - Tuesday's news round-up
[8th Jan 2019]
In brief - Friday's news round-up
[4th Jan 2019]
In brief - Tuesday's news round-up
[18th Dec 2018]
In brief - Thursday's news round-up
[6th Dec 2018]
In brief - Tuesday's news round-up
[13th Nov 2018]
In brief - Tuesday's news round-up
[6th Nov 2018]
In brief - Tuesday's news round-up
[30th Oct 2018]
In brief - Tuesday's news round-up
[2nd Oct 2018]
In brief - Tuesday's news round-up
[25th Sep 2018]
---
Your Comments

Please note that this section is for comments relating to the above news item only. Any off-topic or abusive posts will be removed. Posts including either links and/or foul language are automatically filtered and will not be published. To engage in further discussion on any of our news stories, visit the KUMB Forums.
Not a member of the KUMB Forums? You may register for free membership here.


comments powered by

Disqus
---
---
---
One Year Ago
Get the very latest West Ham news in one place, with our new daily media ro...
more
Three Years Ago
Manuel Pellegrini believes that it was important his side avoided defeat today - even though they we...
more
Five Years Ago
West Ham are poised to snap up a second Serie A star on loan for the rest of the season....
more
---