Filed: Monday, 22nd April 2019
By: Staff Writer
Read the views of Foxes supporters following Saturday's 2-2 draw as yet another fanbase takes the piss out of the state of the Olympic/London Stadium, in your latest edition of the OV....

"I'm not sure why people keep saying we were lucky. We had more corners, more shots on target and slightly more possession. We weren't great in the first half but after we equalised it looked like there would only be one winner - and it wasn't them. Delighted for Barnes with his first goal and Vards for another goal. It wasn't a great performance but we were away from home against a decent side, so overall it's not a bad point."
- Analysethis

"The second half was a lot better. There is quite some potential in this team, but first halfs like today really needs to go away. Was losing my shit when we did not get a freekick in the middle of the park and then they run up and score that lucky goal. Then the table turned for once and they got a goal disallowed and we nicked a late one. After that lacklustre first half, it ended up feeling like a decent day, but still lots of work to be done by Brendan."
- Jonezy

"The BBC seem to be obsessing over the fact they had a goal incorrectly ruled out. Did they not have one incorrectly given like two minutes before? The love in for London teams is just bonkers sometimes."
- Finnegan

"We had a hefty penalty shout, their second was a tiny bit offside and the referee called for a foul on Maguire as we played Gray in in the left. A pretty even game, with evenly poor decisions by the ref for both sides. We really should have taken that at 1:1 though. We were in control second half until we scored. Must concentrate better when the pressure is on. Overall a decent result at a tough place to go. Europa League still possible, although Watford winning makes it a mountain to climb now."
- Foxhateram





"A justifiable result after a shocking first half. Gritty in the second, but Gray was lacking in effort and skill again. Don't like the ground at all. Moaning West Ham supporters all round me. So pleased we got the last goal. They were really narked."
- DANGEROUS TIGER

"The actual [stadium] structure is stunning and the Olympic Park is something else. But you sit so far back. I was about halfway back but still further back view-wise than say the back of the Kop at the KP! God knows what itís like if you are right at the back here. Also you canít hear either set of fans and I donít think West Ham are plastics because I thoroughly enjoyed games at the Boelyn and generally have a high opinion of Hammers fans compared to other London clubs. They made a good racket at that ground so I can see why they dislike this one, especially when away fans sing 'youíre not West Ham anymore!' like we did today lol!"
- StriderHiryu

"We seemed a bit too passive for long spells today and invited pressure by over-playing and paid the penalty. Certainly didn't deserve to lose though. Crap place to watch football and appalling getting away after the game. Won' t be going back there in a hurry."
- l444ry

"A few observations from my first away game in years. We would have lost that earlier this season. We didn't play that well but dug ourselves out of a hole. Bodes well for the future. Harvey will fly now, I'm sure of it. The lad has so much talent and now he's broken his duck he'll get better. Youri Tielemans is a wet dream of a player. The atmosphere at the Taxpayer's Stadium is really strange. It just doesn't work. Can see why many of their fans don't bother."
- Paddy.

"Whatever the result today, West Ham are the losers having to play in that ground every other week. Absolutely soulless. Would be dreadful doing it week in week out. Whenever people clap it sounds like someone's just been bowled out."
- Ian Nacho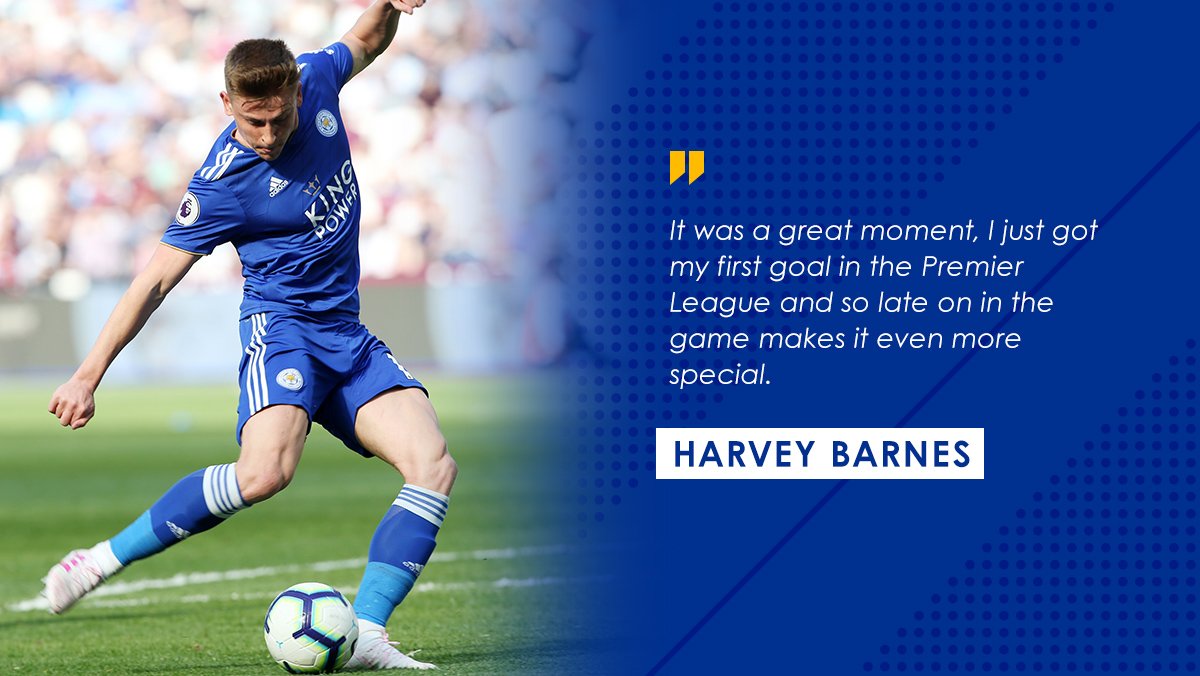 "On my stream, it was former Hammer Tony Gale as a co-commentator. Talking about what a great bloke Trevor Brooking is, and having a laugh about the colour of his 'dickie dirt', and generally giving West Ham the benefit of most doubts. Probably whilst wearing a pearly coat and eating some whelks. I struggle to recall a Leicester legend with a Leicester accent biasedly commentating on any of our games. Ever. Yet Sky and BT, and now the foreign telly, seem to put supporters of one or the other team (but never of Leicester City) in the co-commentator's chair quite often. It's a minor irritation, but it grates. Go neutral."
- Vacamion
"If VAR had been used West Ham's should have been been 3-1 up towards the end, their goal wasn't offside. We were very fortunate."
- Crispin LA
"The whistle had blown before he had taken the ball around Kasper and put it in the net. VAR wouldnít have overturned that as the minute he whistle blows players stop and the game is dead. The fact that he carried on after two or three whistles and put the ball in the net is irrelevant."
- Aus Fox
"Different official and the build up to their second never happens. Probably should've been flagged for a foul rather than allowing play to continue. All Ifs and Buts."
- UniFox21
---
In brief - Tuesday's news round-up
[14th May 2019]
In brief - Monday's news round-up
[29th Apr 2019]
In brief - Tuesday's news round-up
[16th Apr 2019]
In brief - Wednesday's news round-up
[10th Apr 2019]
In brief - Tuesday's news round-up
[2nd Apr 2019]
In brief - Tuesday's news round-up
[19th Mar 2019]
In brief - Monday's news round-up
[11th Mar 2019]
In brief - Friday's news round-up
[1st Mar 2019]
In brief - Tuesday's news round-up
[26th Feb 2019]
In brief - Tuesday's news round-up
[12th Feb 2019]
---
Your Comments

Please note that this section is for comments relating to the above news item only. Any off-topic or abusive posts will be removed. Posts including either links and/or foul language are automatically filtered and will not be published. To engage in further discussion on any of our news stories, visit the KUMB Forums.
Not a member of the KUMB Forums? You may register for free membership here.


comments powered by

Disqus
---
---
---
One Year Ago
The agent of Croatia World Cup star Domagoj Vida is flying to England this ...
more
Three Years Ago
Former Hammers boss Sam Allardyce is expected to be named as the new England manager within 24 hours...
more
Five Years Ago
Stephen Henderson has signed for Charlton Athletic after being released by West Ham....
more
---