Filed: Saturday, 27th December 2014
By: Preview Percy

It's Christmas. He's been raddled with 'flu and we have two games in three days. Surely we let Preview Percy off writing another one of his efforts? No. Though in retrospect perhaps we ought to have done....
Next up is Arsenal at home. Kick-off on Sunday is at 3pm. Travel news is that there is engineering works on the District in the centre of town and the Overground Gospel Oak-Barking line will also be out of action.Also anyone travelling in via Kings Cross may want to set out about three days ago. Have a look before you travel.

Arsenal sit in 6th spot, a place and a point behind us with 30 points from their 18 played. Annoyingly for them that's also two places below their feeder club Southampton who have temporary custody of 4th spot.

The latest three of those points came on Boxing Day with a 2-1 win over QPR. This was an interesting match which saw current golden boy Alexis Sanchez enable Rob Green to add to his tally of penalty saves before scoring with a header. Then it got silly. Even Wenger couldn't come up with an excuse for Giroud's dismissal in what must have been one of the stupidest sendings off ever not to involve Howard Webb. They then doubled their lead but the last 12 minutes were a bit hairy for the and, had the powers that be supplied a proper referee (rather than a member of the so-called "select" group) QPR might have had another penalty.

The work-experience girl with an inappropriate number of rings through her lips tells me that the aforementioned Sanchez has 10 goals and six of what those horrible modern stattos like to refer to as "assists" so far this season, thus giving him a hand in exactly 50% of their 32 goals in the league so far this season. Sanchez's arrival from Barcelona for a reported £30m had one unforeseen bonus in that the deal naused-off Liverpool who had been hoping to get Sanchez in to replace Suarez. As it happens the scousers would probably have been disappointed had he signed for them – as far as I'm aware he has neither racially abused anyone nor sunk his choppers into an opponent, though I'll admit that, since we at the Ghana's Avram Grant Olympic Rest Home For The Bewildered usually turn the telly off rather than watch Arsenal on the box, I haven't seen enough of the player to see whether or not he dives as much as Suarez.

Now here's a funny thing. They spent £11m on Southampton right back Calum Chambers. Then sent us Carl Jenkinson out to us on loan. No, really they did. It's not often that you can see why Arsenal fans are whining (they do so little else it's sort of background noise really isn't it) but on that particular deal you can see they have a point. The problem is that, having stumped up so much money for Chambers the notoriously parsimonious Arsenal board will probably want to recoup as much of the expenditure as possible from us should we try to relieve them of the better player at the end of the season.

Danny Welbeck cost them a rumoured £16m from Man Utd. You could almost hear the board bursting into tears when they had to prise the lock off the cheque book this summer. Welbeck is an odd cove in that, to these eyes anyway, he seems to play much better for England than he has ever done at club level. Welbek had a bit of a reputation at Old Trafford for being a bit of a diver. Actually Michael Carrick is pretty much the only player at Old Trafford without that sort of reputation, which just goes to show that even Spurs and Man Utd can't ruin a good upbringing.

They have two players facing the proverbial "late fitness test" for this match. Alex Oxlade-Chamberlain has a dodgy groin apparently and Yaya Sanogo has a calf/shim problem so if you arrive at the ground early enough look out for those two running up and down the touchline.

Definitely out is the perennially injured Jack Wilshire. Wilshire grew up supporting West Ham and, as such, his current employment is a matter of great regret to his family, who must deal with the daily disappointment of waking up and finding out he's still an Arsenal player. Wilshere's ankle will keep him out until February though the shame might keep him out for a bit longer.

Also missing will be Giroud (stupidity), Aaron Ramsey (hamstring – and I can feel mine going now in this weather), Mikel Arteta (Calf muscle – and I can feel mine going now in this weather), and Mesut Ozil (knee ligament – mine are fine thanks very much). One suspects that Ozil's injury is quite convenient for Wenger as it gives him a bit of a get out from having to explain to the board why a player that they shelled out £42m for isn't an automatic selection.

Us? Well we were a coat of paint away from making it 2-1 there but overall we were second best on Boxing Day. The second half was much better of course and maybe the anger at the ludicrous diving tactics employed by the home side went some way to galvanising the side. It really is about time that referees did the job for which they fraudulently claim a salary and started issuing the yellow cards for the offence that the laws demand. Idiots like Oliver strut around as if they somehow have the right to ignore the laws and the game suffers. At one stage Oliver indicated to Ibramovic that he was being penalised for shirt pulling. Which was fine except that the laws require a yellow card for that particular offence. A requirement that Oliver felt able to ignore, something that made Collins's yellow for a perfectly fair tackle look all the more disgusting.

Team news is that the aforementioned Jenkinson will miss the match against his parent club, something that will, no doubt, come as a big relief to them. Demel or O'Brien will be looking to start in his stead. Tomkins seems unlikely to have recovered from his hamstring (ouch – I can feel my other one going now) but otherwise it's a full squad from which to select. I'd have thought that Song and Sakho would be more likely to start this time around having been rested for Chelsea. Noble looked a little off the pace at Stamford Bridge so it wouldn't be a total surprise to see him on the bench to start off with.

Prediction? Well we won't spend the first hour of this one looking like rabbits in headlights that's for sure. I'm feeling quite bullish about this one – they're not that good and surely we can't get a starstruck referee two matches running.

I shall therefore be putting the Ghana's Avram Grant Olympic Rest Home Fund To Spend On Any Charity OTHER than anything that bloody Bono wants us to spend it on (£2.50) on us to win a thriller – 3-2 to us then to spark more whining from Wenger abut something or other.

Enjoy the game!

Referee: Neil Swarbrick Last seen in last season's 0-0 draw at Chelsea being surrounded by whining players time after time. Either it escaped his memory come match report time or the FA took no action. Likes to do charity work if the help he gave Spurs up at Leicester is anything to go by.

Danger Man: Alexis Sanchez. Responsible for their best bits. Or at least 50% of them anyway.

Daft fact of the week:This match could see a little bit of history. Arsene Wenger has used the "I didn't see the incident" li(n)e no fewer than 999 times since his arrival in English football. A repeat after one of his players dives or commits another blatant but unpunished foul this weekend would see him become the first manager to achieve the 1,000 use mark with one club, though Jose Mourinho has of course achieved this tally over his career with a number of different clubs across Europe.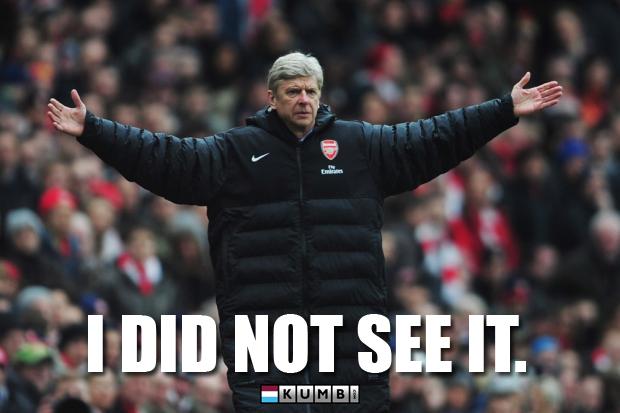 Please note that the opinions expressed in this article are those of the author and do not necessarily represent the views of, nor should be attributed to, KUMB.com.
---
Your Comments
comments powered by

Disqus