Filed: Monday, 5th January 2015
By: Preview Percy

They're moving Preview Percy to a new home at the weekend. We can only hope he gets left behind in the move. In the meantime here's his look at the third round of the Cup. If you're a BT Sport exec you may want to skip this one...
Next up we take a break from the League and schlep up the Ms 1 and 6 to Goodison Park where we'll be greeted by Everton. Kick-off is the frankly ludicrous time and date of 7.45pm on Tuesday. Thank BT for that particular piece of lunacy which means that not only will the 4th round draw have taken place, but we'll probably know one of the clubs already in the final by then. Ok a slight exaggeration maybe but it is annoying how all these TV companies big up the tradition of the Cup whilst wasting no opportunity to p*ss all over said tradition as soon as it suits them.

Everton then. It's gone a bit odd since we last met in November. You'll recall that they had Mark Clattenburg and his assistants to thank for a fortunate 2-1 win which, in hindsight, was a victory that merely papered over a number of cracks. Since then their only points in the league came courtesy of a 1-1 draw at home to Hull and a 3-1 win at home to a QPR side whose away form this season resembles a particularly bad Scrabble hand, unless you're playing in Welsh.

All this has left them in 13th spot with 21 points from 20 games, which, the Work Experience Girl With An Inappropriate Number Of Rings Through Her Lips tells me, with a minus 4 goal difference, leaves them only 4 points above the drop zone.

Whilst nobody is seriously considering them as relegation candidates (yet) more than one observer has noted that their recent form in defence has resembled that of Martinez's former club Wigan during their relegation season. Perhaps one shouldn't be that surprised, given the number of former Whelan employees on the books. One of these is 'keeper Joel Robles, who picked up a Cup Winners' medal in the season that saw Wigan relegated. Robles has played in the last couple of games since Tim Howard injured his calf tripping over that stupid beard of his during the Stoke match. Howard will be absent until mid-February at the earliest, and the rumour mill suggests that they might go into the market to get a replacement.

Another ex-Wigan player on the books is Antolin Alcaraz whose contract at Wigan conveniently expired at the same time as their relegation was confirmed. The central defender wasn't having the best of matches at Hull the other day as it was, so when he picked up a second yellow it probably just rubbed salt into the wound. The resulting suspension will mean he misses this match.

Unlike James McCarthy whose nasty challenge on Amalfitano caused "shenanigans" in the November match. Another Wigan alumnus after Wigan's cup win he hailed Martinez as a tactical genius", though his thoughts on their subsequent relegation were, sadly, not recorded. He waited nearly three months before joining his former boss at Goodison.

Another player involved in controversy during our last meeting was midfielder Ross Barkley. Barkley performed a dive so embarrassing that only an idiot would have given a free-kick. Unfortunately the Select Group of referees is made up exclusively of idiots (it's a prerequisite for the job) and they don't come much more idiotic than Clattenburg, who accordingly gave the free-kick. Much was made of Tomkins face clutching that day and our support roundly condemned the player, who subsequently apologised and, consequently, won't be stupid enough to do it again. It'd be nice to think that Everton supporters might have said something similar to Barkley but I don't suppose they did.

Barkley is being linked with a January move, possibly to Man City, with the money being earmarked to do a rebuilding job. Now we all know that the money involved in transfer fees is, frankly, daft. However, even taking that into account, some of the figures being bandied about for Barkley are eye-watering. £60m seems an awful lot for someone with such poor diving skills. Still, should they get that sort of money they should be able to do a really good rebuilding job, including a stand or two perhaps.

And so to us. West Brom was disappointing on a number of levels. We started off like a train with something to prove (to make up a completely silly simile) and the goal we scored was superb. Then we seemed to remove our collective feet from the pedal and let them back into the game. The second half was an exercise in frustration as we struggled to break them down. Annoying. Bizarrely the one bright spot may actually be an injury. Sakha's back seems bad enough for him to miss at least the start of Senegal's sojourn into the African Cuppa Soup. Hopefully our physio team can get this sorted out, maybe just after the squad submission cut-off date. Whilst, as a traditionalist, I'd never want to see us stopping a player represent his country, should the player miss the tournament they could hardly complain given that they were responsible for the problem in the first place.

This time last season the manager made no secret of the fact that, given our perilous league position at the time, he intended to field an eleven comprised largely of reserves and youth team players. Indeed I understand that, had I not had a touch of 'flu I myself might have got a place on the bench. The selection for that game might also have been seen as a (not very) coded message to the owners that, hey, the window is open and we might need to spend a few bobbin this here window. The circumstances now, of course, are slightly different. However, there will be changes for this one. Sakho and Kouyate will be away at the Cuppa Soup whilst Song's position is, at the time of writing, still unclear. JJ may come in for the marvellously in-form Adrian. Then there's the shop-window conundrum. We have a number of players who I don't expect will be about once the window closes. The question is does the manager play, say Ricardo Vaz Te to remind everyone he's still about thus risking injury and cup-tieing the player reducing his usefulness (and financial worth) to a prospective new employer.

Prediction is trickier for this sort of match. We don't know what sort of side we'll be putting out and there are similar doubts about the opposition. If, for example, Barkley is really worth £60m would you want to risk such a windfall disappearing down the drain on a cup-tie? Especially if things start to get a bit tasty.

On that basis I'm going to plump for a draw and the Avram Grant Olympic Rest Home For The Bewildered's fund to hire a hitman to bump off anyone who even THINKS of mentioning the General Election until the end of May (£2.50)on a 2-2 scoreline that will see the teams getting thoroughly fed up with each other once more at the Boleyn in a couple of weeks' time.

Incidentally I'm having to take an enforced break from preview writing after this game. The owners recently had the Ghana's Avram Grant Olympic Rest Home For The Bewildered tested for asbestos and were shocked to find that there wasn't nearly enough of the stuff to ensure a rapid enough resident turnover for the bottom line of their profit & loss. As a result we're being moved to new premises where we've been promised access to all the asbestos we can eat. Unfortunately (or, more accurately "fortunately" – Ed) the move means that I won't be in a position to write anything for the Swansea match. Lord knows who the bald one and the short chubby one will draft in in my stead for the week but I thought you ought to know that any deterioration (or, more accurately, improvement – Ed) in your match preview will have had nothing to do with me. Rest assured though, it's only for one week and I'll be back for the Hull match (unfortunately – Ed)

Enjoy the game!

When last we met at Goodison: Lost 1-2 (November 2014). Oh come on it was only a few weeks ago surely you haven't forgotten already? Lukaku's offside? Barkley's dive? Tomkins "Chico"? Look, this bit is supposed to remind you of stuff that happened ages ago. If you can't remember six weeks back then you really need to check your medication.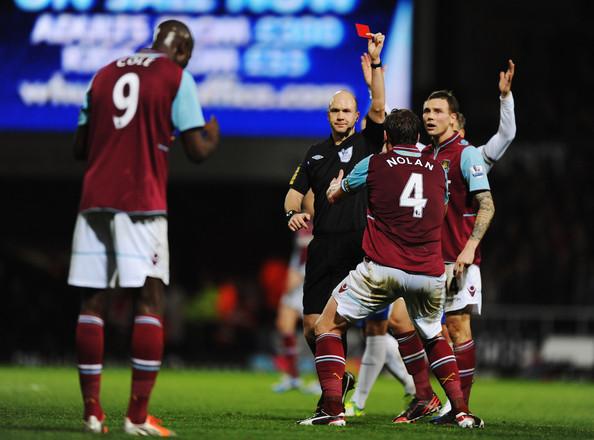 Referee: Anthony Taylor
The ref who sent off Wayne Routledge last week for having the temerity to react to two appalling assaults on him by QPR's Karl Henry. The red card was later rescinded. Also missed the most blatant of handballs from our old mucker Rob Green in the same match. Last season at the Boleyn he handed Liverpool the two dubious penalties to which Select Group referees seem to think the scousers are entitled each week whilst, in a previous match between us and the Toffees he managed to change the face of the game with one of the stupidest sendings-off ever as Carlton Cole walked for a nothing bit of high footedness. Referee defenders please note that the sending off of Darron Gibson in the last minute of the same match for a similar offence in no way constitutes "these things evening themselves out." Meanwhile those of us with common sense remain bemused that an official who can get so much so wrong so often can remain in a job.
Danger Man:
Seamus Coleman – has a bit of a shot on him if allowed to get forward. Linked with a move to Old Trafford over the next few weeks.
Daft FA Cup Fact Of The Week:
Cornishman Mike Trebilcock netted twice in the 1966 FA Cup Final as the Toffees came back from 2-0 down to beat Sheffield Wednesday 3-2. His presence in the side caused apoplexy amongst the BBC production team, who issued a record 296 different edicts on how to pronounce the player's surname before finally issuing the instruction "any way you like except THAT way".

Please note that the opinions expressed in this article are those of the author and do not necessarily represent the views of, nor should be attributed to, KUMB.com.
---
Your Comments
comments powered by

Disqus