Filed: Monday, 22nd June 2015
By: Paul Walker

I donít know about you lot out there, but I am getting sick to death of West Ham United being slaughtered every time someone mentions the conversion of the Olympic Stadium and the cost to the nationĎs taxpayers.
Forgive me, but what has that go to do with us? Itís a council house, we will be tenants paying rent. Back in the good old days when various members of my family lived in council houses, they were allowed to paint and decorate the inside but anything to do with the roof, brickwork, gutters, windows, doors and general maintenance fell on the owners.

The council. Now I will leave you all a few minutes for that to sink in. Would you pay for the upkeep and repairs of something you did not own? No, neither would I - and neither should West Ham.

But these simple facts seem to be constantly lost on the chattering classes, the posh lot who were the noisy part of the hypocritical athletic elite who wanted nothing to do with that nasty, overpaid, over-indulged football lot when the stadium was being designed and built by the Government for the Olympics.

There was nothing more annoying than being lectured about the moral excesses of football by pompous, smug supporters of a sport so riddled with drugs cheats that anyone who ever does something special in track and field is automatically under suspicion. And donít you dare miss a football drugs test once, like Rio Ferdinand did.

You get banned and pilloried. If you are Mo Farah those same athletics lot spend all their time making excuses or blaming the whistle-blower. OK, got that off my chest.

Only now do we realise that original stadium was just not fit for purpose, an inadequate structure that was way below the standards needed for use by professional football, the only viable option for the aftermath of the Olympics to avoid a catastrophic financial burden on those same taxpayers many moons into the future.

We also learn that any suggestion that the stadium could have been built to the template of the Commonwealth Games stadium in Manchester, with future use by money-making professional football incorporated from the start, was ignored because of the way the Government had sold large acres of land to the Channel Tunnel Rail Link builders.

I should at this point direct you to an informative, unbiased, well-written piece by Dan Roan on the BBC website which attempts to expose just who is to blame for the current spiralling cost of our new home.

And it is not West Hamís fault. Yes, we are getting the stadium for a £15m outlay to help with the rebuilding, a fantastic deal. As Rowanís article points out, roughly the cost of Andy Carroll (seemingly not including his massive wages and medical bills). But who is to blame for that?

Now there is a Taxpayersí Alliance guy, Andy Silvester, complaining about the cost of the stadium rebuild to the general public. May I suggest that without West Ham's, or footballís involvement that cost would be massive in terms of maintenance and upkeep, utterly unsustainable. And none of this is our fault.

When the negotiations were ongoing, the London Legacy Development Corporation, the Government, Boris and his lot, could have demanded more. They could have refused to have football in the place, they could have let Orient have it - even Spurs. They could have insisted it was restricted to athletics only.

But they didnít. At the very least, they know the price of something and very soon realised that anything other that football was not financially viable in the long term. It has been a tough lesson for Seb Coe and his athletics cronies, but a lesson still.

They could have let Spurs pull it down, and for the north London club to rebuild Crystal Palaceís athletics arena. But pulling down a taxpayersí funded iconic stadium was political suicide.

In hindsight, Spurs had the right idea, the place was not fit for purpose and it would have been cheaper to level it and build something new. Without a running track.

Ah yes, the dreaded running track that Coe had promised the Olympic authorities would be retained as part of the athletics legacy. Had they done that they would seriously have upset its president Lamine Diack (says Rowan) and Coeís chances of becoming world athletics god in the future would have been dust. Canít have that, can we?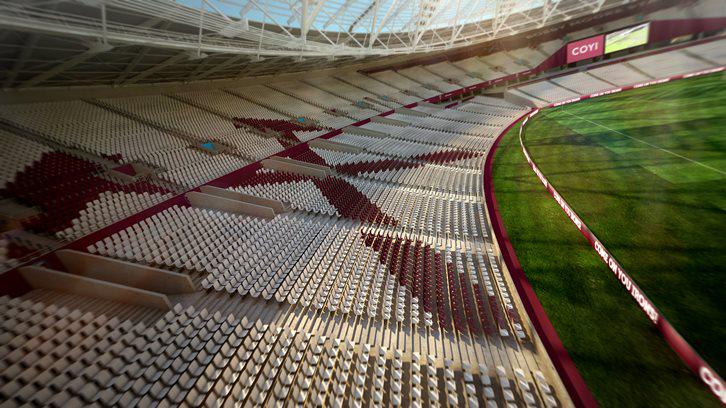 Now letís look at what was actually built to house about a dozen days of sporting activity three years ago. A stadium with a roof that did not cover even half the punters. A stadium with toilet facilities outside the stadium. A venue without enough catering outlets. A stadium that was designed as a circle. One with no corporate areas.
A stadium that did not meet UEFA or Premier League standards, so no one-off major European finals could have been played there.
Now this is all the fault, in my mind, of the holier-than-though athletics elite, and the MPs and ill-informed general officialdom who allowed them to insist that the stadium should have nothing to do with that nasty football business.
So we got a stadium that was not planned for multi-purpose use, one that could have been constructed the way the now-Etihad stadium in Manchester was.
Manchester City Council were well aware that when the Commonwealth Games were being planned, they could not sustain a stadium afterwards without a football tenant. Impossible, and if Manchester City had not been involved from the start, the Games would never have happened in Manchester.
That stadium was built so that after the Games, the lower level and terracing--initially constructed underground--could be dug out, the pitch then becomes closer to the seating and a smaller athletics stadium built outside the ground to be used for grassroots participation and regular athletics meetings.
Works perfectly. That conversion cost £42m. The current bill for turning the Olympic Stadium into something useable is now £272m, taking the overall cost to £702m. Brilliant. The new roofing has cost £189m alone, although I did read something somewhere that we will contribute to the cost of that for the next ten years.
So now we have come to the reality that athletics, rugby (either code), cricket, motor racing etc will not be good enough, financially, to avoid a constant drain on the public purse. And thatís where we came in. An empty stadium costs millions for upkeep, and Governments and councils cannot handle that.
So the chattering classes have moved on. They got their Olympics and now the sound-bite MPs can look for the next photo opportunity. The LLDC has been left to pick up the pieces. This, as I keep saying, is not West Hamís fault.
Sure we have negotiated hard, we are the only gig in town, and Lady Brady has not wasted all those dinner dates with the Prime Minister.
Oh, before I forget, another bit on Seb Coe. I believe he has involvement with the company that has recommended that the old Crystal Palace arena be bulldozed. Just like the famous stadium in Sheffield.
So we have a situation where athletics and swimming at Crystal Palace will soon be history. So just whose fault is it that vast numbers of grassroots participation in sport has just melted away in the three years since the Olympics? So much for the legacy and the people empowered to make it work.
Yes, West Ham have got a good deal, even if the bulk of us are being dragged kicking and screaming to our new home, desperately sad to be leaving the Boleyn but aware of the financial needs and requirements that can take out beloved club to a higher level.
What is going on at the Olympic Park is not down to us, we didnít make the rules and we didnít plan the whole thing in the first place. If planning is the right word. The LLDC could have asked for more, driven a harder bargain, and we could have said no and tried to get planning permission to rebuild the East Stand, like Liverpool are now doing with their own main stand. And we could have walked away.
We will get a new stadium that is not ours, we will see the Boleyn sold off for housing, some social but most of it not. Newham Council are still to sort out that one.
Our use of the new stadium will amount to about 30 days a year. Thatís if we have decent cup runs. The rest of the time it will be used for whatever money-making event that can be mustered. A multitude of athletics meetings, rock concerts, rugby world cups, one-day cricket etc, etc. |It is not ours. Even the naming rights, it seems will not be solely ours.
The public purse will be getting plenty back for their outlay in putting right the nonsense that went on before. And it will be spread over many, many years.
So the next time someone mentions that it is our fault, all this, they should remember that itís a council house, nothing more, nothing less. The blame is not ours.

Please note that the opinions expressed in this article are those of the author and do not necessarily represent the views of, nor should be attributed to, KUMB.com.
---
Your Comments
comments powered by

Disqus