Filed: Thursday, 8th October 2015
By: Paul Walker

Yep, love this season so far. A bright, new young manager who 'gets' West Ham. Away wins to die for and a team who always look like they can get out of the mire however many daft mistakes cost us crucial goals.
Slaven Bilic is not a managerial genius, he never said he was, and he is not the re-incarnation of Ron Greenwood, John Lyall and with a bit of Billy Bonds and Trevor Brooking mixed into the perfect West Ham manager we all dream of.

There has been far too much slavish praise for the new man, and I doubt he feels comfortable with all of that gushing stuff from fans' websites and social media. He is what he is, a breath of fresh air learning on the run about the Premier League. And it has been a joy to be along for the ride.

I cannot thank him enough, for lots of personal reasons, for the amazing away wins at Liverpool and Manchester City - where I live as many of you will remember, explains that joy.

My mixed-up family of City and Hammers fans always enjoy a decent day on the pop when the sides meet, and just for a change the West Ham side of the argument had a field day at the Etihad. And to their credit the City lot showed a bit of class with drinks lined up on the bar for us when we finally got back to the pub. It did take a long time, though.

I love the fact that Slaven is a gambler. He pushes his full backs high and wide and dares opponents to risk not marking them. Sometimes it works, sometimes not, but it is a lot better than the previous regime.

And that brings me to my first point. I am sick of seeing big Sam constantly all over fans' forums, website and social media, as if we just cannot let it go. I do not care, really, what he does now, who he manages and the constant comparisons with last season. Slaven and Sam are liked chalk and cheese, we made our choice and I am happy with that.

But constantly dragging over old coals (not you Carlton) serves no purpose. Sam did his job and I would have sacked him for three wins in 23 final matches, not because he chewed gum and was a pain in the backside.

But let's stop the comparisons, we surely are better than that as fans. Let's have a Sam free zone from now on, draw the line, let it go.

One last fact. At this stage last season we were fourth, with one point less than we have now, which sees us sixth. Same number of goals conceded but with two more this term than last. What does that prove? Absolutely nothing.

But I know what I would rather watch. We have two new players in midfield, Dimitri Payet and Manuel Lanzini who carry the ball from deep, keep possession and always want to attack. Include Victor Moses and Diafra Sakho and we do not have a defence-minded player ahead of Mark Noble and Cheikhou Kouyate. And that's the difference.

It's a gamble worth taking, and teams will exploit the space around and behind our full-backs. Sam would never tolerate that, but Slav has been told to attack and play out from the back. But that's his style, anyway. He's even being told to give David Sullivan's pet player Mauro Zarate a chance (I am still not convinced).

There will be problems, we can all see them. But I like his style, he handles the media well and has excellent one-liners that keep my former hack mates happy. He's different, classy with a social conscience and not afraid to say what he thinks without the usual managerial clichés.

Asked before the Sunderland match what he felt about the high price of tickets for away fans, and he said it like it is. Not impressed.

My travelling pal to Sunderland, a fierce believer in the Twenty's Plenty campaign (and he carried the banner all the way to Wearside to make his point) was more than impressed that his club manager was prepared to back the cause, regardless of some really sky-high prices that we charge for away fans at the Boleyn.

How can we expect our fans to be treated fairly away from home when we are charging Chelsea fans over £60 for the forthcoming London derby?

As I said, Slaven has the right style for me on and off the field. And from now on I refuse point-blank to drag Sam into the debate. Please, can we all let it go.

Now I am frequently called a cynic and even paranoid (bit harsh that) so I am going to revert to type and open up on the one thing about this season that is of great concern to me. That is, how the club treat the great unwashed in Band 4 when the season tickets for the Olympic Stadium are sorted out.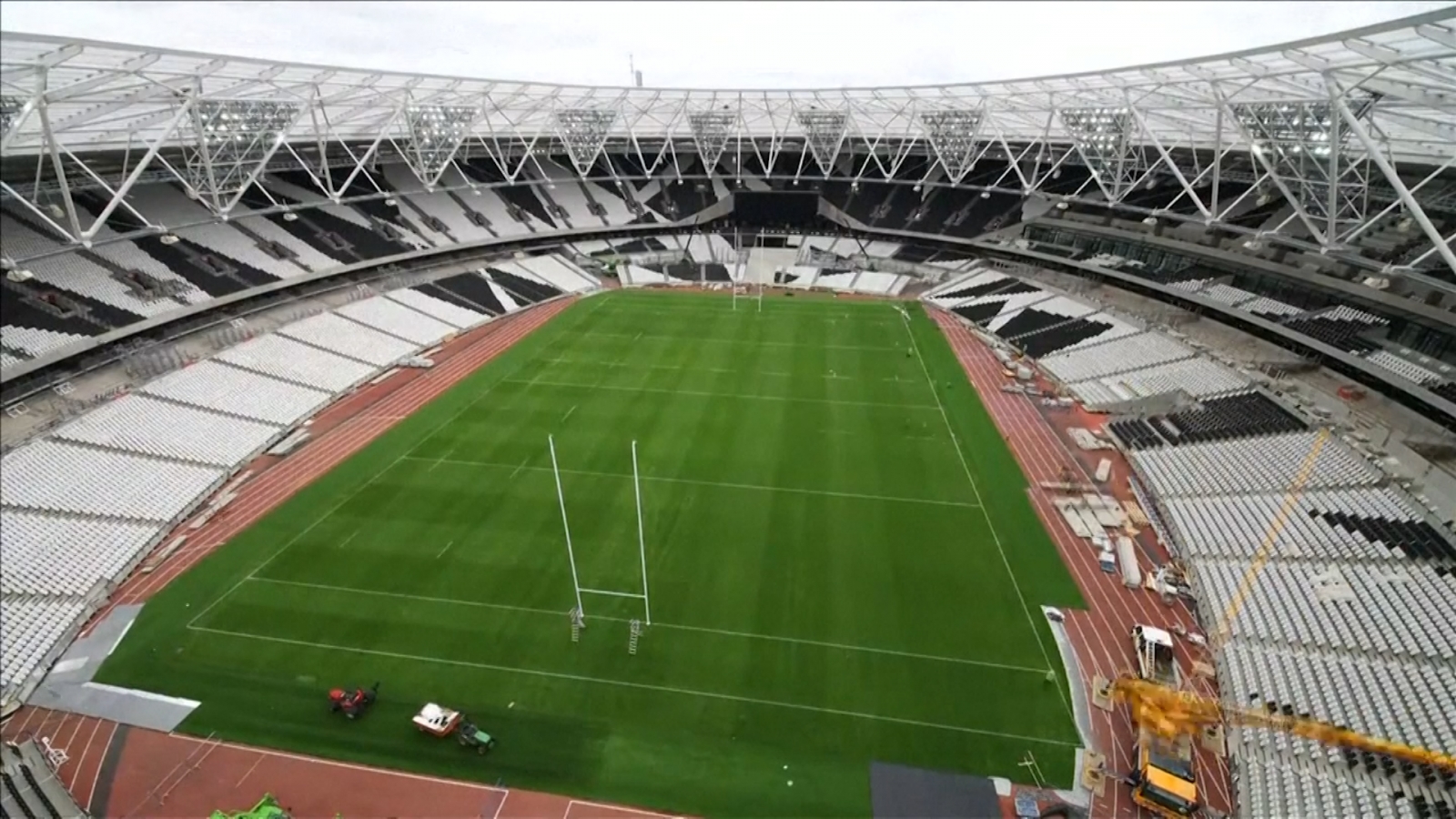 A long way away?
Frankly, I am fed up with being told by folk from Bands 1 and 2 who have already sorted out their tickets how wonderful it all is, what a good view they have (from down the sides) and how well they were treated at the Stratford market stall that is doing the "three together, no problem" mate routine.
I have watched the rugby World Cup on TV with interest when our new home is being used. Some of the horrible mismatches being thrown up do not interest me (Wales beating England certainly did, sorry) but what I have wanted to see is just how far it is from the goal/try line to the first row of fans behind the goals.
I am sick of seeing anyone who questions this distance being branded 'moaners' on fans forums and websites, who seem to be far too keen to trumpet the club's party line. I know rugby pitches are shorter, generally, that football pitches, but that gap between goal-line and fans at the ends of the stadium looks at least 30 yards to me on the TV. And there's a bank of advertising as well as hundreds of photographers as well in the sight lines.
Now from my seat in the Bobby Moore lower, 30 yards takes me to mid-way into the half of the pitch in front of me. It is impossible for the club to give me a comparable view.
I sit where I do mainly for costs reasons. I cannot afford the high prices elsewhere in the ground, and I enjoy the closeness to the pitch, atmosphere and the (debatable) banter of the lads I sit with. I compromise my view of the pitch to be close to the action in front of me.
There is no way this can be replicated when Band 4 finally get their chance to book their seats. The club have gone out of their way to attract new custom, people who can afford corporate seats, private lounges, bars where they can buy authentic pie and mash etc, etc.
And the Plus 2 system has been introduced because the club, I feel, were scared they would not be able to fill the seats. But that is clearly not going to be the case. There is already a healthy waiting list and Band 3 fans have been warned that there are only a few hundred seats in Band 2 that they can move up to if they want a better view.
Now my lot in the BM Lower, seeing that the Stratford prices were so reasonable, have considered moving up to Band 3 if they could. But my fear now is that with so many Plus 2s already, the chances of moving into Band 3 are going to be very limited.
So the great unwashed in the BM end and Chav Corner could well find themselves shafted, and left only with seats nothing like what they have been used to. Of course with a big stadium, it is hard to produce like for like, but Plus 2 being imposed by the club is to my mind as big a scandal as the old Bond scheme was.
People are being allowed to queue jump in a disgraceful fashion. They may have never been to the ground in their lives but they are being allowed to get better seats ahead of fans who have been seasons ticket holders for decades at the Boleyn.
One in four it is being suggested are now Plus 2s, and there are reports of fans in Band 4 who have become Plus 2s for Band 2 and 3 fans, thus also jumping the queue.
I had intended to keep out of this long, sometimes boring debate because I hoped that the club would treat their hardcore fans fairly (stop laughing at the back). But the longer this migration has gone on, the more worried I have become.
What we have been witnessing is an organised 'rinsing' of fans from the posh seats and the corporates. Now they have got down to the great unwashed behind the goals where there is not as much ready cash, there seems to be a 'take it or leave it' attitude. I do hope I will be proved wrong.
Ok, that was a moan, and a long one, but stop trying to tell me (via the club website and various fans' outlets) that things will be fine on the night.
I won't be mentioning it again, just like I won't be mentioning Big Sam. I just want to feel that the club are treating everyone fairly, and Plus 2 has not helped.

Please note that the opinions expressed in this article are those of the author and do not necessarily represent the views of, nor should be attributed to, KUMB.com.
---
Your Comments
comments powered by

Disqus