Filed: Tuesday, 1st March 2016
By: Preview Percy

Ever wondered what a well-known 19th century poet might have written about Premier League referees? No? Us neither. Unfortunately, thanks to Preview Percy you are about to find out....
Spurs next. Under the lights 7:45 kick off. Midweek so no engineering works to speak of but rush hour on the tube usually has much the same effect.

As usual, the "Man At Oxfam" look will be much in evidence in E13. I see that they've boarded up the "Champions" statue on the Barking Road for this one. Like Millwall, the other club for which this is a requirement, apart from being "intellectually challenged" they do have a nasty streak amongst their support. It is odd though that their intimidatory behaviour always takes place well away from anywhere or anyone from whom they might actually might receive some reciprocal grief. For example, I did notice up at their place some of the greasy spotty herberts seemed quite keen to give 14 year-old scarf-wearing kids a hard time but as soon as an adult turned up they went very quiet – even quieter if the adult happened to be male. All a bit sad really.

Well they are having a good season, aren't they. In a way it's nice to see the smaller clubs like them and Leicester doing well I suppose, though, given the option of those two, there isn't a single supporter outside White Hart Lane who would want the title to go anywhere other than Leicester's Not The Filbert Street Stadium. I mean the thickest group of supporters in the country already think they are the greatest thing in the universe. "We're bigger than Barcelona" a Spurs season ticket-holder of my acquaintance claimed yesterday (and being a Spurs supporter he meant it – like most at White Hart Lane he has no concept of irony). So just think how insufferable they might be when they come to tarmac your drive if they actually win something. For the record they currently sit in second place 54 points from their 27 played, three points behind Leicester, over whom this match will be the game in hand.

Top scorer is Harry Kane who, I am reliably informed by the work experience kid with the Harry Potter Spectacles, has 19 this season, 16 of which have come in the league. Their supporters claim him as one of their own and, if he didn't actually play for Spurs, you'd kind of work that out anyway. Those looks obviously came from a gene pool so shallow you'd struggle to drown a kneecapped microbe in it and he certainly sounds dim enough to be one of the shell suit wearing hoards. I expect that the lack of dandruff comes from sharing travel time on England duty with Joe Hart. On the bright side, the recent broken nose he suffered didn't affect his looks any I suppose.

A bit of a diver is their Harry as we found out to our cost at their place last term. Spurs can probably thank their lucky stars that Liverpool are a bit rubbish at the moment as he's precisely the sort of "unsteady on his feet when it suits him" player they love up on Merseyside. However, their fall from grace means that even Kane wouldn't be dim enough to touch them with the proverbial bargepole were they to indulge with their usual illegal approach.

The current blue-eyed boy of the press (metaphorically speaking, obviously) is (Bami)Dele Alli. He had them all getting very excited with his goal against Palace the other month. Now don't get me wrong. It was a fine goal but it was the sort of goal I used to get regularly back in my playing days – probably 2 or 3 of those a season - so it would never get my vote in a goal of the season competition. Alli has progressed to full England status and, talented though he is, he does have a snidey side to him. He has 6 yellows to his name this season and was lucky to not earn himself a bit of a break on Thursday nights after a nasty challenge on Fiorentina's Tomovic the other week. It wasn't an isolated incident either – he got away with a stamp on Cabaye in the aforementioned Palace game and has a habit of leaving his foot in unnecessarily. We could do with a decent ref for this one then. Oh well nevermind. Alli managed to get through all 90 minutes against Swansea despite turning his ankle during the warm up so there may be a doubt over his participation – lots of ice required one suspects.

Another new England cap this season is the Eric Dier, who, as I mentioned in the past, has a bit of an odd backstory. As a kid he went to live in Portugal when "Mater" got a job out there. He then played for the Sporting Lisbon academy before eventually returning to England for a loan spell with Everton. Spurs picked him up for £4m, The Portuguese FA spent some time looking through the small print of the Treaty of Rome to see if there was a similar clause to the one that allows anyone who has had a pint of Guinness, ever, to play for Ireland. Unfortunately for them nobody had thought about doing something similar with Vinho Verde. There was a prospect of him qualifying through citizenship but he'd have had to wait until he was 18, by which time someone at the FA had finally worked out he was there and he started picking up England caps at age level. He made his full international debut in that awful match last season against France that followed the Parisienne atrocities in Paris where those words attributed to (but like most of his quotes probably nicked from elsewhere) Bill Shankly on "life and death" were exposed for the hyperbolic nonsense that they really are.

In midfield a major doubt will be Belgian international Mousa Dembele. His groin is listed as keeping him on the sidelines until the end of the week. Dembele came in from Fulham in 2012 at a time when the Cottagers actually had two players of that name on the books (the second one has an extra "S" in his first name and, tragically for him, is French). Spurs were said to be considering signing up the other one at one stage - with Fulham wags suggesting that they'd sold them the wrong one deliberately. The one that they did get their hands on missed out against Swansea and the usual listings suggest that he'll be out for another week or so.

Over the last few days we have seen a number of articles linking Christian Eriksen with Barcelona. On closer examination it seems that these stem from the same interview with Brian Laudrup in which he suggests that Eriksen would be a perfect fit for the Catalonian behemoth in terms of playing style. Now I have no idea as to whether Laudrup has any connections with Barca (as us sophisticated cosmopolitan types like to refer to them to show we have our fingers on the pulse of the continental game). However, the whole thing is vaguely reminiscent of the opening salvos of an attempt to tap up the player. You know how it works. Someone random is interviewed and comments that player X would go down really well at club Y. Club Z (for whom player X plays) makes some sort of comment that player X is an integral part of their plans and has only just (if they are lucky) signed a new contract or (if they aren't quite as lucky) that talks are going quite well over a new one. Eventually some quiet discussions take place between Club Y and the player's agent (if they haven't already done so). The net upshot is that player X ends up signing for club Y in the summer either very expensively, if a new contract has been signed, or less so if it hasn't. At the end of the day that Spurs supporter's theory that they are "bigger than Barcelona" might be on the verge of being tested.

Good though their form has been on the bare stats, they've enjoyed the rub of the green on occasion and have had 'keeper Hugo Lloris to thank a number of times. Even this weekend against Swansea, a match they dominated, they needed Lloris to be at his best and his services were required late on to ensure that the home side kept all three points. So therein lies the key to their season so far – even when they've not been the full shilling they've been able to rely on Lloris to keep them out of the cart.

What has happened in the last week then. Well FIFA has a new boss, which probably means that a whole load of people need to change the names on their direct debits. Infantino spent his first day at the helm organising a kickabout before going back to his office to find out where Blatter kept FIFA's secret nuclear launch codes. Well would you be surprised?

Meanwhile here at the Avram Grant Olympic Rest Home For The Bewildered I am still in recovery from the strain to the muscles of my aching sides as Liverpool failed to dive their way to another trophy – despite an indulgent referee who tried to let them get away with murder. Did you notice how those "wonderful" supporters hung around to see the cup presented like we did in 2006? No, me neither. In fact the red half of the stadium couldn't have emptied faster had they announced "last one out gets a job".

Us? Well we were out of sorts a bit last week really. The crowd made a rather clever point at the visiting manager by singing his replacement's name and pointing out the "floor-based" nature of the game at the Boleyn these days. All without directly giving Allardyce a hard time. Which cheesed off a number of very lazy journos who had their "gauntlet of hatred" stories already written. One thing did concern me though: was it me or did the itch look particularly hard and bobbly? Having set foot on one or two in my time – sometimes legally – I do realise, that by and large, top end professional football pitches tend to be prepared to be harder than those of us who, er, "graced" the amateur game might have been used to. However, Saturday's match saw a worrying tendency for the ball to roll less than true. I realise that it has been a bit nippy overnight of late (even Matron here at the Rest Home For has taken to inviting selected gentlemen guests into her room in the hope that shared bodily warmth might keep the frost away) but even so I thought the run of the ball, coupled with the swirling wind was far from conducive to decent football. Let's hope they have been able to work on it.

Injury news is that we may well see something of Sakho – something that would be quite welcome given that Emineke rather struggled to make an impression last weekend. Reid and Valencia are still a week off though. The absence of Tomkins and O'Brien for about another month will mean a bit of a reshuffle at right back where Antonio is likely to fall back to replace Byram whose two-match suspension is largely down to previous misdemeanours in a Leeds shirt.

As usual this is their cup final - just look at the way they celebrated a bent referee point at their place last season. It was the happiest day of their tragic little lives bless their cotton – and invariably white – socks. So the atmosphere will be a bit busy – inside and outside the ground. My major concern is that the atmosphere might somehow permeate through to our skipper who can get a bit wound up on these occasions. He'll need to keep a cool head as it's the sort of game he might well get wound up for, especially if Alli is leaving his usual sneaky foot behind.

With Marriner in charge it's probably anyone's game so I will be spending the £2.50 that was going to the "Deodorant and Spot Cream for Spurs Fund" down at WInstones the Turf Accountants on an entertaining 2-2 draw this time around, a point which will hopefully just keep their dim supporters interested in the concept of a title win whilst Leicester just get on with the job of winning it.

Enjoy the game!

When last we met at The Boleyn: Lost 0-1 Spurs looked like nicking a point as the opening game of the season went into its 94th minute. Then Dier stepped up and stole a winner. It should have been so different as Noble scuffed a penalty earlier on. It wasn't to be the last time of the season we were to concede very late on to an average side….

Referee: Andre Marriner – It is a little-known fact that the 19th century poet Samuel Taylor Coleridge had a bad dream about a football referee which he turned into the epic poem "The Rime Of The Andre Marriner". The line "He getteth one in three" is supposedly a reference to Marriner's ratio of correct to incorrect decisions. Coleridge was, of course, off his head on opium most of the time. Marriner isn't, though sometimes his decisions on the pitch make you wonder….

Danger Man: Harry Kane. useful enough when he's on his feet. Adept at "winning" free-kicks and penalties as we well know. Eriksen converts the ones from outside the box.



Irritating Celebrity Supporter Of The Week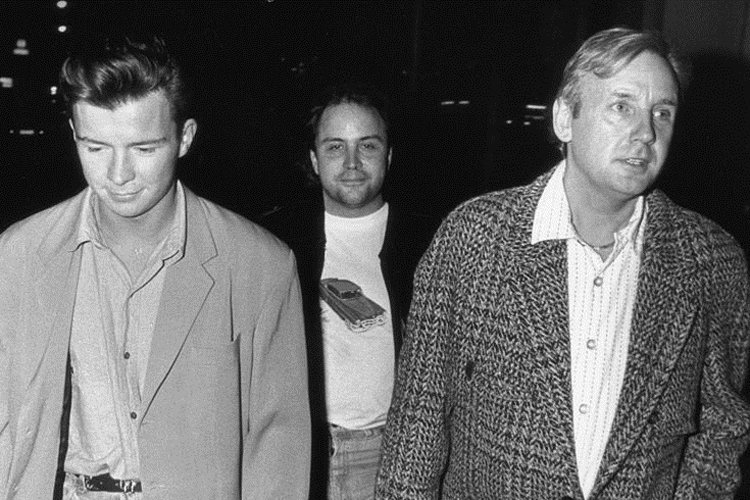 Astley, Aitken & Waterman
"Who he?" I hear you youngsters say. Well back in the 1980s, Aitken was part of the infamous Stock, Aitken & Waterman production team that took talentless soap stars into a recording studio and, through the marvels of modern studio technology, made them sound like talentless soap stars who had been taken into a recording studio by Stock, Aitken & Waterman. Responsible for some of the most horrid plastic synthetic dross ever released - everything sounded like the autoplay button on a Casio keyboard. It sold by the shedload, largely to the gullible sort of person who would buy a magazine dedicated to their favourite soap. And Spurs supporters, many of whom still sport the "mullet" hairstyle of the era to this day.

Please note that the opinions expressed in this article are those of the author and do not necessarily represent the views of, nor should be attributed to, KUMB.com.
---
Your Comments
comments powered by

Disqus