Filed: Tuesday, 25th June 2019
By: Staff Writer
It's been a difficult last few months for the West Ham United Independent Supporters Association.
Dogged by controversy and dismissed by certain elements of the fan base, 2019 looked for some time as if it may well mark the end of the Association, whose popularity appeared to be on the wane.

However a recently-appointed, mostly new committee are determined to breathe life back into the organisation - just a matter of weeks after the former Chairman, Lew Ozarow resigned in the wake of a poorly-received article in the Newham Recorder.


Chaired by lifelong supporter and schoolteacher Sue Watson, the new-look ISA has also been boosted by the appointment of former journalist and
occasional KUMB columnist Terry Land
as her deputy.
In addition Jack Hart has been placed in charge of membership duties, whilst existing committee members Kevin Hind (Treasurer) and Debbie Donovan (Secretary) will remain in place following the reshuffle.
According to new vice chair Land, it was imperative to act quickly and decisively in order to save the ISA following former leader Ozarow's unexpected resignation.
"After comments then Chairman Lew Ozarow made in a Newham Recorder interview just a month after the (chaotic and ill-focused) AGM, some of which were less than flattering about previous committee members but more importantly untrue, he resigned," he told KUMB.
"Within the next week or so we were hit by a further 10 resignations, including acting Chair John Ratomski.
"We had to work really quickly to co-opt former committee member Sue Watson back on board so that we could steady the ship and relaunch the Association to press ahead with looking after our members' interests.
"Massive credit has to go to Treasurer Kevin Hind who has at times pretty much single-handedly kept the boat afloat. Safe to say it's been bloody hard work!"
However for Land and his new colleagues, that was just the beginning. Once ratified -
an Extraordinary General Meeting is scheduled to take place
at Stour Space next month - the new committee will begin the arduous task of winning back the hearts and minds of the very supporters they hope to represent.
One facet of convincing supporters that the ISA is a competent force for change will be to shake off claims that the organisation is politically-motivated - a suggestion made around the time of the abandoned protest march in March 2018, and one that Land dismisses unequivocally.
"Let's deal with this head on – the 'political' tag was attributed to us during the time of the ill-fated march as a slur," he says. "We're not sure there's much truth in it – beyond the obvious observation that any group that claims a form of representation is by definition political with a small 'p'.
"As committee members we don't speak to each other about party politics. Everything we do is focused on exerting whatever pressure and influence we can to encourage the club to give a better deal to supporters and be straight with the fans about the things that matter most to them."
One of the immediate concerns
the new ISA has already managed to address
is West Ham United's much-criticised arrangement with blockchain platform Socios, whose plan to implement a 'pay for influence' scheme at the club has been poorly received by many fans.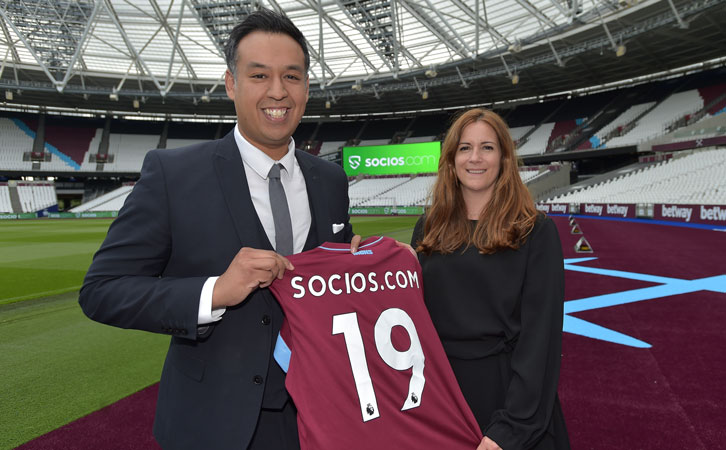 West Ham's Digital & Commercial Director Karim Virani with Socios.com Chief Marketing & Communications Officer Emma Diskin [pic:whufc.com]
After the new committee was incorporated, WHUISA joined forces with a string of fellow West Ham groups - including KUMB.com - in order to condemn the arrangement, the first of its kind in the Premier League.
"We think Socios is an unnecessary and potentially divisive scheme that offers nothing a competently run club already would," responded Land, when asked to share the ISA's view on the partnership. "Access to a club should be meaningful and offered freely, not a privilege given to those rich enough to pay for it."
That, it has transpired, is a view shared by David Baker, the chair of the club's Official Supporters Board, However any suggestion that the ISA may seek to work more closely with Baker and the OSB are instantly dismissed.
"The OSB is neither representative nor independent," adds Land, whose organisation are recognised by the Football Supporters' Association as West Ham's only notable Affiliate member.
"We believe it can best be viewed as a PR arm of the club. The fact its supporter members were not informed about either the recent season ticket hikes or the Socios scheme until they were a done deal gives a good indication of the way supporters are treated by the club.
"David Baker is currently very active on Twitter claiming the club needs a working ISA, apparently oblivious he is acquiescing in the club's strategy to undermine that very thing," he added.
"It would take the OSB members to resign en masse for that to occur - a course of action we don't envisage happening any time soon but one that is likely to become the shortest path to engagement with independent supporter groups."
Yet the new ISA will not be averse to working with fellow fan representatives per se, as the recent all-inclusive Socios campaign will attest. Nor would they have any qualms about teaming up with new fans group Hammers United, who have similar aims to the ISA.
"We have made no plans [to work with HU again] but from our side would hope to join in further endeavours similar to the letter sent to Jake Heath," says Land.
"Our view is nothing would please Karren Brady more than if we were at each other's throats. Yes, we may have our differences, but uniting on issues makes us more than doubly powerful."
In terms of what else lies ahead for the revamped organisation, the ISA intend to consolidate the committee "by gradual addition of people with skills we can use" before realigning themselves as a major campaigning group addressing "both the big and small issues that face Hammers fans".
Those wishing to get on board may join WHUISA for as little as £1; you may discover more details
on their website
.
The new-look WHUISA committee
Chair: Sue Watson.
Remembers first game with dad in the Chicken Run, aged four. That was it. Now has a season ticket in the BML and has done for many seasons. Entire family follow the Irons, generation after generation. Works as a primary teacher in Barking and Dagenham and has done for 26 years. Joined WHUISA to promote an independent voice for the club.
Vice Chair: Terry Land.
Season ticket holder for 19 of the last 22 seasons – all in the BML. Former journo on your favourite daily newspaper who left Fleet St for good seven years ago and now works for one of the largest haulage firms in the world. Asked to join the committee immediately after witnessing the AGM.
Membership: Jack Hart.
First West Ham game was a 2-2 draw against Everton around 1995 - one of few positive results against the Toffees. Like many, he was brought up as a fan by his father. Is an English teacher in Havering and has a season ticket in the Main Stand. Enjoys running and writing in spare time. Joined the committee at the suggestion of a previous member.
Treasurer: Kevin Hind.
West Ham in the blood. Several generations of the family have supported the club as season ticket holders. His father was born near Upton Park and his mother used to handle Bobby Moore's insurance. Kevin Joined WHUISA to get fans independent representation without valuable constructive criticism being 'filtered' by the Club.
Secretary: Debbie Donovan.
Taken to first game by an uncle aged just eight. Then stood on the South Bank, before having a season ticket on the Bobby Moore Upper for over 20 years. Debbie has been involved in community organisations and the like all of her adult life, both as an organiser and Branch Officer. She joined the WHUISA committee on the recommendation of a previous official.
---
In brief - Wednesday's news round-up
[26th Jun 2019]
WHUISA relaunch with new committee
[25th Jun 2019]
It's a 'no' to Socios [video]
[20th Jun 2019]
Stronger together: fan groups join forces
[10th Jun 2019]
WHUISA chairman resigns
[6th Jun 2019]
OSB deny ISA takover bid
[2nd May 2019]
ISA to fight hostile takeover bid
[1st May 2019]
Credit where it isn't due
[30th Apr 2019]
Renewal deadline extended following fans revolt
[22nd Mar 2019]
Away fan rep resigns from OSB
[1st Feb 2019]
---
Your Comments

Please note that this section is for comments relating to the above news item only. Any off-topic or abusive posts will be removed. Posts including either links and/or foul language are automatically filtered and will not be published. To engage in further discussion on any of our news stories, visit the KUMB Forums.
Not a member of the KUMB Forums? You may register for free membership here.


comments powered by

Disqus
---
---
---
One Year Ago
It is of course a well-known fact that without the intervention of West Ham...
more
Three Years Ago
Former Hammer Stuart Pearce believes that Mark Noble could finally be set to win his first England c...
more
Five Years Ago
Sam Allardyce admitted to being disappointed by this morning's 2-1 defeat against Wellington Phoenix...
more
---